You might know Leslie as Omfgmeow, which is what she goes by mostly. She is from the Arizona desert but currently live in "the frozen tundra of Minnesota." This blows my mind, as those two regions are basically weather opposites – extreme ones.
Omfgmeow started camming about eight years ago via a studio in Arizona, which she says was a wonderful place.
"I ended up taking a long camming break and got into esports management," she explained. "I have managed organizations and have built up and managed some very successful streamers." She returned to the adult industry in 2017 though and is loving it.
Quirky and interesting and a lover of bee stings – like, actual ones – Omfgmeow took some time out to share a little about camming from the Land of 10,000 Lakes.
YNOT Cam: What prompted you to begin your career online?
Leslie, aka Omfgmeow: Prior to being a performer, I worked a corporate job. I decided I want to work from home, and also I have worked in strip clubs in the past. I did really well, so I decided to go back to what works best for me with the largest ROI.
Omfgmeow is the cutest name ever! Can you tell us more about it?
Well so Omfgmeow has been my gaming handle for over fifteen years. When I first started camming, my studio advised me not to use it that they "knew" I would rebrand in the future because "the name is too nerdy."
They wanted my name to be "tattedbaby" — eew!  I ignored them, and here I am still using it!
Im a pali and warlock player on Malganis who happens to make porn and loves to cook. ?https://t.co/r4xjKLxPJR https://t.co/YKMVyFzB8S https://t.co/OiEdtoHOkr https://t.co/e1L3MJrO1t https://t.co/L1YwfIa8D5 https://t.co/lkSvGRMjAz pic.twitter.com/2ESUfgdskm

— omfgmeow (@omfgmeow) February 14, 2019
What's it like being in the online sex industry up in the frozen tundra?
We do have one trade event up here, the Rubber Ball. The people here are very supportive of me as a person. Do they ask about my job? No, but do they know what I do? Absolutely.
I am more known for being that super hot gardening lady though. I do know there are a lot of models and stuff in Minneapolis, but I'm not there. I'm rural on a farm.
What are some of the best (and worst) things about working online?
My biggest challenge is when someone is actually mean and just picks apart things I'm insecure about. I am doing a lot better with ignoring it, but sometimes it's hard. For the most part, people are really nice to me.
My biggest highlight was when I made the change from esports back to porn. The adult industry was ready to bring me back and love me, and the gaming industry was there to support my decision.
Outside of your work, what are you most passionate about?
I love cooking and gardening. I love lilies! I grow all types of rare lilies that people here don't see much. I'll have to tag you guys with my news article here in a month. My flowers are having a photo shoot!
Minnesota is kind of rough for planting though. We have short growing season, and our winters are brutal. So I stick to things I can pull up in fall or things that will survive.
I also love animals. I recently was nursing some raccoons that were found in a semi shipment. I nursed them until we found a rehab home for them to stay at until they go to the wild.I also play a few games at a high level.
If you could change one thing about today's world, what would it be and why?
I would change all the negative attitudes people have towards others. If people could just actually wake up and smile as opposed to just being mean all day, I think things would be a lot better.
Find Omfgmeow on Twitter at @omfgmeow.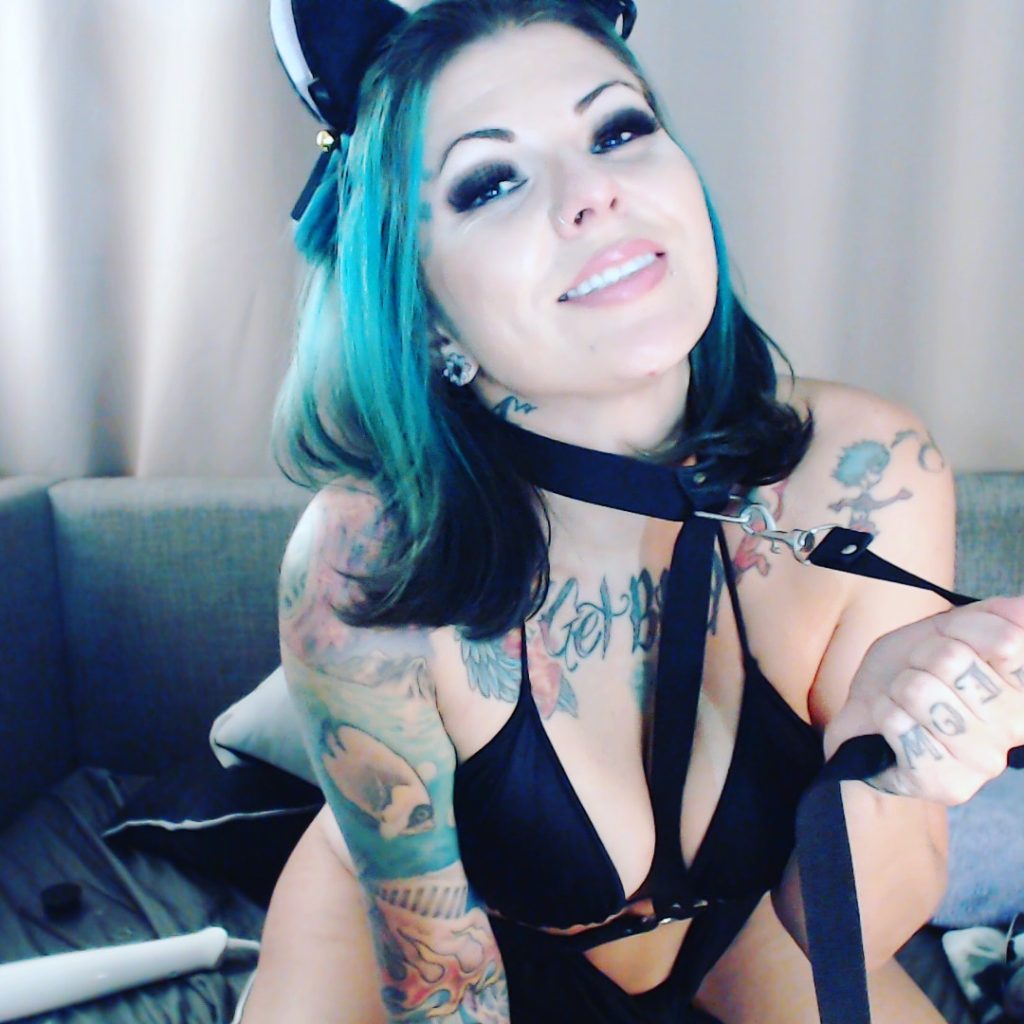 —
Erika is a sex positive people watcher (and writer). Email her at erika@ynotcam.com.