A site called Chat Time Now (CTN) was recently brought to our attention. We learned that a cam model broadcasted on CTN for about a month and earned approximately $300 in tokens. One day she was unable to log in and couldn't reset her password, so she contacted the site admin. She was told that she was kicked off the site for, essentially, not working hard enough. She was not made aware of any quota or minimum standard of work prior to getting locked out of her account. Further research indicates that this is not an isolated occurrence.
The following correspondence was forwarded to us and verified. Here, an administrator of Model Offers Now (MON), CTN's parent, informs the model that she was "suspended due to lack of input" and failing to log "a minimum of 1,200 plus minutes" or twenty hours.

Notice how this person from MON makes sure to emphasize how long they've been in the industry and what a great record they have. They also insult Chaturbate and CamSoda by asserting that models who work there are less productive than models (called "Hosts") who work on CTN and continue to qualify to remain on the site. Additionally, CTN does not "do warnings or notices or special stuff like that."
This is not the first time CTN has been accused of locking a model out of their account and withholding their earnings. Other models shared similar stories about the Cam Star Plus network.
Here is babykenzie:
FRAUD ALERT@CamStar_Plus & @ChatTimeNow
Are with holding $350+ of my earned money and still have my account active. DO NOT PURCHASE MY PHOTOS ON THEIR SITE. My lawyer is working to get all photos taken down immediately.

— babykenzie (@babyKenzieLive) December 10, 2018
Here is lonestarangel:
it is not that it is just spam, but they owe me money. Their cam site is a scam and they are purging active performers, and not paying out… yet they still show that I have an account on their site, but they locked me out… explain that?

— www.lonestarangel.com (@NakedTXAngel) December 13, 2018
Upon learning of these accusations and reading the email exchange, we wanted to dig deeper into Chat Time Now. I made a member account to learn more about how the site operates. Internally, it is comparable to Streamate. You can participate in public chat but the emphasis is on private shows. If you view a stream (in free chat), the site prompts you to buy tokens, at $0.08 each; models earn somewhere around 4 cents per token. Members are encouraged to invite streamers to 1-on-1/c2c private chats or schedule appointments with ("nudge") models who are offline.
For convenience, here is a list of things that made me suspicious of CTN. For further explanation, continue reading.
Poor customer service, including unprofessional conduct, lack of easily available methods of contact, lack of information regarding this supposed 20-hour quota, lack of notices "or special stuff like that," and gaslighting
No 18+ pop-up
Vague and limited information available on the site, such as payout and rules
The fact that a quota exists. The 20-hour minimum is not mentioned anywhere on the site and, according to our model friend, was not part of the Model Agreement. A minimum standard of work hours or earnings is highly unusual for independent contractors. If one is in place, contractors need to be made aware of it. It is unclear how many days models had to meet this quota.
2257 disclaimer does not specify the record holder
Even after deplatforming models, CTN keeps their profiles live and accessible on the site. Members can still spend money on them.
Long-winded, spammy, unprofessional emails.
Direct digs at competitors. If you don't want to work hard enough to earn your spot on CTN, perhaps you should try an inferior site like "chatterbait" [Chaturbate].
Standard against "fraternizing" with other models. Hosts must be all work and no play.
Upon visiting the site, the first thing I noticed was that CTN does not have an 18+ popup warning. When you visit an adult site, there should be a pop-up explaining that the site contains explicit content, and in order to proceed, you need to agree to their terms and privacy policy and click the button certifying that you're an adult. CTN does not do this, although the 2257 mentions that the site hosts adult content and that all models are 18 or older. Actually, their Twitter account markets it as PG-13+.
When browsing the site, I noticed an incredible lack of transparency. There is no accessible way to contact site support. CTN seems to be a branch of a company called Model Offers Now. They entice you to work with them and you are prompted to apply, but there is very little information offered and no way to get in touch with them. This is a bright red flag.
I searched for important information one would expect to find when researching a new site to contract with. When considering signing up to cam with a new company, you want to know, how much will I earn per token? What is the minimum payout threshold? What payment methods do they offer for my country? What are the site rules and requirements? You should also look for their 2257, DMCA, terms of service, and FAQ sections.
I discovered that CTN has almost none of this information available. They do have a Terms & Conditions page, although it does not specify any site rules, which should be included on sites like these because payment processors have rigid guidelines in place when doing payouts for adult businesses. From my member account, I could not view anything akin to site rules or codes of conduct. It is important for everyone using a site, broadcaster or viewer, to know its rules and expectations.
The model who alerted YNOT to CTN could see the rules from her account. She said there weren't any "weird" or "unusual" ones. Among them, she said, was to avoid discussing off-site matters, which is not unlike Streamate's prohibition of promoting other sites. No rules were broken to warrant being deplatformed except for what CTN perceived as substandard labor. I can't write about CTN's other rules because they are not available to me.
CTN's FAQ page is incredibly short with minimal information. Their 2257 disclaimer says "All records required to be kept by federal law are in the possession of Record Keepers Name." (emphasis added)
Sites typically give an email address at this point in their 2257 statement if not a geographical one. CTN does not specify their custodian of records and does not provide a contact for inquiries about these records. It says that records are available for inspection at: [blank].
In conjunction with the accusations of withheld payouts, this lack of information made me wonder whether they intend to pay certain contractors to begin with. When you go to sign up as a model, they require your SSN and banking information. Most sites don't require your bank account unless you are doing direct deposit. The model who alerted YNOT to CTN never received confirmation that they had her banking information on file and was never prompted to choose a payout method. She had asked the site admin what method would be used to pay her and never received a response. Like any site that hosts independent user-generated content, they reserve the right to interrupt or kick you off the platform as they deem necessary. Other cam sites do this sometimes, too. That doesn't make it fair, particularly considering the way this MON admin talked down to our model friend.
I browsed the model profiles. Some active models invite you to contact them at their email address @ Model Offers Now dot com. On October 7, 2019, CTN sent out a newsletter that claimed they had 322 models and 41,208 members. (In one email to the model who alerted YNOT to CTN, on January 27, 2020, they said they had 47,000 members.)
Most profiles of Hosts on CTN are incomplete (no photos or bio). The same model can be found pictured under multiple different names. Many profile photos are of low quality and small size, which often indicates that they weren't uploaded directly from the source. There were never more than ten models online at one time. I also found that, of all models who had been locked out of their accounts, their profiles were still live and accessible on the site. Members are still able to tip, purchase photo sets and schedule appointments with them, even though these models cannot access their accounts to broadcast and had never received payout.
A significant issue is how CTN communicates with hosts. I noticed lots of bragging and insistence upon their own superiority. Their communications were incredibly unprofessional. They also insert frequent reminders that they have more than a decade of experience in the industry, that their reputation is "magnificent," that they have almost 50,000 members and that you could make a ton of money if you tried.
I was forwarded some of MON's newsletters, which they sporadically email to people who have accounts on the Cam Star Plus network — even if they are locked out of the account — often several times a week. When I was sent these emails, four of them were filtered into my spam folder. They tend to include rants regarding work ethic and lots of bragging about how CTN has tens of thousands of paying customers, ready to pay out the ass if you work hard. They constantly emphasize that you need to work hard — for them. In this particular email sent out in December 2019, CTN tells hosts about this "vortex of failure," subtly belittling models they perceive as less independent and less deserving of the absolutely amazing payout you can earn at CTN if only you work hard enough: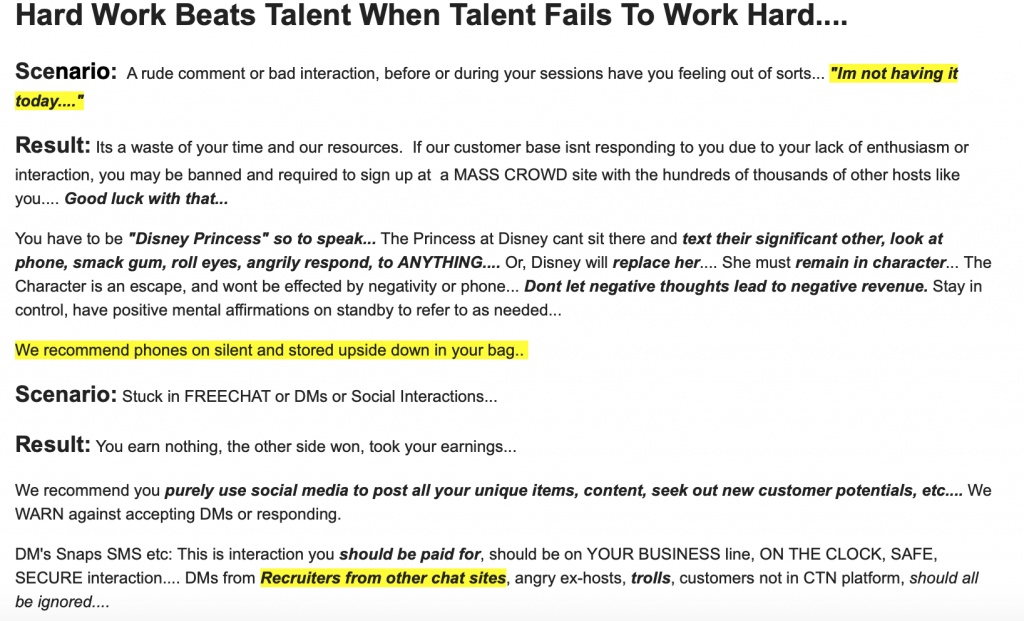 They go on to remind hosts to always stay in character, be enthusiastic and positive, or "you may be banned." Social media should not reflect a model's "personal tastes, opinions, politics, religion, etc." You could become a millionaire with CTN if you follow their advice. If you put enough effort into your "character," it should only take about three years. They say: "A standard schedule, above average service, our platform, for a few years, equals a millionaire!!! AMAZING!!! And now all EARNINGS GUAranteed!!! WOW!!! There IS no place else…" [sic]
Additionally, Charleston County court records indicate that the owner of CTN recently sued a subcontractor (former model) for breaking contractual agreements, in which the defendant's counsel alleged account suspension, coercion, hacking, and involuntary servitude.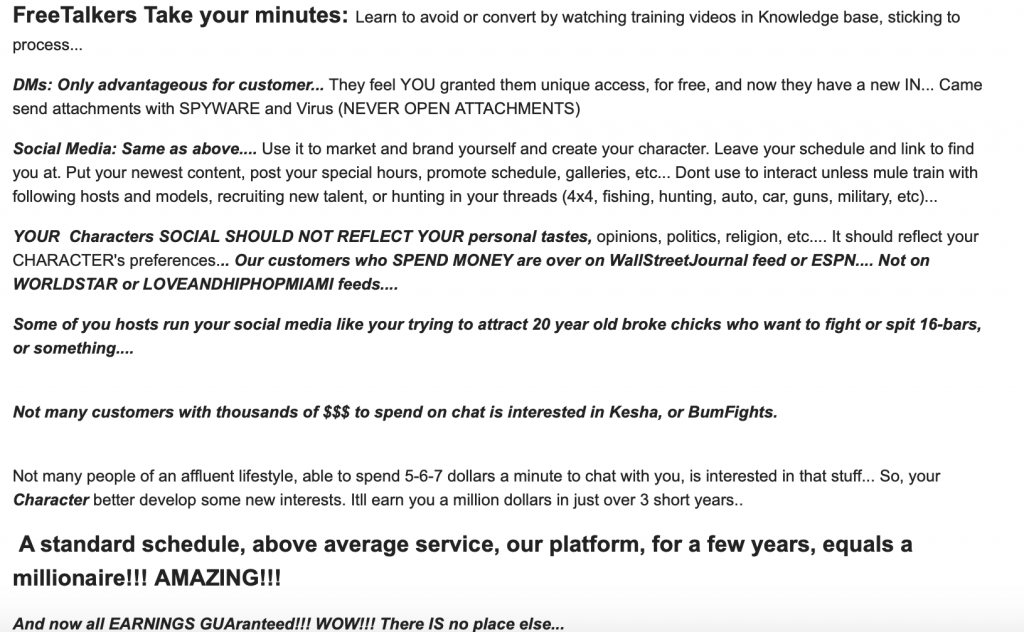 Last month, CTN sent a newsletter entitled "PLEASE READ: social media and overall etiquette," in which they sternly tell hosts how "fraternization" is frowned upon because it can lead to models going rogue and it's bad for business: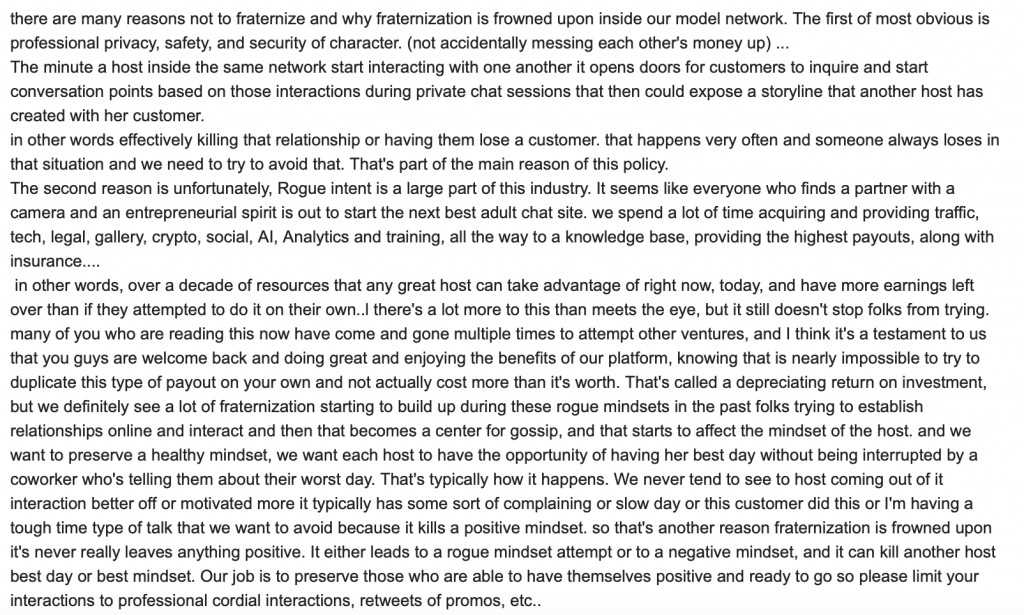 They go on to claim: "You will not expand your fan base by interacting with hosts, especially those inside your network because a lot of our fans interact. That's where that danger comes up maybe knowing too much or having too much to say because inside our  network a lot of our customers are your customer too and other hosts customer." [sic] This policy is suspect for several reasons.
This is the last email sent to the model that alerted YNOT to CTN: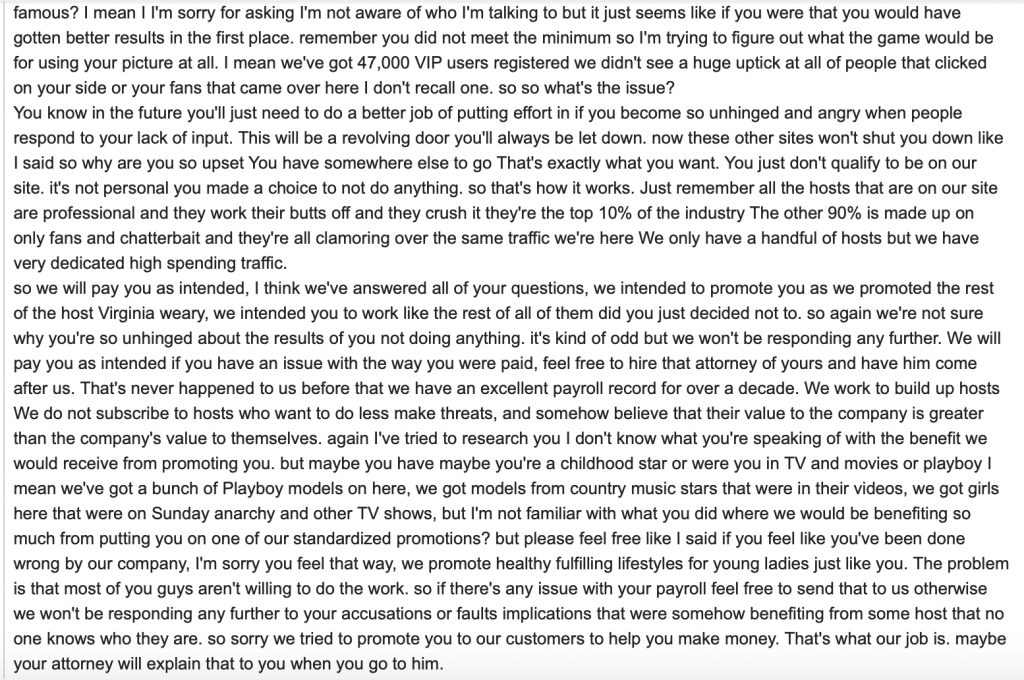 I would like to reiterate that this is how MON spoke to the model who politely inquired about her removal from the site and the processing of her earnings [copyedited slightly]: "We hate to see you taking it so hard. In the future, you probably shouldn't be upset with the results you're not getting from the work you're not doing. Had you put in a bunch of time and effort and this had happened, that would be upsetting, but you can't be upset with the lack of results from the lack of work."
An industry veteran with almost as many years' experience as CTN claims to have, earning $300 on a new site, certainly doesn't constitute a lack of work. The hosts who had been deplatformed by CTN had followed up seeking payout, usually of amounts around $300. They received no response and no payment.
When considering signing up for a new site, note how the company communicates with its contractors. Pay attention to all the information presented, and take notice if there is any info missing or if it is extremely vague. It's worth it to do your research and stick with established, reputable sites. Venturing out to new or lesser-known sites can be beneficial and help the business grow, but only if the company knows what it's doing and knows how to treat its contractors.
Make sure you choose to work with companies that are transparent, reliable and professional and don't make it difficult for you to contact them. Keep an eye out for red flags. You deserve better.
Author's Note: Model Offers Now, Cam Star Plus and Chat Time Now did not have any publicly visible contact information. To ask the company to weigh in on this, on February 10, I emailed an administrator address CCed in CTN's newsletters. They did not respond by the time of publication.
—
Alsanna James is a student, advocate, spoonie, writer, gamer and adult content creator. Half silent oracle, half professional sexpot, you can email her at alsanna@ynotcam.com and find her on Twitter at @AlsannaJames.
Header image via Pixabay here. Screengrabs but the author.