Hi Sexy —
This month, I'm stepping away from my usual health and wellness column to bring you an update on SETSA, a far-reaching bill that has the potential to negatively impact all sex workers advertising on U.S. websites, including webcam.
Disclaimer: I am not a lawyer and the information I provide here should not be construed as legal advice. Additionally, this situation is fluid, with daily developments. In order to protect your cam business and content, DO YOUR DUE DILIGENCE.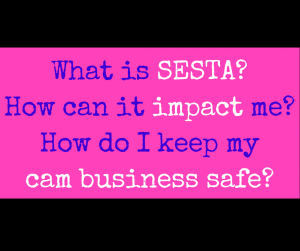 What are SESTA and FOSTA?
The Stop Enabling Sex Traffickers Act (SESTA), combined with the Fight Online Sex Traffickers Act (FOSTA) — SESTA-FOSTA — was recently passed through the U.S. Congress and awaits a presidential signature any day now.
SESTA's key provision states websites can be prosecuted if they engage in the "promotion or facilitation of prostitution" or "facilitate traffickers in advertising the sale of unlawful sex acts with sex trafficking victims." This is problematic for several reasons. First, the law conflates consensual sex work with sex trafficking. Second, it holds any Internet Service Provider (ISP) liable for hosting websites that advertise trafficked persons.
Needless to say, that's a scary proposition. Many, if not all, ISPs don't want that kind of legal exposure.
What SESTA Isn't
As written, SESTA does not additionally criminalize sex workers of any job title, whether voluntary or trafficked. The main intent of the law is to make it harder for traffickers to advertise. 
What Effect Is It Having Already?
The danger all sex workers face in the wake of SESTA's passage is the strangulation of sex-work friendly spaces on the web. Already, the passage of this law has resulted in Craigslist's "Personals" page and sex work-related subreddits on Reddit disappearing. Per Survivors Against SESTA, The Erotic Review (TER), VeryfyHim, TouchedByVenus, My ScarlettBook, Hung Angels, YourDominatrix and other sites have already shut down discussion boards, advertising boards and community forums, meaning sex workers cannot share information online.
Now, you may well be thinking that since you cam and don't meet fans IRL, this law will not impact you. That's not the case, unfortunately. SESTA has the potential to mean one day you wake up and your online content — website, ads, cloud-hosted clips and more — are gone.
Some camming and porn websites may shut down permanently because they are too afraid of legal exposure, or they may be forced to undergo strict restructuring in order to stay alive. It may mean all adult sites will look to overseas hosting, which may be less user-friendly and/or more expensive. Additionally, Microsoft has just announced that "offensive language" will be banned on Skype. Expect other telecommunications apps to follow.
What Effect Might It Have In The Future?
SESTA will certainly face sustained legal scrutiny. It's possible that implementation of all or parts of the law will be suspended while under judicial review. Some legal experts believe the Supreme Court will weigh in on the unique third-party liability this law creates, and it could take up to ten years to make its way through the courts. There is no question, however, that ISPs are taking this seriously now and may well continue to do so even if the law is only partially in effect.
It's possible that this spate of sites shutting down is an overreaction, and — with some carefully lawyered disclaimers — most U.S. sites may soon be back up looking much like they did a month ago. Or, the law could end up driving all adult-related content overseas. It's too soon to say.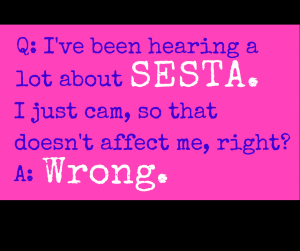 How Can I Protect My Camming Business?
At the very least, SESTA will result in adult websites facing increased scrutiny. To keep your business safe:
Be sure your hosting cam site takes model release paperwork seriously.
If your hosting cam site isn't keeping you apprised of any SESTA-related changes, contact them and ask what you need to know.
Follow their advice. It's in everyone's best interests for you to comply. They don't want exposure to liability, and you don't want your room shut down.
To keep your website/content safe:
Make sure everything you love and hold dear is backed up, preferably to an external hard drive, so if your site or clips do get shut down, at least you can restore them on a new site with an adult-friendly host. Google Drive has reportedly been locking or vanishing porn files. Assume other cloud storage services will too.
Make sure your website has a splash page with an adult content warning, and you may want to add language to the effect that you and everyone depicted on it are 18 years or older and working voluntarily of their own free will.
Do not advertise meeting on "dates" or IRL.
To keep your email safe:
Check out Protonmail. This service is hosted in Switzerland where they take privacy laws seriously. They offer a free version, encrypted end-to-end. They don't ask for personal information and don't have ads, which means they don't sell your information.
The one thing you can be sure of is the sex worker community is not taking any of this lying down. Learn more about SESTA, including untended consequences, overseas webhosting and other proactive strategies, here:
SESTA is a major new law with consequences for the entire sex industry. In order to keep yourself safe, you need to keep yourself informed.
Until next time, be sweet to yourself.
Lola D.
—
Lola Davina is a longtime veteran of the sex industry and author of Thriving in Sex Work: Heartfelt Advice for Staying Sane in the Sex Industry, a self-help book for sex workers now available at Amazon, Barnes & Noble, iTunes and wherever else ebooks are sold. Contact her at Lola.Davina@ynotcam.com and visit her on Twitter at @Lola_Davina, on Facebook and on Tumblr.
Image of Lola Davina courtesy Pat Mazzera.