While some mainstream tech media outlets have mocked the very idea of a smart speaker made for use in the shower, if shower shows are part of your repertoire on cam or in your clips, the Moxie AI showerhead from Kohler sounds like a simple way to add some audio flavor to the mix.
Once they've been released — which is to happen sometime later this year — Kohler says it will offer multiple models of the Moxie, including a simple Bluetooth-enabled version for $99 or an Alexa-powered version that runs $159. You can get the Moxie with a new showerhead included, which will run you an additional $70, or simply fit it into your existing shower.
So, let's think about this:
The Moxie Speaker by itself, with either just Bluetooth or Bluetooth plus Alexa. These versions get installed into your existing showerhead.
— or —
A brand new showerhead that comes with the speaker.
I am hoping all three of these options comes with a complimentary length of plumber's tape, too. Though, when you look at how the Moxie seems to work in the option shown below (there are several other showerhead configuration options besides this one, by the way), I can't imagine how this little cone speaker would attach to an existing showerhead not specifically designed to accommodate it.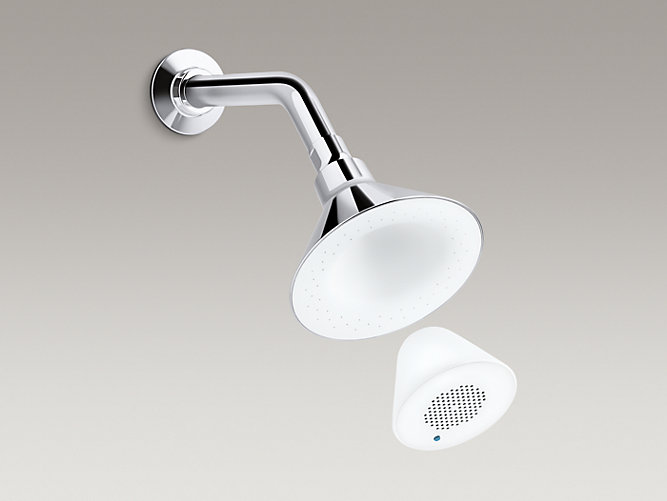 Moxie Specs
Boasting a playback time of up to five hours for the Alexa-enabled version or six to seven hours for the Bluetooth, the Moxie offers plenty of time to shoot and re-shoot (and re-shoot again) shower scenes with music – or, to take things in a different direction, a podcast playing in the background, perhaps offering your own wise and witty commentary in response as it goes along.
As you'd expect, the Moxie is waterproof – but as you know if you've ever purchased a waterproof smart phone or any other electronic device that purports to be waterproof, there's "waterproof" for marketing purposes, then there's waterproof for real.
Thankfully, the Moxie falls into that second category, as it is rated IP67 – meaning that it can be immersed in water up to a meter deep for up to 30 minutes and come out unscathed. Okay, so ideally, you'll never have a meter of water backed up in your shower to begin with, but it's good to know it Moxie can handle being dropped into that sort of depth if it ever does happen, right?
The Moxie: Excessive for Civilians, Made for Cam!
It's easy to envision cammers and clips creators using the Moxie to add music to shower scenes, but truthfully if you get the Alexa-enabled version, it opens a world of possibilities. Imagine doing a sort of "ask me anything" shower show, aided by your in-shower digital assistant, for example. Or, if you like to discuss topical things with your fans, you can use Moxie to check the latest headlines.
While the Moxie is designed and marketed for use in the shower, it's a wireless and portable device, so you've also got the option of using it anywhere else in the house – meaning all those same capabilities which would add new dimensions to your shower shows can be taken advantage of for shooting in the bedroom, kitchen or basically anywhere else you shoot.
It's easy to lump the Moxie in with other unnecessary smart devices (I still don't understand the point of a microwave with web browser built in), but most people don't have a job that follows them into the shower. For those of us who do, the Moxie makes at least as much sense to have as a rubber ducky – and the last time I checked, my ducky can't play podcasts.
Add it to your wishlists. February will be here before you know it.
—
Arizona denizen Mila Ryan loves all things internet tech — almost as much as she loves her two rescue kitties, Jordan and Emmett. 
Product images via us.kohler.com. Header image by Gustavo Linhares via Pexels.