Y'all, 2020 is a trip, and October 2020 isn't playing around either.
Although we concede that we can't really party with our friends and family to ring in Halloween like last year, we aren't going to let the pandemic bring us down or squash our creative spooky spirit.
We've got a handful of great costume ideas for anyone looking for costumes to help buoy your fans and your spirits.
The Ever-Versatile Bunny Costume
A few weeks ago, we asked Catjira to contribute her thoughts on what a good on-cam 2020 Halloween look would be, and she did not disappoint. The following are her thoughts on why she chose the "Bunny:"
It's no secret that I have always been a fan of Playboy and the iconic uniform, and 2020 is the biggest year of the bunny. With many of us staying at home, it's easy to put something together that is iconic, recognizable, and something your fans will enjoy. All you have to do is just use a pair of bunny ears. I have taken many character cosplays and applied the bunny initiative over the years, and October 2020 will be no exemption. And, any model can do it, too! I love getting creative with my bunny looks, from making them classy to spooky. I've even done comic bunny characters and classic film bunnies.
Many adult costume retailers like Yandy are in with this trend and provide easy access to these kinds of costumes, but you can also create or put some looks together yourself. I love finding and or making a one-piece bodysuit to represent the infamous uniform and adding accessories or makeup to really bring the character to life. You can even make this look even more spooky instead of a cute look by adding fake blood. Sometimes, I use JELL-O or paint in a pinch. I also throw in some fangs or contacts for effect.
Adding things that the character likes to make your idea more recognizable for content helps, too. For example, if you wanted to do a DVA Bunny from the Overwatch video game, just incorporate some Doritos and a Mountain Dew. Making references to your favorite character will not only be appreciated by your fans but also potentially increase your fan base. The bunny brings them in, but your creativity gets them to stay.
Hand Sanitizer
It's wet, filled with alcohol and can keep you safe. If you're looking to add a little humor to your show, dressing as hand sanitizer is the way to go. Invest in a clear raincoat and adhere a cap (or squirt top, heh) to your head to keep fans laughing through the frustration the pandemic has served up.
RBG
If you're looking to get judicial this Halloween season whilst reminding your clients to get out and vote in the upcoming US election, consider dressing up as Ruth Bader Ginsburg. Any Halloween judge costume will do for this simple idea.
Essential Worker or Quarantine Cutie
Looking to honor those who have to work? Wear some scrubs, a Halloween postal uniform or a nurse's costume to get the job done. Feel like cuddling up in a blanket and forgoing the theatrics? Call yourself a "Quarantine Cutie," and keep it simple.
Bad Ideas
You'd assume that by 2020 most folks would know what costumes are off-limits, but SINCE it's 2020 and only bad things happen now, we would like to remind you NOT to wear:
Anything involving black face (or yellow face, or any other sort of "face" that trivializes another's physical self).
Anything involving appropriating another culture.
Anything that's transphobic.
If you're looking for examples of what to avoid (or something you can forward to that high school acquaintance who sometimes pops up in you mentions), Good Housekeeping has a pretty extensive list.
Cringe-y Honorable Mention
We can get behind folks who *own* words that slur them or their work. So, we're giving this ridiculous "Tater THOT" costume a break.
Classy? No. But just like the perfectly browned tater tot, this costume can serve its purpose in the right dish, er, circumstance.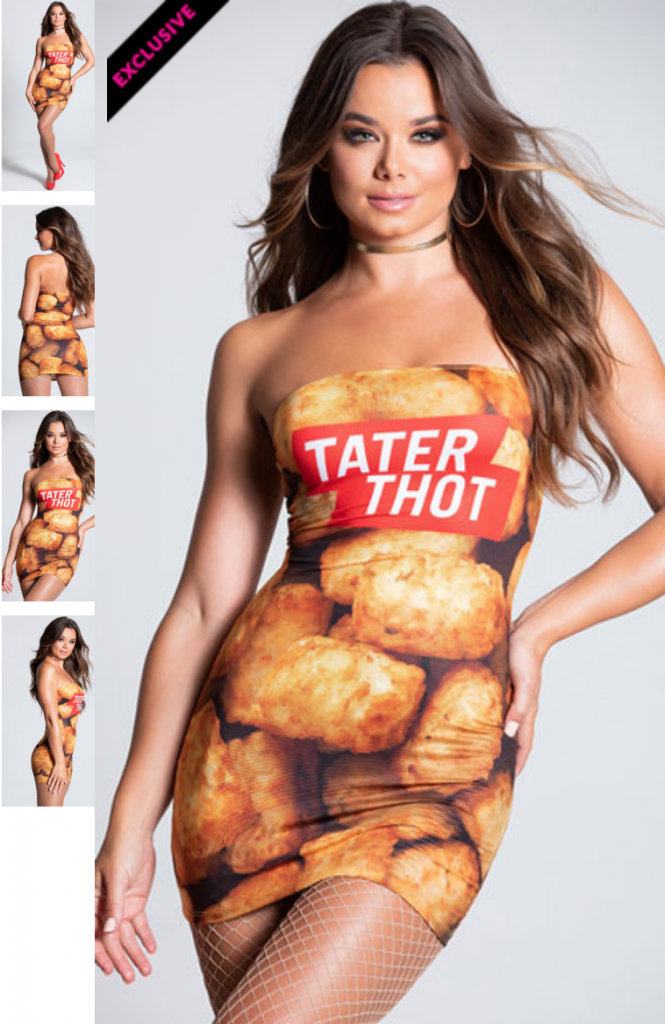 —
Abbie Stutzer is a queer, non-binary writer living in Kansas City, MO. You can find them doing witchy stuff at home with their numerous pets or at the local animal shelter saving lives. Contact Stutzer via abbie@ynotcam.com.
Screengrabs by YNOT.