Maya Sintress started working in the adult industry during her college years in Chicago — back in 2000! To date, she has been a full-time professional dominatrix for twenty years.
In addition to that being an impressive amount of time to spend in any career, Sintress has had the rare opportunity to directly experience an unprecedented amount of significant changes occurring in her specific chosen occupation – and in the world in general.
"Sex work can be very tolling and energy draining," she shared with YNOT Cam, "so, I feel very accomplished with having that many years under my strap on belt."
Sintress herself learned a lot about her own boundaries and formulated her own space for expertise over the years.
"The commercial dungeon I apprenticed at trained the dommes in everything from bondage to wrestling to tickling to adaptable roleplay," she explained. "There was a lot of trial and error and figuring out what I was good at and truly enjoyed."
"I learned so much at Jade's Dungeon that I've taken with me to this day. One of the things I have dropped and will never do again is wrestling scenes — totally not my thing," Sinstress said. "I'm more of a bitchy Ice Queen and don't allow physical interaction of the sort or giving up any power or control."
Figuring out and developing one's expertise – including the fact that it's 100% okay to have boundaries within the context of said expertise – is just one thing we grew to understand more fully via Maya Sintress over the course of this interview. Read on to learn so much more from a person who has experienced and thrived throughout significant shifts in the world of sex work.
—
YNOT Cam: What prompted you to begin the online parts of your career?
Maya Sinstress: I was a student and had very few other jobs in My life. In college, I worked for a clothing designer for two years. Mostly, I cut fabrics and used a Serger for sewing. After that, I worked for a graphic design firm making flyers and promo material for clubs I wasn't old enough to go to yet. Years later, I ended up hosting a weekly fetish night called Bondage a-go-go at one of those clubs, which spanned on and off for about ten years. Also, I modeled during this time, did performance art and worked on music tours. Then, I answered an ad for a dominatrix in the newspaper and began working full-time while finishing my degree.
There have been many transitions into other aspects of the industry, especially now. I started focusing on filming and making clips around ten years ago. During this pandemic, my focus has been playing online and over the phone, instead of seeing clients or shooting with others in real-time. It's the safest way to earn an income as a sex worker during these trying times.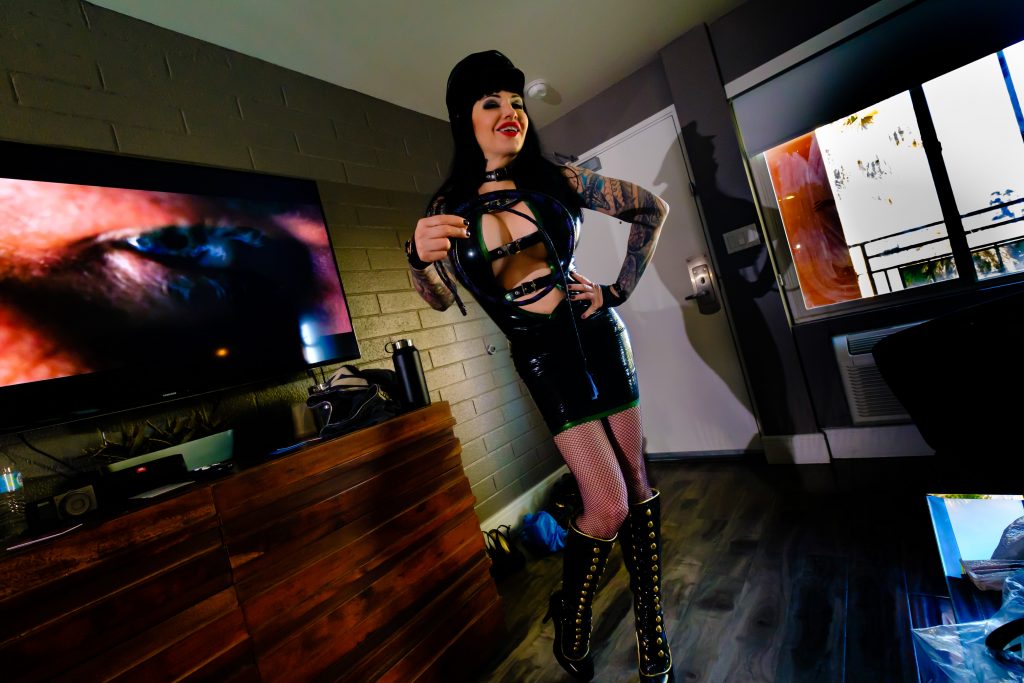 You've been in the industry over a span of time that's allowed you to see many changes that significantly impacted in-person sex work – from going online to having that limited to now COVID. How have you adapted?
I've seen so many changes from 2257 requirements as well as FOSTA/SESTA and its effects. The worst impact FOSTA/SESTA had was taking away workers' ability for safety. Screen services and advertising platforms went down. This impacted everyone's risk level and income.
As an industry, those of us who work real-time are still affected by it. Just a few years ago, it was very lucrative to plan a tour and meet new clients. Now, there are few ways to advertise planning a tour, so your client base becomes limited. And now, with COVID, it's not safe to tour. Plus, we're left advertising on aging sites like Eros or exclusively on social media.
More change is always in the pipeline, so how can people in the community best prepare for big shifts in the business that will impact their livelihoods?
My advice would be to branch out as much as you can. Don't limit your income to just one source or rely on any specific website. Set up stores on multiple clip sites, network with other providers, be prepared for drastic changes at any time and hold on to your savings.
If you don't have savings, start an account now. Your clients might not always be there, and you might not have the ability to work through the means you normally do. Laws may change, and who knows how else this work will change. Be prepared and be safe.
Worship & Submit. #HailSinstress pic.twitter.com/SZA2LF8imF

— Maya Sinstress- Vegas pervert & producer (@MayaSinstress) December 4, 2020
What are some of the best things about working online?
Working online, you don't have the risk of a dangerous in-person client. You can work safely from home in your pajamas. For real-time sessions, I would have to clean the dungeon beforehand and after, set out the toys to use, and get myself all dolled up. With working from home, I only need to put on makeup and a sexy or casual outfit — no hours of standing in painful high heels or sweating in latex.
One of the highlights camming more is meeting other providers. Clients are being more adventurous these days and wanting multiple domme or sex worker cam scenes. Sometimes, I haven't yet met the ladies I'm working with, which has been really refreshing. The downfall is it's nowhere near as much money as working in-person. So, you have to be creative on cam to make it worth your time without compromising your boundaries.
Your clown content is terrifying — in a good way! How do clowns, and maybe horror in general, and BDSM intersect? What advice do you have for models considering exploring content that may seem "different from" their primary or established area of interest and expertise?
Thank you for the compliment. On a personal level, I enjoy clowning. It wasn't a big seller for me at the beginning. But my fans could see how much fun I have with it and started buying the clips and getting into it. Now, I get a large amount of clown customs that are all over the place.
One of my clients made this comment recently that made me laugh and feel appreciated: "I don't know what I expected when I started my kink journey, but I'm pretty sure that buying creepy huge dicked lady-clown porn someday was not on my bingo card! And yet here we are." Such a rave review!
I'm not afraid to branch out and try niche categories. Content producers should stick to a handful of main categories that work for them but experiment in other areas. It keeps things creative and fun. Just pay attention to if it sells or not. Your fans might like that element of creepy or scary. On the flipside they may get an endorphin rush from seeing something absurd that gets their blood rushing. There are many elements that accompany arousal. Play on those cerebral aspects that aren't just visually appealing.
Demonic Succubus Hex #GOTHIC #Vampire #Succubus #Demoness #clips4sale https://t.co/Dy2LBTV5Kf via @clips4sale pic.twitter.com/ojMA30E7zA

— Maya Sinstress- Vegas pervert & producer (@MayaSinstress) December 13, 2020
Outside of your career, what are you most passionate about?
I recently turned 41. I've put so much passion and energy into my career. I've had an epic and full life. These days, I really enjoy downtime and not the constant hustle. I'm more focused on self-care and happiness.
Since moving to Las Vegas, I've really gotten into hiking. Breathing in the cold mountain air that's mineral-rich is so refreshing. I've been a vegetarian for about 30 years, but I'm focusing now on being vegan. The plant-based life is the way to go. Mental and physical health is so important. And of course, I am passionate about my three Sphynx cats. I've always wanted to grow old with a feline family.
I think my fans like seeing pics of my cats, the food I'm making and my hikes. It shows them more of a sense of your personality than just sexy selfies. Everyone knows you're sexy, but what do they know about you and your cats? Sleeping in with a bed of cats is not something I would have done in previous years. I'd always be on the moving and working non-stop. I'm ready for some downtime and recharging during this pandemic.
This was the other day. Its not too loud. pic.twitter.com/ThYOLXWknU

— Maya Sinstress- Vegas pervert & producer (@MayaSinstress) December 8, 2020
If you could change one thing about today's world, what would it be and why?
There are so many fucked up things coming to a climax right now: racism, politics, misinformation, the pandemic, a messed-up economy and lack of proper healthcare — you name it. If you have a name and a platform, you can make a change. None of us can tackle any of these issues alone, but we have to do it as a whole.
One of the little things I have been doing is supporting small businesses. I buy things from farmer's markets, black and female-owned stores and mom and pop companies. They need our money so much more than Amazon. I suggest you do, too.
If you take away a few things from this interview, this would be the summary:
Don't put your eggs in one basket.
We all need to work together.
Be safe.
Wear a fucking mask.
Find Maya Sinstress on Twitter at @MayaSinstress. Images by Bob Coulter.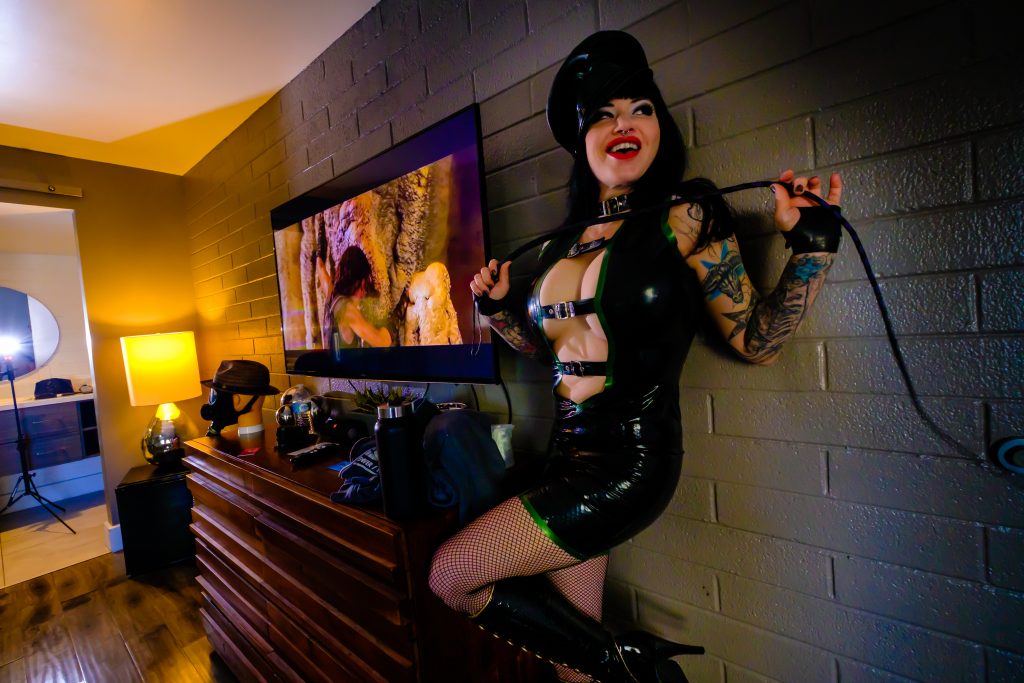 —
Erika is a sex positive people watcher (and writer). Email her at erika@ynotcam.com.