Everyone who is experienced on cam was once new. And everyone who is new has felt, even for a moment… like… "Whoa, this is A LOT!"
Our friends at XloveCam recently shared their Top 10 key questions that new models often wonder about. These provide great insight for people just coming to the cam space, as well as models who have any degree of experience. "Big deal" key questions can shift over time as the industry evolves, technology advances and society changes. It's great to keep up on what current "new model" concerns and questions are touching on.
Give the following a read for insight and perspective!
—
When you start out as a cam model, there are some questions that get regularly asked. People sometimes have moments of doubt, and it's legitimate to ask questions. So, let's go through the 10 common questions that are asked by your community.
#1: How can I stay anonymous? Should I hide my face?
Staying anonymous can be a realistic desire when you don't want to be recognized. Cam shows are all about showing your body and face. Most models create a pseudonym, and you can block users with IPs from your country to find you online. Feel free to use make up and or wear a wig when possible.
#2: What is the procedure for a webcam session?
The process is quite simple. When you log on to your platform, you will appear as "Online." Users can see that you're online and come to chat with you. They can also offer you tips and virtual gifts according to their affection for you. We advise to always let your fans know verbally to reward you with tips.
#3: My income isn't high enough. How can I earn more?
Your income can be impacted by different factors per platform. Do you stream long enough on the platform? What types of shows fits your performance style? What are more successful models doing? Do I have the right stream attitude?
You might be making some common beginner errors that could be avoided. XloveCam.com streams two live webinars monthly to help cam models grow in knowledge.
#4: What are the payment options?
You have several options for receiving your payments. There is Paxum, Bankwire, Epayservice, Monese.com, Revolut, BitSafe and MasterCard Debit Card. We are always adding payment options and expect a few new ones in the near future.
#5: Will I always need a platform?
Going freelance will probably be quite expensive. You will be required to invest a large amount of time and money upfront. It may take years to be profitable, if ever.
Platforms take a part of your income but for a good reason. They give you access to well developed tools, access to an established user pool and execute safety protocols.
#6: How do I avoid clients who just want to chat?
Well, your time is money. So if you spend all your time just chatting you won't make any money without "tips." Even if they are nice, push them smartly to spend their money with you. While users are able to log on without paying, the ultimate goal is to get them to spend on you.
#7: What is the best time to start streaming?
The best time to stream is when you are able to do so. It is important to know your audience peak times as well. Many countries in Europe experience night fall when it is still day time in the United States. It is best to be online when most of your fans are free from work.
Please tell your fans when you will be online using our various user retention tools. Our Auto Fill time table is calculated by the platform, based on the online presence of the model in the last 45 days.
#8: How can I have confidence in myself when I go for it?
You're just starting but you're hesitant and shy. You may lack confidence in your shows and some users may want to take advantage of you. We have the "Only Chatting" category for beginners that want to build confidence with our streaming tools before going to other categories.
Join our webinar or seek advice from fellow webcam models. Experience comes with trying. Little by little, you'll find the confidence that you lacked at the beginning.
#9: Why am I asked to scan my ID card when I sign up?
Simply put, webcam platforms are only for adults. Platforms want to make sure that you're not underaged and that it's legal for you to use the site. Becoming a webcam model is only for adults and to be consumed only by adults.
#10: I don't think I'm really beautiful. Can I become a cam model anyway?
Beauty is in the eyes of the beholder. You'd be surprised by the diversity on all platforms. In your doubt, others will see mystery and intrigue. Take the time to look your best and success will follow.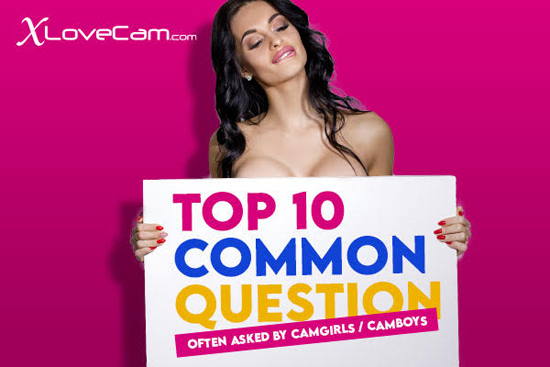 —
Erika is a sex positive people watcher (and writer). Email her at erika@ynotcam.com.