Ella Mourne goes by many names – but be she the lewdliterati or Milady de Winter, you know you're talking to the same quirky, nerdy, arty, bawdiest babe around.
"While I've been engaging in sex work in some form or another for a little over six years, I didn't officially get my start in the industry until just over four years ago," Ella shared with YNOT Cam.
Originally from Cleveland and now living in Baltimore, MD, Ella was heavily involved in the Cleveland theatre community for more than a decade.
"Some of my fans have even gotten to hear me sing both in my cam room and in some clips," she shared, which is amazing!
Read on to learn more about Ella and her work online.
—
YNOT Cam: What prompted you to begin your career online?
Ella Mourne: I've always been a performer in some respects. Prior to entering the industry, I used to attend cons professionally as a cosplayer, wrote beer and subscription box reviews for a now defunct geek website and for several years I wrote a webcomic with a former partner. In terms of vanilla work, I spent almost eight years in the insurance industry handling arbitration. Before that, I was working on a degree in international relations, which I put on hold to help take care of my grandfather until he passed from cancer.
I had always wanted to work in the industry. My walls were plastered with posters of adult industry legends when I was younger. I try not to have regrets, but not being able to get into this work years ago comes pretty close. My previous partner was incredibly jealous and didn't support my desire to pursue sex work. It took me longer than I'd care to admit to find the strength to leave that relationship and embrace my own wants and needs.
Who else is BEYOND excited for Knives Out 2? pic.twitter.com/V3BlpSDai8

— 🦇 Milady de Winter 🦇 (@lewdliterati) May 26, 2021
What are some of the best things about working online? What about challenges?
I like to think of any kind of progress as a highlight. On the first day of each month, I look forward to sitting down and tracking all my social numbers to see how I've improved and where I need to put some extra work in. It usually helps me see even in difficult months that growth is still possible. Major milestones and "best things" though? I'd say winning CamGirl Dollhouse Miss XXXMas 2019. I'm not big on contests, but I absolutely cannot resist a holiday theme of any kind.
The pace of this industry changes so quickly, so I think allowing myself to explore how I've changed in my career while still keeping pace with everything around me is an ongoing challenge – but I also feel incredibly supported and inspired by the community. My social media presence has been a little quiet the last couple weeks as I've been getting acclimated to a new day job, but I make time to browse my feed and I'm always in awe of my peers. There is such an abundance of creativity and resiliency in the industry, and I don't know how anyone can help being uplifted by that.
When @BlerdGirl gives you a cute dress, you do Cute Girl things in it. pic.twitter.com/qsXDlswEN4

— 🦇 Milady de Winter 🦇 (@lewdliterati) July 1, 2021
What do you think about the current state of the industry for sex workers that are also online content creators?
Whew, this question is rough. Truth be told, so much has happened… We're constantly losing access to sites and having our livelihoods threatened. The only way to survive is to prepare for the worst and keep the noise to a minimum.
I feel like I've been permanently operating with a low, threatening hum in the background since FOSTA/SESTA. I try to stay engaged enough to make my voice heard and support my fellow workers, but if I completely immerse myself I'll drown.
Back up all your content and your customer lists, diversify if you have the capacity to do so and find a group of peers you feel supported by. I stress peers because while my friends truly are supportive and vocal about sex worker rights, they still can't understand the day to day. It's important to find your community.
I've had so much fun playing around with light and shadow recently. Thinking I might need a sunset lamp… pic.twitter.com/4KendIY2ok

— 🦇 Milady de Winter 🦇 (@lewdliterati) July 11, 2021
Outside of work, what are you most passionate about?
My biggest passions outside of work are professional wrestling and sci-fi/fantasy.
I have a massive collection of comics and toys, used to be globally ranked in Star Wars trivia and have been working on a new web series called "The Naked Collector," which is focused on collecting anything and everything. I'd love to interview some peers about their own collections!
Prior to the pandemic, I loved commissioning original art, did some convention coverage for C2E2 and NYCC for Newsarama and spoke on panels about wrestling with some friends including fellow industry babe, Maki Roll.
If you could change one thing about today's world, what would it be and why?
What would I change about today's world? I think big picture that answer has to be easy — eradicating bigotry.
On a smaller scale I'd like to see more folks pursue their passions instead of resigning themselves to the narrative we're fed about steady careers and family. Do what's best for your mental health and what brings you joy.
Find Ella Mourne on Twitter at @lewdliterati.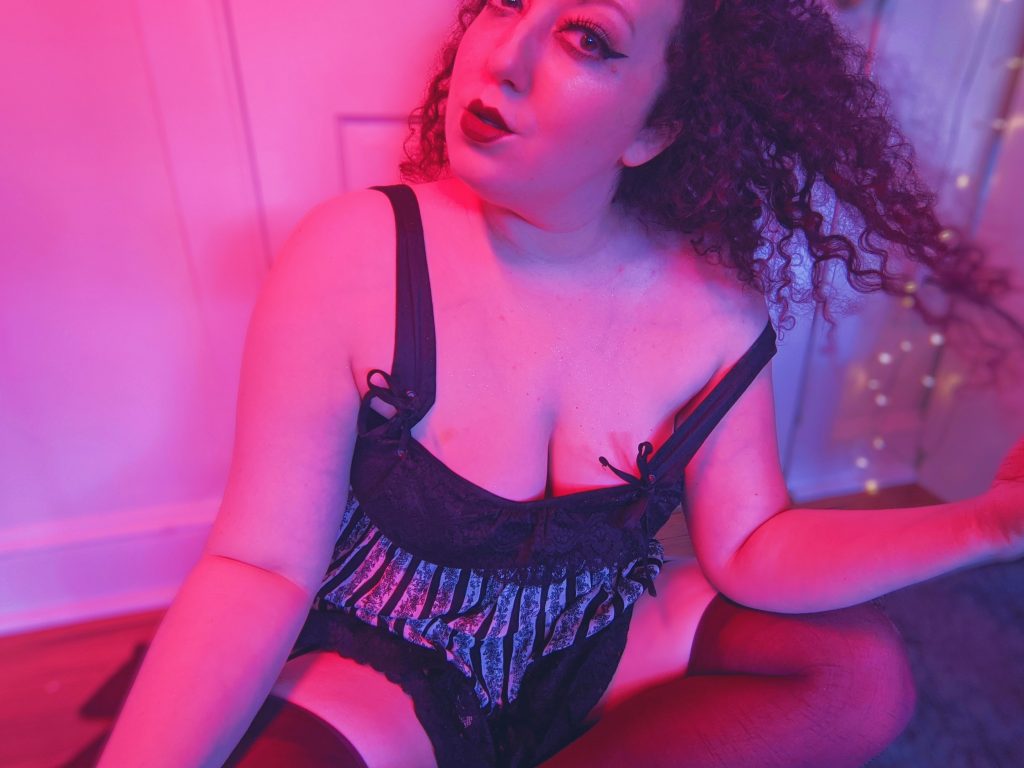 —
Erika is a sex positive people watcher (and writer). Email her at erika@ynotcam.com.