Rem Sequence has been working in the adult industry since 2018, four years officially as of January 1st. She is currently 40 years old and from Australia — South Australia to be exact, which is a thing that Sequence explained.
"South Australia has a fairly small population compared to other states in Australia, and the running joke is that there is only a couple of degrees of separation between people that live here," she said. This small community quality could add an interesting dimension to online sex work.
"A fun fact about me that most people in this stage of my life don't know about is that I worked in the music industry for about fifteen years," Sequence shared. "I played and performed with a number of award nominated groups as well as managing events and venues and holding executive positions on music industry boards. The kids I grew up with have gone on to being internationally recognised in the music industry."
And back to South Australia – "This little place where I live, in my personal opinion, was an absolute goldmine of musical talent for one generation," she said. "Performing and being in the spotlight comes very naturally to me as a result of this."
Read on to learn a bit more about cam from (way) down under!
—
YNOT Cam: What prompted you to begin your career online?
Rem Sequence: I started working in the adult industry about four years ago. At the time, I was getting close to twenty years of working in health and community services. I started out as a youth worker and drug and alcohol counsellor and gradually worked my way up in the sector to be a research analyst, policy advisor and project manager with very large government health projects. I was one of those people called "project rescuers" and was headhunted continually to step in and bring things back on track in government health services.
I had been struggling with my health for most of my adult life, but despite this I was excelling in my corporate gig — but my passions have always been in the arts, including photography and painting. A friend who worked as a FSSW asked if I had ever considered doing online sex work, particularly nude and XXX photography. I had spent most of my adolescence and early adulthood around the adult industry, but I honestly never thought I was cut out for work that involved people desiring me in a sexual way.
I decided to give it a good solid six months to see if I could make it work, and I loved it so much that I just continued to do it. Two years ago, I became seriously ill and am now officially disabled following a diagnosis of MS. Although I can no longer do my corporate gig that I had committed to as my career, online work gives me the flexibility and ability to continue to live meaningfully.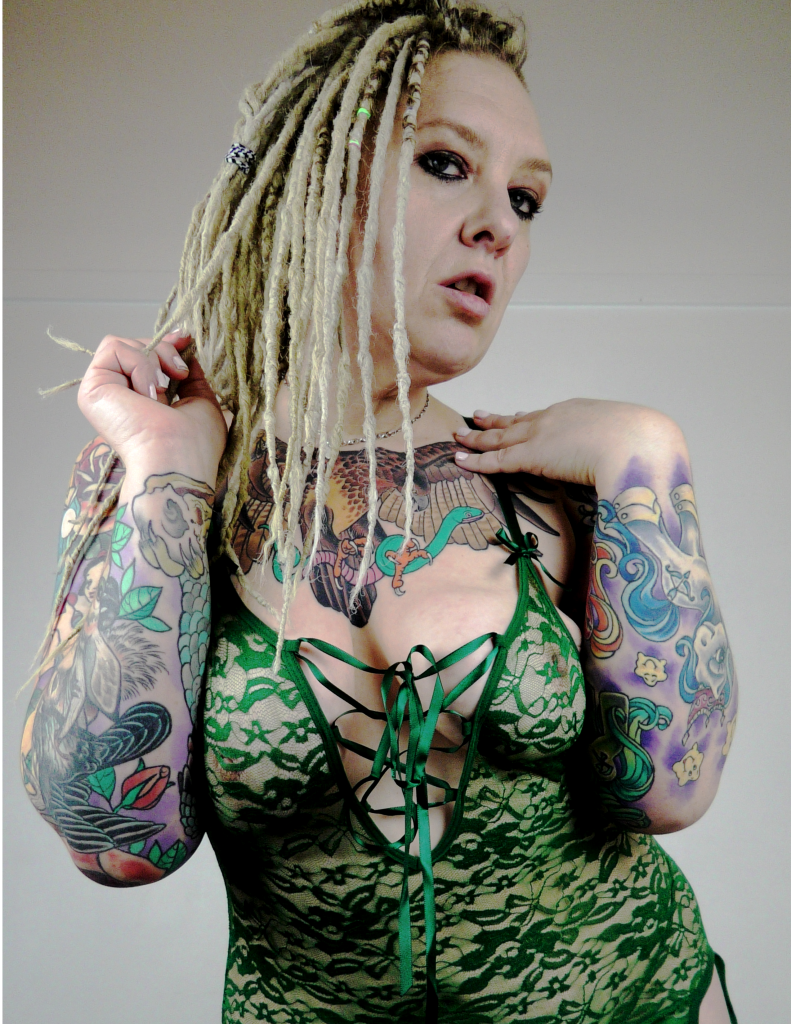 What do you love about online work? What's challenging about it?
My previous work life and experience in the music industry has really set me up for where I am now. Working online is incredibly isolating, and you have to be accountable to yourself to succeed.
My work life before this involved working autonomously on complicated and important projects. Even though I had people checking on my work, because of the level I was at, it was an expectation that I would do my job to an exemplary standard. This takes discipline, commitment and a really high level of self accountability. This can be super challenging, but — for me — working in isolation and pushing myself is one of the best things about this work. I am basically managing another big project with lots of moving parts, and I think this is something that can be really challenging for some people.
It isn't easy, straightforward work to succeed in this industry, so unless you are willing to put in the serious work and planning, it is not for you.
One of the other things I love about this work is meeting people from all over the world who are incredibly supportive and have become great friends of mine. This includes models, clients, photographers and artists. For people to really love your work and be in your corner cheering you on is a really uplifting experience for me.
One of the biggest challenges of this work is being online in spaces which can be super toxic. We need to use social media to promote ourselves and being in the spotlight on these platforms means that you get targeted with all kinds of hateful and malicious behaviour. I am a super caring, easygoing and kind person, and the kind of rage I have had to deal with from people who are complete strangers just baffles me. I am getting better at handling it, but if I broke down at every instance when someone wasted my time, was rude or disrespectful or trolled me, that is all I would be doing.
The internet can be a really toxic environment, just think about it; anyone who has access to a computer or smartphone can put their opinion out there. That doesn't mean it is correct or true in any way. The anonymity provides people a protection to say and do things they wouldn't dream of in real life. I think performers in the adult industry are superstars having to deal with the kind of behavior we see every day.
1. Fact Number 163 about being immunocompromised: things get infected so easily. A small cut resulted in an infection on my inner thigh which turned the whole area a nice mottled colour. pic.twitter.com/RGs7nZeA9y

— Rem Sequence Aussie MILF (@RemSequence) January 25, 2022
How do you manage the 24/7 expectations of today's online content creator world?
As I said earlier, I am disabled. I think, although this work provides the flexibility people like me need, there is also a massive pressure to be "on the grind" 24/7. I have had times when I have seen other models who have been able to work this like a normal job, and it makes me feel frustrated because I simply cannot. I absolutely love doing this work, but if I could go back to my "normal" job, I would.
I know there are lots of models in the same position — who are doing this work because it works for them but the pressure to be working all day is still there. I guess it is something I would like to talk about more, as I am always trying to work out ways to work smarter and be more productive with the time and energy I do have. I have 4 to 5 usable hours a day TOTAL because of my health, so I need to be really mindful of what I do with those hours.
I know that this presents challenges, as I can't grow as fast as other models or be as available as others can be. But when I get stuck in that rut, I always remind myself that there is only one Rem Sequence, and that is who my fans are hanging out to see.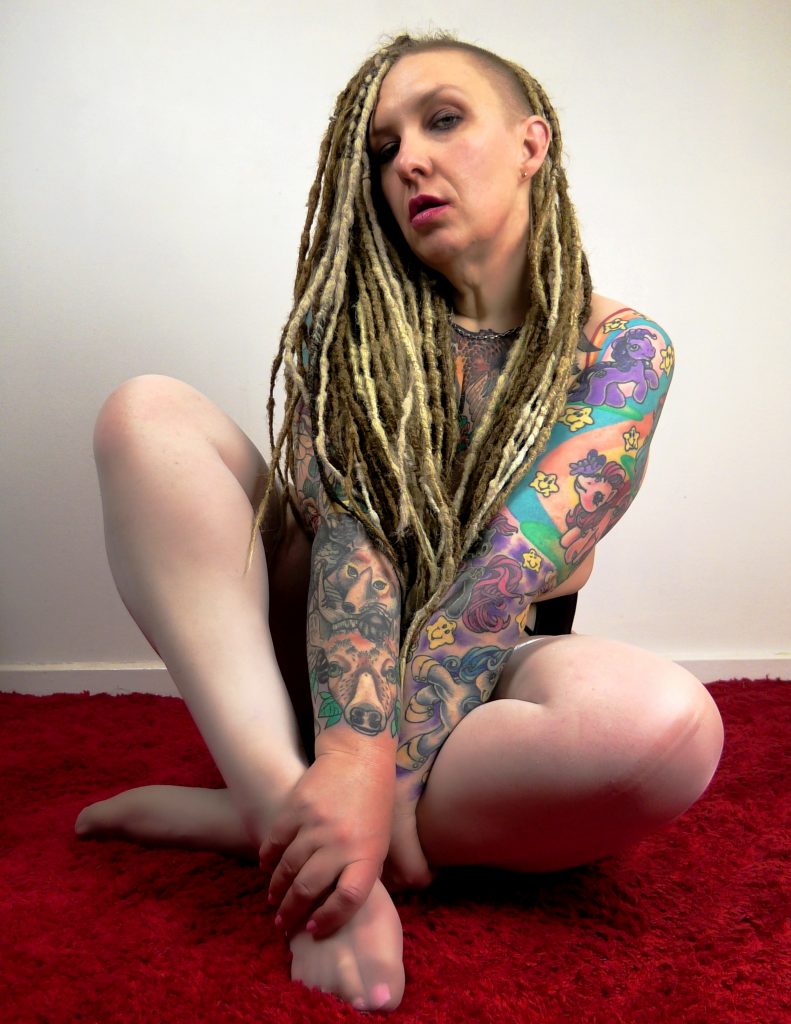 I read your blog post, "Know Your Enemy: Why OnlyFans Is Anti Sex Work." Can you give us a summary? 
Ah, my old friend OnlyFans! I have been raging against this one since I started working online in 2018. OF was a very young and new platform at that stage. I made a free account after hearing some models talking about it, but very quickly I heard from people who have been in the industry a long time start talking about the posting of porn on it — eg it isn't allowed!
I got into a circular argument with OF support not long after that, asking them to confirm if porn is allowed on the platform or not. At that time, the ToS were not very clear and were based on "obscenity," saying that if the content could cause "offense" or "distress" to someone, then it is not permitted on the site. They went even further to say in their ToS that regular sweeps were done of joint Twitter and OF users to ensure that users were not posting explicit content. Sounds absolutely ludicrous when you see the hashtag "OnlyFans" connected to 99% tweets that contain porn!
The response I got from that first OF support person started my wheels grinding and I started keeping receipts of everything that went on with OF, from people losing accounts, having their funds frozen, having content stolen and all the shenanigans going on behind the scenes. I realized the secret to the success of OnlyFans was being a porn site that did not say it was a porn site. I hear civilians titter about "starting an OnlyFans" but not a PornHub or a ManyVids.
It has been an ingenious method to make money off the back of sex workers by tapping into the stigma that sex workers face and a society that fundamentally hates us, but still desires us.
💋 have you voted for me today hun?https://t.co/dtPZLRYq0T pic.twitter.com/vXit5AXVIN

— Rem Sequence Aussie MILF (@RemSequence) January 25, 2022
What can online content creators, the industry at large and fans can do in terms of this specific site moving into 2022?
There is not much we can do to change the fundamental ideology of online platforms, so we either keep our business with them and take the risk that they could pull the carpet out at any point, or we take our business elsewhere and diversify. In order to fight this, I think it needs to be named and people need to be educated.
Fans don't really understand how platforms work. The more info out there about the platforms, the more educated choices fans can make about where they purchase from. That's why I write a lot of blog posts for models and fans about really basic things we take for granted but are really insider knowledge or held by those who have witnessed the evolution of different platforms.
I am going to write another blog piece on this, but when it comes to what platforms can do, we need to really accept that these are businesses. The number one priority of businesses is to keep themselves profitable. These big platforms hire people whose specialized skillset makes sure the business stays profitable. Platforms need to balance this with the needs and desires of the source of their product (models/creators) and the society at large (including banks and governments), but to think that this mutually beneficial relationship is not about making money is naive. My young, idealistic self believes that platforms wouldn't perpetuate whorephobia or censorship or kink shaming while running their business but the older, more cynical me has seen the exact opposite over and over again.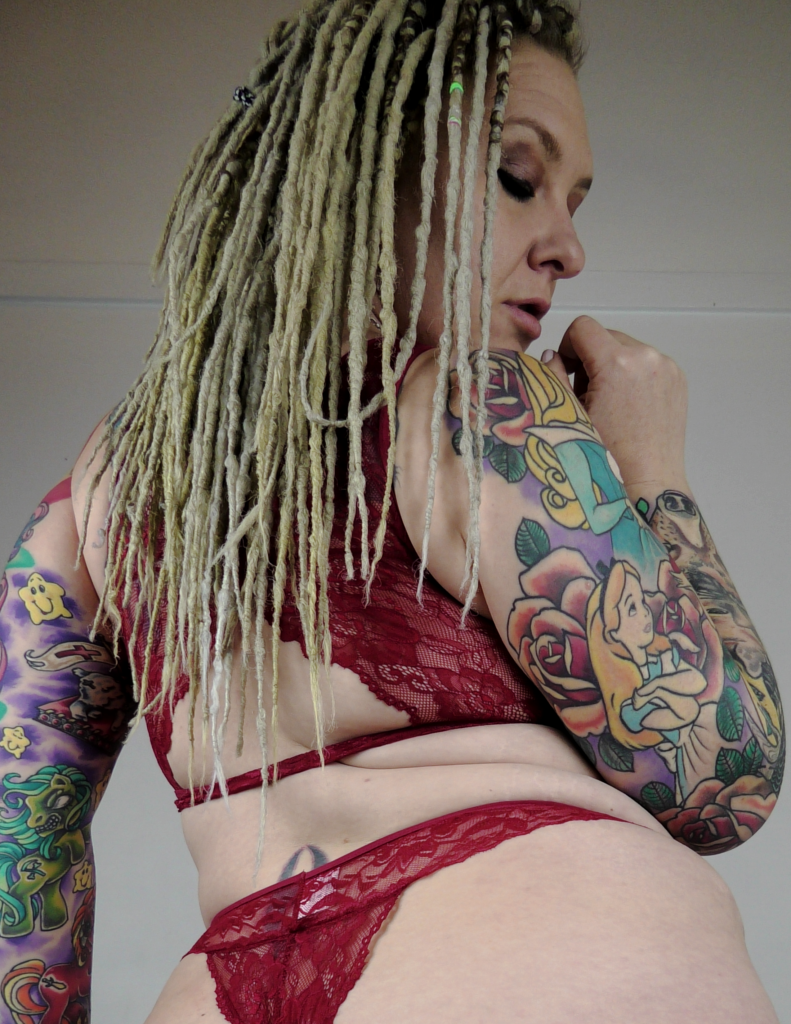 At this time, how do you leverage the platform?
I use OF as a free platform only, to find new customers/fans and direct traffic to my other sites. Use the platforms you can, while you can and in ways which will sustain you into the future.
If OF is your only site, this is not a great business practice. Think of it as being an egg farmer and having only one chicken to provide all your eggs. There are times that chicken is going to rain cartons of eggs on you, but other times, the chicken will lay nothing. The chicken may get sick and die. You cannot rely on one chicken for all your products.
Think of OF, and all your other sites, as your chickens.
Speaking of you blog, I see you maintain your own site. It's often a struggle to keep up with being one's own webmaster, but it's also super empowering to have one's own space. Any tips?
I think having your own website is an absolute must in the current climate. With so many platforms coming down on our industry, having a space which is yours alone to do with as you wish and remain connected with your customer/fan base is so necessary. The reliance I have seen that models have on social media particularly is quite scary, and it is why I bang on and on about building independence from other platforms.
If you play in other people's sandpits, you not only need to abide by their rules but you can get kicked out at any time. That is why you need your own sandpit. And that's what your own website is.
I am old enough to remember when there was no internet and then when there was, it took a lot of money and hiring professionals to get a website up and running and maintained. I think it appears really daunting to models, but I think if you are clear about what is involved, what you need on it and how to power your site up so that it works for you, it becomes fairly easy. It is definitely way easier than when I was making websites for bands and events back in the late '90s and early 2000s!
I have had a site that I manage myself now for about three years, and I just keep fine tuning it. The main thing is to keep it updated, and doing a regular blog helps to keep the content fresh — and search engines love fresh websites! I schedule everything in my work so I have a day that I will publish a new blog post and a day when I send out a newsletter to my email list. In between that time, I do minor changes and freshening up and I am working on SEO to really make the site more discoverable.
I think models get stuck in a rut when they obsess over the look of their site. The main thing to start with is just to have a landing page with all your links and a way to start collecting email addresses because that is what you really need. Email addresses are marketing gold if you don't know already.
Your site can start out looking like a dog's breakfast because the aesthetics is something that can be tweaked as you go. Getting a domain name and getting adult friendly hosting is the first thing models should be doing, and I can't stress that enough. I get that I am a pretty tech savvy person, but honestly, sites which are powered by WordPress are so easy to develop and maintain, and you need zero coding knowledge.
Keep in mind that I don't take payments through my site — yet — as that is a whole of level of knowledge I need to develop first!
Just another Monochrome Monday…https://t.co/YxRGG7N2Z8 pic.twitter.com/SiVmU4n4FF

— Rem Sequence Aussie MILF (@RemSequence) January 24, 2022
Outside of your career, what are you most interested passionate about?
I love challenging myself physically, and I do that through martial arts. I currently practice taekwondo  but had to have an extended break when I became very ill. I am back training regularly and am now a red belt, so not much longer before I am a black belt.
I have to take things slower now and pace myself which is frustrating, but I still enjoy the challenge to my body and mind. Because of my illness, I have twice weekly physiotherapy and my goal is to get back to competing in taekwondo. I love the challenge that fighting presents and everything else falls away when you are in that space. You just have to concentrate on your opponent and your body. I love that feeling.
I love animals and nature too, so I spend a lot of time outside in the garden with my dogs and my rabbits. I am learning how to grow my own food, also to supply the bunnies, which eat a massive amount of green food.
Even though it is part of my job, I love being creative and writing, so I do a lot of that which isn't connected with the adult industry such as painting, photography and writing essays on things that interest me. I have an honours degree in philosophy and going back into academia is something I would love to do someday, but till then I just keep reading and writing on subjects that interest me.
And we have a winner for my next #bikini clip! The Scorpion is coming for you… pic.twitter.com/0IIyAJM5aM

— Rem Sequence Aussie MILF (@RemSequence) January 26, 2022
If you could change one thing about today's world, what would it be and why?
That is a huge question and I am a deep thinker, so picking one thing I would change is really hard!
For me though, violence perpetrated by men against women is one thing I abhor and if I could change the frightening statistics which exist worldwide, I would. It has created a world where women cannot move as freely as men, cannot live the lives they want to live because of fear of violence from men and have been trained since birth to be careful around men.
Not only have I been a victim of male perpetrated violence, but I worked in the health sector for a very long time and domestic violence was one of my areas of focus. I have seen and heard horrific things, and it is my wish that this kind of violence would end. Back when I was young and idealistic, I used to think that porn and sex work contributed to this issue and that violent themes in porn was a signal to men that that kind of behavior is okay — but the fact is that the adult industry is one of the few where women hold significant power and are able to not only express themselves sexually and artistically but are able to build successful careers.
If you view porn through the lens that it is managed by men and that men control the industry then, sure, it may look like women are being exploited and portrayed in harmful ways. But if you view it through the lens that today, a majority of porn is made and controlled by the models, and that big production companies with men at the helm are few and far between, then you will see that the argument that there is a power imbalance falls aways.
Technology has made it so that someone — like me — can enter the industry now and become successful and not have to rely on a man or a production company to do so. I think if we talk about this more… about the reality of the production of porn… it may help to shift the balance of power — not only in the minds of our audiences, but for ourselves as models.
Find Rem Sequence on Twitter at @RemSequence.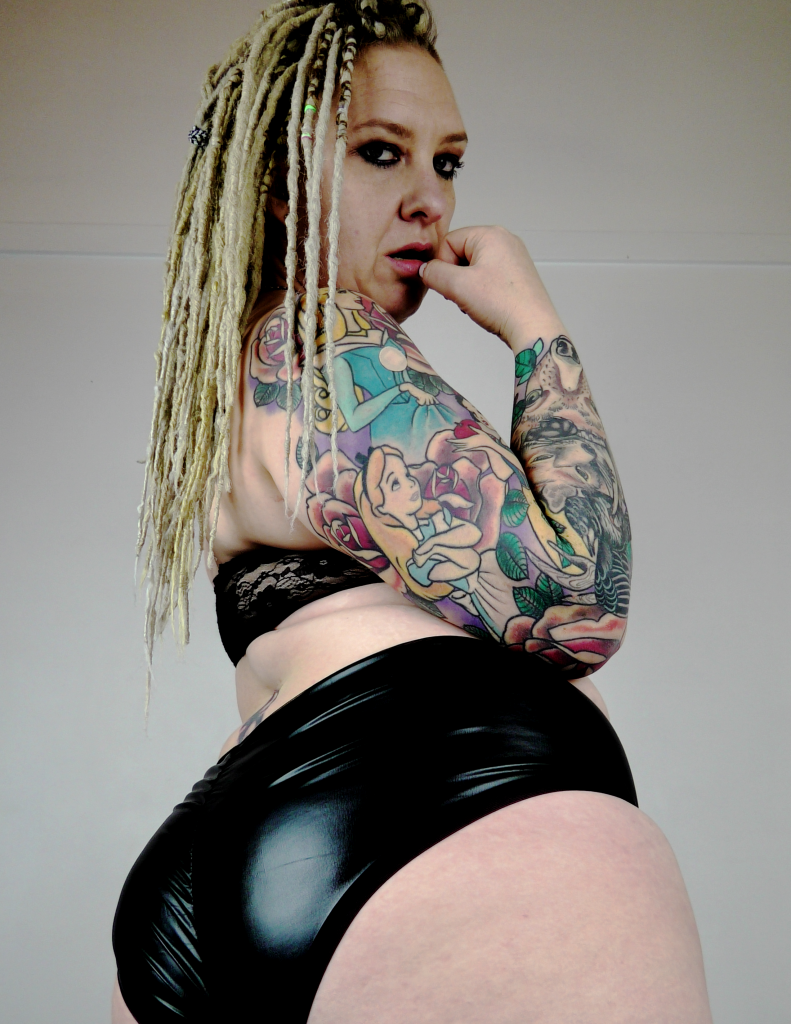 Erika is a sex positive people watcher (and writer). Email her at erika@ynotcam.com.
Clouds in header image via Unsplash here.