In the last few weeks, several people have reached out to me about getting doxed – having their personal information posted online, including real names, home addresses, and information about their families. One cammer reported a disgruntled fan had purchased domains of her real name, creating pages with links to both her OF ads and Instagram account. Most likely, this same special someone mailed information about her camming website to her mother's home address.
Unfortunately, as sex workers, we face the threat of this kind of harassment and intimidation on the daily. I'm no security expert, but I can offer basic advice on what to do in the immediate aftermath of a breach with assistance from online privacy author Violet Blue and the DIY cybersecurity website HackBlossom.org – I encourage you to check them both out.
First Step: Take care of yourself.
This step is so terribly important, I beg you not to skip it. As I write about getting outed in Thriving in Sex Work: Heartfelt Advice for Staying Sane in the Sex Industry, our fears scatter like dropped marbles when we find out our safety has been violated. In the immediate aftermath of learning someone has set out to hurt us in this way, the most natural reaction is panic, followed by the desire to DO SOMETHING.
We don't do ourselves any favors running off half-cocked, however. Take a few moments, do some deep breathing exercises, and self-soothe. In the days and weeks that follow, make sure to take care of your physical and mental health. Eat well, get the best rest you can, and talk through your feelings with friends, coworkers, or professional counseling.
Next Steps
Now it's time to act. The goal is to get your information off the web.
DO NOT ANNOUNCE YOU'VE BEEN DOXED. A natural reflex might be to tweet about this, but that's a bad move for two reasons. First, your doxer is probably monitoring your social media for a reaction- don't give them the satisfaction. Second, the rest of the world will be alerted your info is out there.
Starting with the site/s you know about, document your information using screenshots or taking pictures with your phone. Make sure all images are time-stamped so you can keep track of when you found them, and title them with the websites where they were located.
Next, do a Google search of the verbiage used in the dox. Search the precise words and phrases in quotation marks, like this: "So-and-so's home address is XXXXX." This way you can track down your information on other sites you're not yet aware of.
Search your name, home address, and phone number to see if anything unusual comes up. If your doxer has posted images of you, do a search of the image file names.
Search any username associated with the leak, as well as information about who you suspect may have doxed you, if any.
Once you've captured everything, make three lists:
All the data about you that's been leaked.
Where that information was posted.
Any information on who you suspect.
Immediately report that you've been doxed on the websites or apps where your information appears. Some sites make this easy for you with a "report abuse" link, but if they don't, email the administrator. You can also file reports with search engines, including Google and Microsoft.
If your doxer has posted stolen images of you, either from your sex work account or private social media, file a Digital Millennium Copyright Act (DMCA) request to have them removed. In a nutshell, the DMCA states that your images belong to you, and it's illegal for anyone else to use them without your permission. Some websites have a DMCA takedown request link right on their site—do a site search, and if they have one, file your report through that form. Otherwise, fill out a DMCA template letter and email it to the site administrator.
Document your reports. If you find yourself having to file more than once to get your information taken down, include those screenshots as proof of your multiple attempts.
Ask a few trusted friends to file, as well. Multiple requests improve the odds of a quick response.
Finally, you'll need to keep following up. Check the sites every twelve hours, screenshot any information still appearing there, and make a complaint every day until it's taken down.
Getting doxed sucks, but it's not something you have to take lying down. Next month, I'll outline ways to keep you safer in the first place.
Until next time, be sweet to yourself–
LolaD.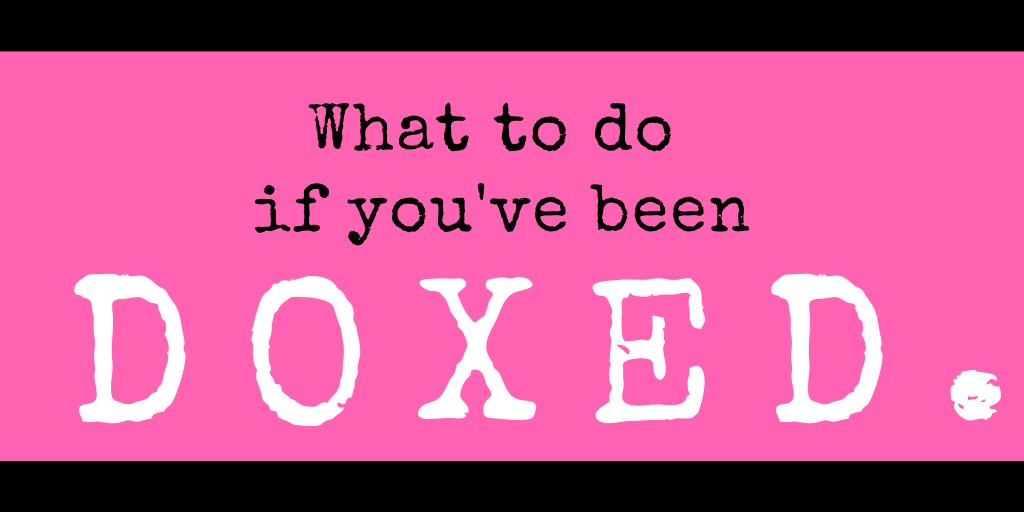 –
Lola Davina is a longtime veteran of the sex industry and author of Thriving in Sex Work: Heartfelt Advice for Staying Sane in the Sex Industry, a self-help book for sex workers available at Amazon, Barnes & Noble, iTunes and wherever else ebooks are sold. Get the audiobook version here. Contact Davina at Lola.Davina@ynotcam.com and visit her on Twitter at @Lola_Davina, as well as on Facebook.
Image of Lola Davina courtesy Pat Mazzera.