Jaye Lovely is obviously doing something right.
A successful performer with a fanbase of over 50,000 this small but mighty woman not only cams, but she's also a lingerie/boudoir/swimsuit model, writes blogs for her website, and is passionate about uplifting other cam models of color. Warm and positive, she's a woman who says one of her talents is getting people to smile. Did the fact she said that make you smile? Me too.
Read on and enjoy a little look into Jaye's "Lovely" world.
How did you get your start in the industry?
I started in 2019 during a time when I was working a vanilla job that I was very unhappy with. I began watching a model on MyFreeCams after following her on Instagram and having no idea that she was a cam model. I was fascinated by how she ran her room and the sense of community she'd created.
To make a long story short (I have the full story posted on my blog), after months of research and contemplation I made the decision to take the leap and created an account on Streamate. All I had was my laptop, starter webcam, and two pieces of lingerie. I remember feeling so silly during my first cam show; I had no clue what I was doing.
But I had fun and knew from that point on I wanted to keep doing it. The rest is history haha.
I love that you say one of your talents is getting people to smile. Tell us about some of the special or funny things you do to get people to smile.
The number one thing I do is always smile when I'm on cam and greet people in my room.
I'm a firm believer that smiles are contagious, and people can sense good energy through cam, so it makes them smile too. I'm also not afraid to be silly with my fans. I do cartwheels on cam, sing for them, dance, crack jokes, etc. I really enjoy connecting with them in these ways because at the end of the day, they may not remember the show I did or who tipped for what, but they will remember smiling and how I made them feel outside of a sexual setting – and for many that's what brings them back.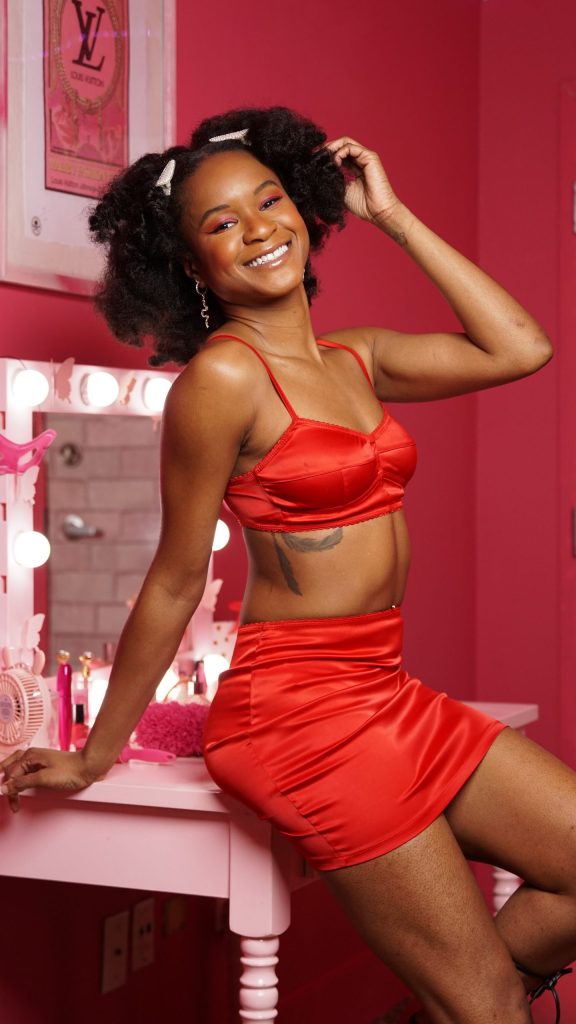 One of your hobbies is getting tattoos. How many do you have, and what are your favorite ones and why?
I definitely plan to get more but right now I have three tattoos. My favorite is my spine tattoo. It says "Though she be but little, she is fierce. – Shakespeare." It's a quote from A Midsummer Night's Dream and I feel like it describes me perfectly.
Tell us something unique about you that most people don't know?
I'd say the thing that surprises people the most is that I studied French throughout high school and college and know a small amount of conversational French. I've certainly forgotten a lot of it, but I enjoy surprising both my French and American fans when they hear it for the first time. One of my goals is to pick my studies back up so that I can communicate with my French fans more effectively.
What inspires you? 
The thing that inspires me most is the desire to be an example for other black cam models and models of color by being myself.
The average life span/burnout time for a cam model is about one year but for models of color it can be even shorter due to feelings of marginalization and barriers in the industry. I'm very fortunate to have built up a fan base of 50k strong over the years on my cam site and am one of the higher-ranking Ebony models. I know that I receive more visibility than the average Ebony model on my site due to my rank so I'm very conscious of how I run my room and present myself on cam.
Every time I'm online I work actively to challenge people's preconceived notions about models of color – about our value, desirability, and professionalism. Their experience in my room could be the difference between them visiting another model of color's room and giving them a fair chance as a performer.
If you weren't a model or cam model, what other job do you think you would do?
I would be a counselor/ sex therapist. I have my bachelor's and master's degree in Psychology and Sex Therapy respectively, so I would be more actively using my degrees, probably working for a non-profit.
What would you change about the world if you could?
I would eliminate the abuse and exploitation of both domesticated and exotic animals (i.e dogfighting, big game hunting, illegal fur trading etc.). I would also change policies so that all countries understood the impact of climate change so they would actively work towards being more eco-conscious.
What are you passionate about?
My passions change depending on what's going on in my life but right now I'm very passionate about uplifting, providing advice, and bringing awareness to the issues we face in the camming community as marginalized, minority, and black/brown performers.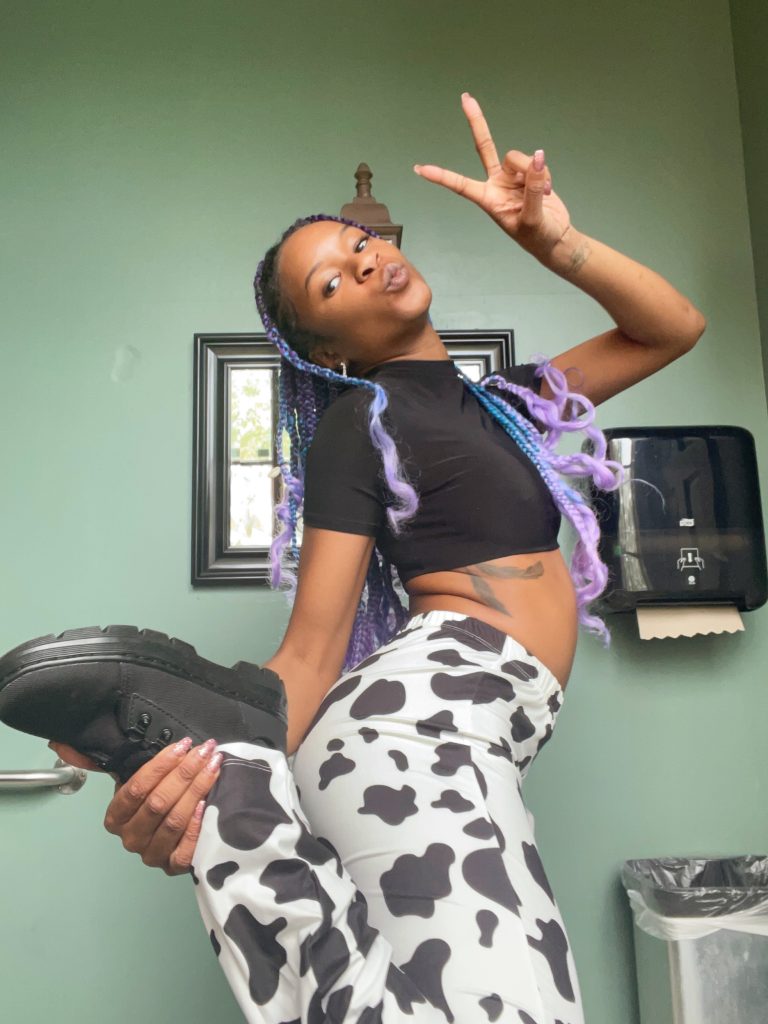 What is something you are proudest of?
I'd have to say I'm the proudest of my resilience. Being a sex worker is not easy, nor is starting your own brand/business. I'm very proud of myself for being able to do both and stay active in the industry as long as I have. I'm also very proud of how much my confidence has grown over the years; both my confidence in my appearance and in my ability to try new things and be successful at them.
What are your goals and aspirations?
Short term, I plan to continue growing the lingerie/boudoir/swimsuit side of my modeling and transition camming to my part-time source of income versus my full-time/sole source of income. I could see myself accomplishing this within the next 1-2 years. Long term, I want to continue to grow my investment property business, build a house, buy a boat, and travel as much as I can.
To find and follow Jaye head over to her website at jayelovely.com, Instagram @ms_Jayelovely, and check out her Playboy: centerfold.com/jayelovely.
—
Alyssa Collins hails from Minnesota, where snowy days were the perfect excuse to stay warm inside and write. Over the years, she turned that joy into a career and has authored numerous articles for various publications (under pen names). Email Alyssa via alyssa@ynot.com.