Scarlett Lacy cams for a cause. Several causes, actually. One is very personal: She's putting herself through college with her on-cam earnings. On a more philanthropic level, she supports the Wounded Warrior Project with special shows to raise donations for injured veterans.
Describe yourself.
I am a born-and-raised Florida girl, mother, psychology student and cam girl. When I am finished with my degree, I plan to become a sex therapist and use [the college education] to counsel sexual deviants and sex offenders. I have always been interested in fantasies and what creates arousal in people when it comes to certain things that are considered taboo.
How long have you been camming?
I have been camming for the better part of three years.
What is the best thing about camming?
I absolutely love my job, and the best part about it is that it allows me the freedom and time to finish my schooling as well as spend time with my family. Cam girls get to meet a lot of really awesome people that most times become lifelong friends. I have made some real friendships throughout the years I have been on cam, and I wouldn't trade it for anything.
What's the most challenging thing about being a model?
Staying motivated when I am feeling not so great. We are normal people, and we have good days and bad days just like everyone else. Because we work mostly from home, some days it's more difficult to [go to work], especially when we aren't feeling like being that peppy little character and entertaining a room full of people. Sometimes we just forget that we need to get our butts in gear and get to work.
Camming is a real job, and even if I worked a 9-to-5 job behind a desk, I would still have to go into work if I didn't really feel like it. I admire the models that put in copious amounts of time on cam — as well as off — to get to where they are.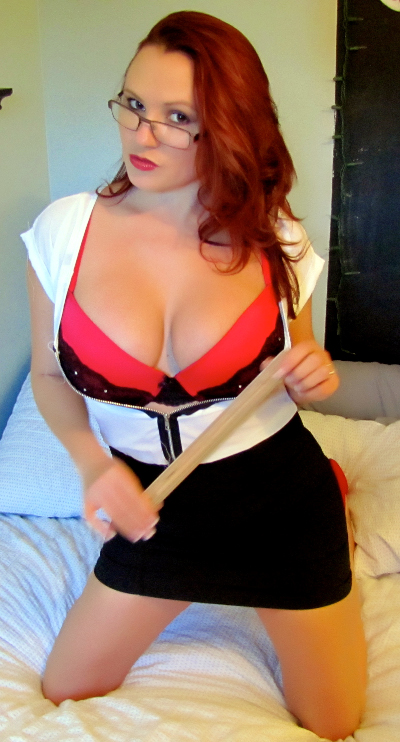 What advice would you give to a new model?
It's OK to stay inside your comfort zone. It's OK to say "no" to a member and not do something you don't really want to do. Set limitations for yourself and a clear set of rules and boundaries, and don't let others cross them.
Also, never lower yourself or think you are worth less than another girl. We are all totally different, and we all charge different prices for different types of content. Just because someone charges more or less does not mean that you have to [charge the same amount]. Charge whatever the hell you think you and your time are worth — and stick with it. Building a successful room and awesome group of members does not happen overnight. Any top model will tell you that.
What's the most fun you've ever had on cam?
That's a tough one. I do lots of fun things on cam! My shows range from beer pong in the pool to battle-shot games, control shows (where the members tip to control a toy), bonfires, public shows, shows on my boat, etc. I think one of the most fun days on cam was when I rented a two-story-tall water slide and played around on it naked all day. That was an awesome day.
What's the weirdest request you've received? Did you do it?
That's another tough one! We all get strange requests all the time. Sometimes I do them; sometimes I don't. I spoke before of limitations and boundaries, and some just do not get crossed.
Where can peeps check you out?
If you are interested in watching the live shows, you can find me on MyFreeCams.com under the name ScarlettLacy, or if you're interested in checking out my videos or ordering a custom of your own, you can find me on ManyVids.com under the same name. You can also follow me on Twitter and just see what I'm up to.