"From naughty to silly and everywhere in between." That's where cammer Norah Gold wants to take fans. Her look can change from gold-dust blonde to edgy brunette. If fans want to see what's really going on with Norah, she's on schedule to swing by and pick them up for a wild ride.
Describe yourself briefly. How long have you been camming?
I'm a 20-year-old porn performer and occasional cam model for two years now.
What is the best thing about camming?
The flexibility. I can make my own schedule and set my own rates.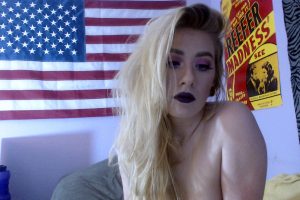 What's the most challenging thing about being a model?
It can be draining for a lot of introverts to have to be bubbly and happy at all times on cam.
What advice would you give to a new model?
Work, work, work! Make a schedule and stick to it.
What's the most fun thing you've had on cam?
I do mostly private fetish shows, and they're all an awful lot of fun.
What's the weirdest request you ever got? Did you do it?
Oh boy. I get very, very strange requests on a regular basis. I couldn't even begin to tell you what the weirdest was. And yes, I've done a fair share of them.
Where can peeps check you out?
On my members-only website, NorahGold.xxx, and on Twitter @godsgirlsnorah.