The world of webcamming can be just as hit-or-miss as real life. There's no such thing as universal appeal, and you don't connect with every person you meet. But for people who love your flavor of sexy and alluring, you are it. And that's great!
Much of "appeal" has to do with a confident presentation. Are you comfortable in your own skin? This is a question every model must examine in terms of webcam work itself, but the question also factors into how you cam. How do you interact, how do you put on a show, and what sort of game face contributes to you doing your best? Great makeup is one way to make sure you present the best image.
Some models get on cam au naturel — literally makeup-free. Others sport a clever natural look. (There's a difference between the two.) Some come done-up to the nines with conventional glamour, and others create elaborate costumes complete with character-level makeup — just as elaborate, but with a different sort of appeal.
We spoke to some top models at Studio20, each with very different looks, about their game faces. What do they do to get ready for a successful cam session?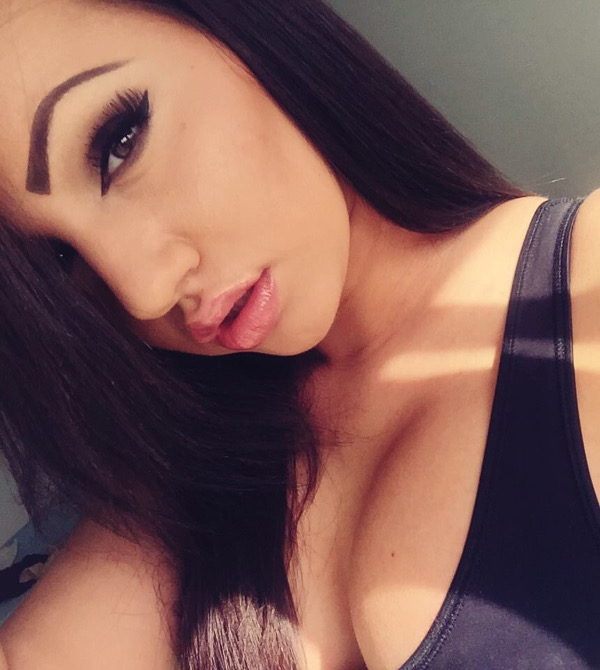 Eva Sin is known for her extremely glamorous look, one that compliments her otherworldly figure and face. There's no doubt Sin is working with an incredible canvas, but she also builds her look off her base, highlighting and amplifying what she's working with to create her own unique presence.
"If you had the chance to see me at least one time in front of the camera, you'd see that my makeup is always on-point," she said. "It is my passion, one of my talents, and sometimes my second job. I even do [makeup] for brides."
For Sin, each cam session is a special event, and she prepares accordingly.
"For me, it is a pleasure to get ready to go online, and I think that any woman who respects herself should have at least the basics: foundation, mascara, blush, and lipstick," she said. But she also knows elaborate looks are not for everyone. "I mentioned just the basics in case makeup is not really what you like to do or have on your face," she continued. "But I like to know which are the newest things in beauty and, of course, to apply and have them."
Sin provided a list of some of her must-have products.
In my small closet with wonders you will find products like Sleek, Estee Lauder (my foundation), and Chanel blush.

I like to use a beauty sponge from Sephora to apply my foundation.

Eyeliner is also really important. Inglot is my favorite brand that I use for that.

When putting on your makeup, you have to take into consideration that you will be on cam for like 10 hours. I even stay 12 hours sometimes. The tech guys from Studio20 have to send me home! So, you have to use a powder that keeps your face shine-free.

Oh, perfume — don't forget about perfume. I know people who can see me can't smell me, but I like the feel of good perfume. My favorite is La Vie Est Belle by Lancome.
Sin's finishing touch?
"Usually I oil up my body — and not only in front of cam. I use commercial baby oil, something like Johnson's baby oil. It gives me baby-soft skin," she said.
Sin also highlighted the importance of hair and wardrobe.
"My hair is also always on-point and I invest in my outfits, sometimes much more than in my street clothes: shoes, dresses, lingerie, stockings, anything and everything," she said.
According to Lexie Ford, make-up is an important part of being a cam model — even if your look is more on the natural end of the spectrum.
"I use only high-end products so that my make-up will look perfect and my skin will be fresh, hydrated, and wrinkle free," she said.
But every girl's look is somewhat different. Lexie broke down her routine, getting her a face that's perfect for her.
Let's start with the eyes. "I love a natural look, so I never go for a smoky eye. It's too heavy for me. I just use a black liquid liner from Yves Saint Laurent, an Inglot eyeshadow palette, and Lancome mascara.

For my face, I need my foundation to stay on all night and I also have acne-prone skin, so the only foundation I use is Estee Lauder Double Wear. It's full coverage, stays on all day, and doesn't make my skin break out.

I use a brightening concealer under my eyes, also from Estee Lauder, so my dark circles won't show up when I've had a long sleepless night. I'm not a robot. I do have fun from time to time!

I set my face with a translucent powder from Makeup Forever, so my face won't get oily throughout the day. Oh, and lipstick: I always use lipsticks that stay on a long time, so my go-to ones are from Sleek or MAC. Then, I do a little contouring to my check bones with a bronzer from MAC and add a touch of pink blush from Channel, and that's it!
What about hair? Some people like long hair; others prefer it short. The debates about why some lengths and looks are "better" than others are endless. (Elite Daily offers perspective about the Great Hair Debate.)
Devious Angel sided with Team Long, Flowing, Strong Mane's side of the discussion.
"Don't imagine my hair was always like this," she said. "I dyed it, cut it, used the flat iron and curler… I did all the bad things you could ever do to hair. But I started using professional products from Schwarzkopf and some hair vitamins that helped it regenerate."
What does it take to maintain her gorgeous locks?
"My hair wash routine goes like this: I soak it in water, like for five minutes or so until it becomes super-wet, then I wash it with Schauma shampoo for dry and damaged hair. I only [focus on washing] the roots, and let the shampoo get to the ends when I rinse it," she said.
"Then, I use a dry towel on my damp hair so it's not so wet, and then use conditioner. With the conditioner, I only focus on the ends. I leave it in for five minutes, then rinse, and afterwards I use a leave-in mask — something with aloe vera to hydrate [my hair]."
As far as using heat when styling?
"I try as best as I can not to damage my hair using hot curlers or flat irons," Angel said.
Whatever the look you decide to go for, make sure it's the one you want. Whatever beauty rituals you determine are best for your needs and features, make sure to enjoy them! Sometimes small rituals can be the difference between a good day and a great day.
Put simply, find your "secret weapon" product — and apply liberally.
Many thanks to the staff and models at Studio20 for help with this article. The award-winning cam studio offers a comprehensive and rigorous model-training program and supplies award-winning models to some of the biggest chat platforms in the world.