January is a time for swag.
Between XBIZ in Los Angeles and AEE in Las Vegas, I came home with hats, water bottles, cami/panty sets, at least five different types of lip balm — and a virtual-reality headset from Terpon.
Terpon is a leading provider of VR, immersive and haptic devices. The company passed out headsets for use with their recently debuted 3K-to-4K-resolution Hermes and Artemis devices — affordable, immersive 3D-VR webcams.
But so what if every person in the world has a fancy headset? It only works with content shot with one of those fancy webcams — and seriously, who has one of those?
I sat down in Las Vegas with webcam marketing and model-coaching guru L0li during AVN's Adult Entertainment Expo. L0li works with Terpon, and she explained that, in fact, you can have one of those fancy 3D-VR cameras. According to her, your viewers will get the impression that they are right there in your room.
"Even more than with teledildonics, it will be possible to share physical sensations that are even closer than reality, thanks the evolution of haptic technologies," she explained. "Sex and technology are no longer science fiction fantasies — they are here now."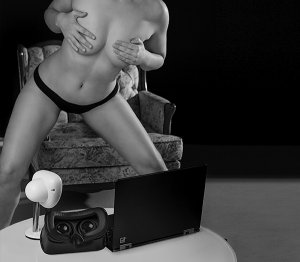 From the end of February through March, Terpon will give away 1,000 of its 3K-to-4K Hermes and Artemis webcams to independent cam models. This sounds wild, but apparently it's all part of Terpon's unique business strategy.
Whereas other companies offer high-end VR products at high prices, after the initial giveaway blitz, Terpon will begin renting the Hermes and Artemis cameras to studios and models for less than U.S. $30 per month. Users (people who are renting the cameras) get access to 24/7 tech support and free upgrades/replacements whenever needed or available, all with no minimum contract. According to L0li, the effort is designed to ensure users have the latest and greatest in cutting-edge camera technology.
"The technology is changing so fast that renting with regular upgrades just makes more sense," L0li said.
"Models are constantly looking for new ways to engage users in a very competitive space," she added. "This technology is a new way to connect with viewers, and the rental option from Terpon is an easy way to keep your content fresh and up to date in terms of technology."
Another obvious bonus: The headsets are not just for adult content.
I'm not gonna lie. I wonder about VR. Who really is doing this? I know it was everywhere at the trade shows — but really? A headset and a special camera? It seems like lot of effort to go through for some sexy-time chat. People who know far more than I, however, have promising things to say.
Citibank, for instance, predicts the VR and AR (augmented reality) markets will be worth U.S. $692 billion by 2025, rising to more than $1 trillion. At the moment, adult content constitutes a large percentage of virtual reality consumption, which ultimately means VR is something we should all be thinking about.
Some other things I learned from L0li about Terpon's cameras:
Since adult virtual reality experiences are primarily front facing, Terpon's 3D-VR cameras feature stereoscopic synchronized modules with an up-to-200° field of view. The cameras stream 2D or 3D video, include a set of stereo microphones and are plug-and-play via USB. This means they work seamlessly on PCs and on Macs. Also, there is no proprietary software necessary to work Terpon products, since the camera is compatible with any webcam platform that offers an API. The same is true for independent performers who use their own platforms or chat.
In addition to the camera rental subscription model, Terpon also has a separate, non-adult online store where consumers can shop for VR headsets. Referring models get a sales commission through Terpon's affiliate program.
My thought: Get yours and give it a try.
—
Reach out to L0li via Twitter at @l0li_cam. 
For more information about Terpon and to claim a free 3D-VR camera, visit Terpon.com.