Ever thought about virtual reality camming but aren't sure where to begin?
ViRo Playspace, a haptic driven virtual space along with LewdTube, a directory of virtual webcam models, just released what they're calling the first "VTuber" solution made for adult cam performers – ViRo Live Studio.
The system is built on the engine behind the studio's most popular performer – Vex Ruby, and this week, I've had the opportunity to pick her brain about how to start, what it's like to perform in this alternate universe, and what the future of VR Camming may look like.
What's even cooler is you'll get to see an example of how ViRo Live Studio works firsthand, because Vex not only took the time to answer my questions in writing, but she also created a video interview as her avatar (scroll down to the bottom to view). So read or watch on!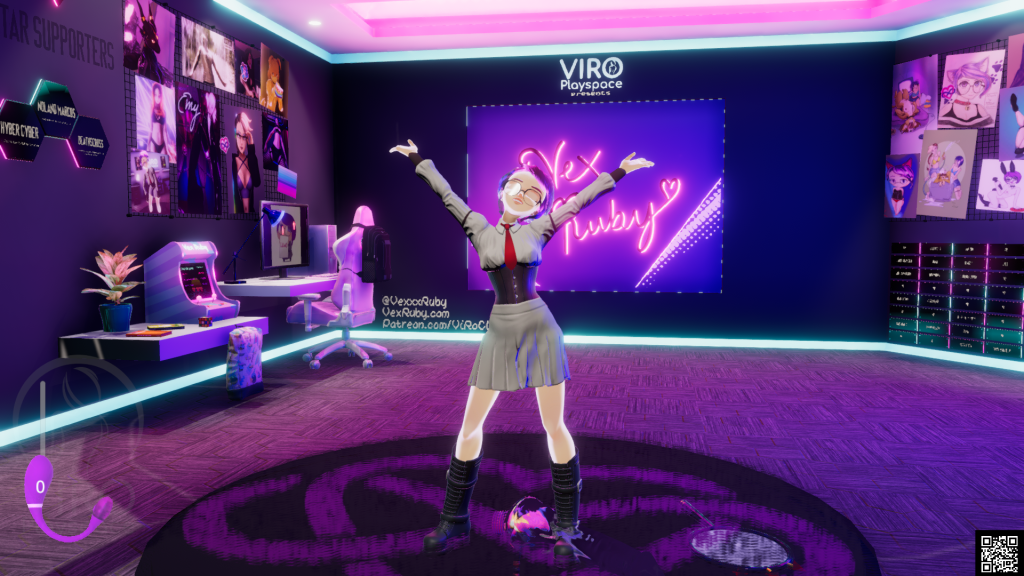 How did you get your start in the industry as a virtual camgirl?
I began work with ViRo Playspace in 2016, when we were focused mainly on pre-recorded, haptics synched experiences for virtual reality, as a first step toward creating a social network in VR for adults. In 2020, we decided to use all these cool toys we already had to do a live show, and thus Vex was born!

Why did you choose to work in VR vs. live camming? What are the benefits and downsides?
The major benefits are that I feel much safer and the possibilities for self-expression are endless! If I want to be on a pirate ship one day and in outer space the next, I can totally do that! The downside is that we're still a ways away from virtual reality headsets being a fairly common household item, but we're getting there!

Talk to us about ViRo Playspace and your experience with the new start up?
ViRo Playspace is our platform for fully immersive VR adult experiences. We synchronize visuals, audio, and haptics. We began with solo experiences and have about a dozen of these on Steam today. I was the motion capture performer for many of these. But our long-term vision is to allow fully interactive adult experiences between two or more people in real-time. A multi-user virtual world built for sexual play.
ViRo Live Studio is our performance tool specifically for cam performers, but it's built on the same engine and will eventually be tied back to all the social features of ViRo Playspace, allowing people to not only watch a show in a browser as they do today, but eventually step into that virtual space themselves in full virtual reality.
The whole team is nothing short of amazing to work with! Aside from being mind-blowingly talented, they're just as insistent on promoting safety, consent, and privacy on our platform as I am – for both the performers and the patrons!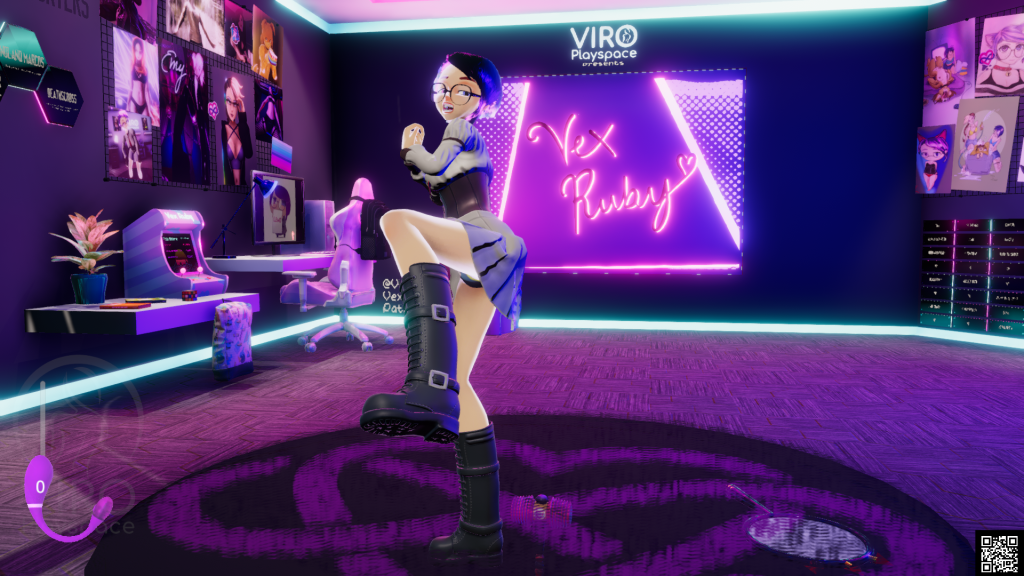 What do you enjoy most about what you do?
My favorite part of the job is that is that I get to approach camming with a sense of playfulness and even humor because I perform as an avatar. I can use the tools at my disposal – props, instant scene changes, an easily accessible wardrobe – to entertain and interact with my audience in unique ways. Being virtual allows for a whole new level of creativity and expression.
What advice do you have for a cam model considering taking the plunge into ViRo Playspace? How do you start?
With ViRo Live Studio, we've made the technical side as easy as possible, while still giving advanced users the flexibility they need. Our Steam page will guide you through features and hardware options, and our active Discord community is the best way to get help with specific questions and advice.
I also highly recommend getting acquainted with other virtual camgirls should you choose to make the switch to performing as an avatar. Having that support network will allow you to troubleshoot issues unique to camming as an avatar with others who have experience. It's also an important piece of cross-promoting (i.e., doing "shout for shouts" on social media) with other performers who are similar. We actually have sections on the ViRo Playspace Discord for current and prospective lewd tubers.
The Discord is also a great place for more information on ViRo Live Studios, which is software available on Steam designed to make performing as an avatar more accessible to anyone interested.

How much control do you have over your avatar?
You can create and stream with a relatively customizable avatar at any skill level. You can use what's available in the ViRo Live Studio's item store, or port an existing avatar made from other software like VRoid, for example. There's a learning curve involved for making your own assets using a program like Blender, but the option is there for those who want to learn.

What is the procedure for doing a live stream?

There is no animation or scripting done to prepare for a live stream, it's all genuinely a live performance. I often call what I do on cam "horny improv," as a matter of fact! My avatar's movements mimic, in real time, what I am doing with my real body – for example, if my avatar is sticking her tongue out, I, the person in the motion capture suit, am doing that as well! Nothing is scripted either. Unfortunately, I really can't act my way out of a paper bag. That being said, if I tried to go with something scripted, it would undoubtedly sound as such and that hardly suits my camming persona – and me as a person, really.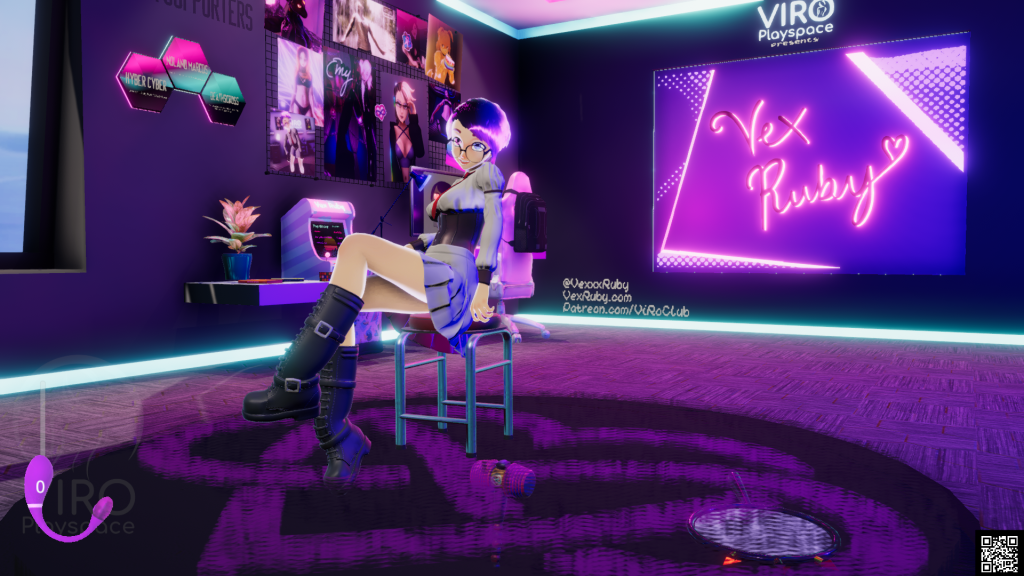 How successful has Patreon been for you, and do you have any advice for models on how to make the most of getting followers to join?
I am both a cam model and a spokesperson for ViRo Playspace, so my experiences with Patreon are a bit different. Our Patreon encompasses a few facets of the project – ViRo Playspace, Vex Ruby, ViRo Live Studio, and the upcoming social spaces we'll be releasing to the public soon.
Our Patreon would be a greater success if it were focused on one of those things, but we just have bigger plans around here! I will say, however, that it has been a great way to really engage with our most-enthusiastic supporters and give those people a sneak peak of everything we have in development.
What is the biggest challenge of working in VR?
While we are certainly seeing VR headsets become a more common household feature, we have a way to go for sure! While most of what we do at ViRo Playspace – my cam show, the experiences available on Steam, the Discord community – can be enjoyed without a headset, we certainly hope to see more folks enjoy that something extra that virtual reality adds to the experience.
It's also a challenge for the development team to make sure that we keep ViRo Playspace up to date and compatible with all the newest haptic devices and software utilized by our patrons. It's a lot of work for them, but worth it to be a part of an exciting and rapidly growing industry like virtual reality!

What do you think the future holds for the haptic driven virtual world and models on ViRo Playspace?
For cam performers and models, ViRo Live Studio makes camming more accessible to folks who might not otherwise choose to appear on camera because of occupational discrimination, physical disability, body/gender dysphoria, or a host of other reasons. We believe there are probably a lot more people who WOULD try camming if they didn't have these concerns, and we give them an option. As we add social features, we are going to open an entirely new medium of VR camming and even virtual escorting. Our VR social features will take this even beyond sex workers and their fans, allowing people to have casual sexual encounters anonymously and safely with people from all over the world, be intimate with their partners when separated or in long-distance relationships, or just try something new in a private and judgement-free environment.
Check out the Vex avatar interview below and find and follow her at: https://linktr.ee/VexRuby.
—
Alyssa Collins hails from Minnesota, where snowy days were the perfect excuse to stay warm inside and write. Over the years, she turned that joy into a career and has authored numerous articles for various publications (under pen names). Email Alyssa via alyssa@ynot.com.