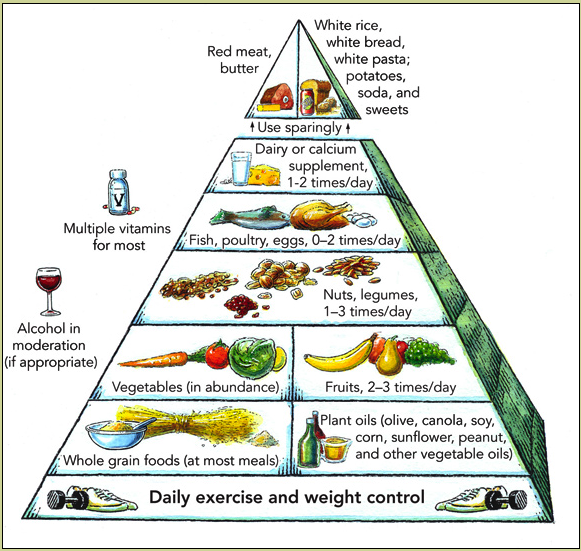 Divided into sections, hierarchically organized and color-coded, the food pyramid used to appear on the side of every cereal box and other food products. It told us how many servings we should consume from each of the basic food groups: protein, dairy, grains, fruits and vegetables, and fats.
That was then; this is now. Today, you won't find the pyramid on the side panel of your favorite breakfast food. Instead, it is online and interactive, reconfigured in 2011 as a friendlier and more collaborative round plate meal shape you can find on ChooseMyPlate.gov. To reflect changes in our food choices, the plate now lists four major groups: vegetables, fruits, grains and proteins, with a side order of dairy. The website offers a personalized SuperTracker to help you plan and analyze your diet and activity, a BMI calculator, quizzes, videos, printable materials, recipes and much more.
Why do we need so much information about food and how to eat it? Because the problems associated with poor food choices cross into every demographic, and they factor into much more than how you look on cam. Heart disease, diabetes, high blood pressure, dental issues… The list of ailments goes on.
Most of us underestimate the amount of food and beverages we consume. Basic guidelines like those on ChooseMyPlate help with balancing daily servings and selecting wisely.
The recommended percentages from each food group are calculated for healthy people free of chronic disease, and the emphasis is on making healthier choices within each group. For example, opt for whole grains such as brown rice rather than refined grains, which remove iron, B vitamins and fiber. Fill your plate with a "rainbow" of vegetables. Eat whole fruit rather than drinking sugary juices. Select lean meats and low-fat dairy products.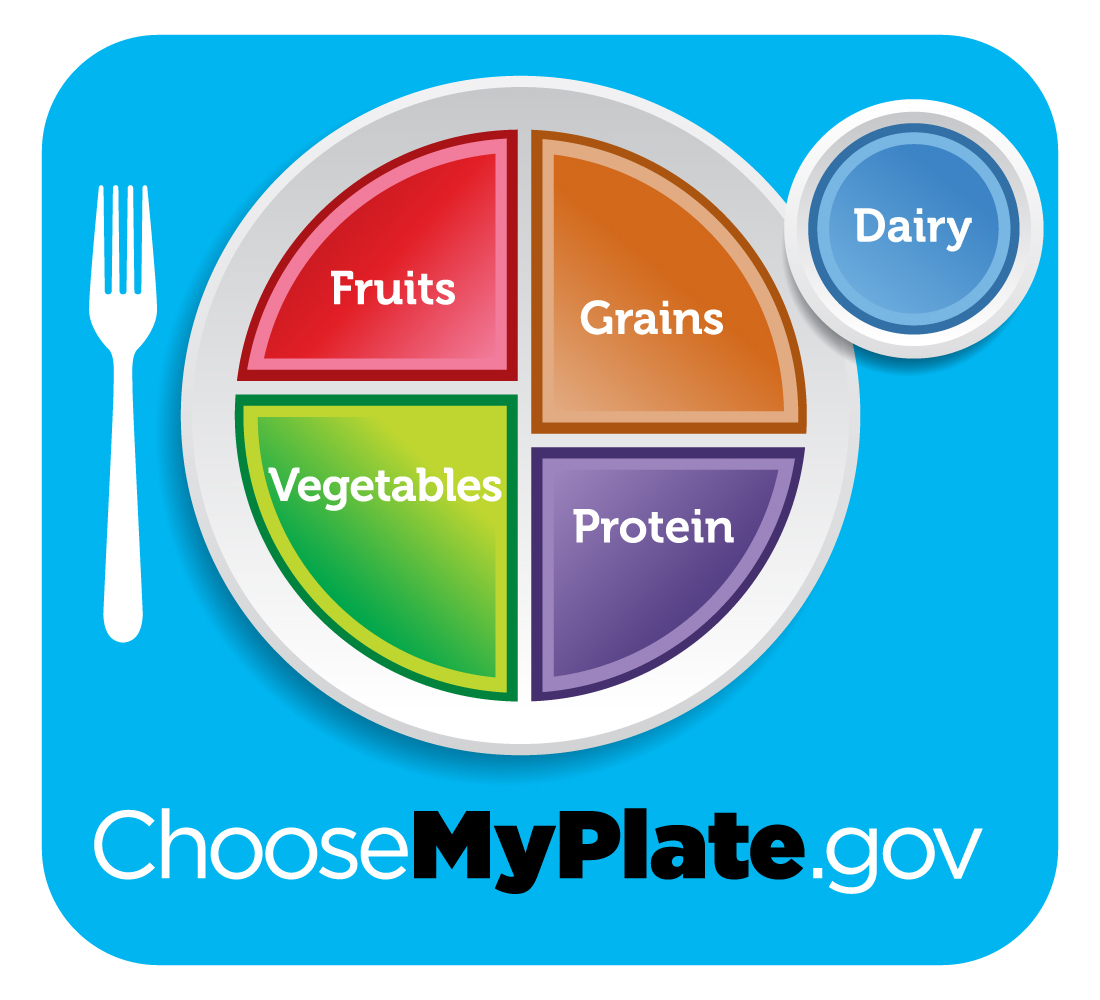 No dairy or meat in your diet? No problem! ChooseMyPlate has a page filled with tips for vegetarians, as well as links to a resource list and education series. If you are vegan/vegetarian, you already know it can be challenging to consume enough protein, iron, calcium, zinc and B-12. ChooseMyPlate breaks down all of those nutrients with detailed lists of foods to choose from in order to meet your daily requirements.
Unlike the pyramid, the plate does not include fats. However, the website dedicates a page to what are now called "oils," to reflect the research about monounsaturated and polyunsaturated fats. Saturated fatty acids and trans fats contribute to heart disease and high cholesterol, so you want to limit items like butter, shortening and other solid fats.
When your days and nights are filled with nonstop-yet-erratic work demands, you might not have time or the inclination to weigh and measure your food, count servings and document every morsel you put in your mouth to ensure you're getting enough of this and not too much of that, especially when supermarket freezer sections are stocked with "lean," "smart" and "healthy" entrees that do the work for you. Still, it's always wise to read the labels, as those meals are often full of sodium and sugar. It's better to avoid processed foods and make your own.
Fortunately, we now have the Internet to make everything quick and simple. Use your downtime, however limited it may be, to schedule a few visits to ChooseMyPlate.gov. Sign up for email updates and create a SuperTracker profile. Review the website to learn about recommended foods and servings, nutritional tables and tip sheets, and make a few notes. That way, you can go to the grocery store with a list and stock up on healthy foods that you can prepare quickly or in advance. It's easy, it's free and it's your road map to good health.
Two things to remember, as always: 1) Check with your physician before beginning a diet or exercise plan, and 2) do this in order to be the healthiest possible you. It's not about changing who you are or how you look. It's about being at your best just the way you are.
Bon appetit!
—
Jenna Andre is a total gearhead who also appreciates the simpler things in life. Email her at Jenna.Andre@ynotcam.com.
Listen to Shannon tell you how to work the plate below.