ca·price /kəˈprēs/ noun – a sudden and unaccountable change of mood or behavior; a whim or eccentricity.
At not quite 20 years of age, GuiltyCaprice is taking the cam world by storm. Her online persona embodies a mixture of sweet and sexy –- the perfect balance causing both clients and industry peers to perk up and take notice.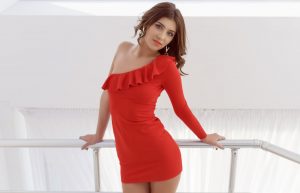 Caprice is currently up for Best Emerging Live Cam Model at the seventh annual YNOT Awards, taking place Sept. 15 at the National House of Vinohrady in Prague.
A nomination for an industry award doesn't just happen, though. Caprice took some time out to share a bit about her daily life and what it takes to create whimsy online.
—
The daily grind
Few people may know that I start performing in the morning, 7 a.m. sharp Eastern European time (EET) to be more precise. This strict schedule allows me to have a clear vision about my daily activities and helps me to plan them with so much ease.
My first morning habit is to have a flavor-rich coffee to help me wake up and start a brand new day. Since I need plenty of energy to get me through the day, I really love having a diverse, healthy breakfast.
Looks must slay
Due to the nature of cam, I place a special focus on my looks, which means I do a couple of exercises after an online session to keep the good shape. I also enjoy a good massage session. I also place special focus on my makeup, another daily activity.
I try to have a very healthy diet and to include plenty of veggies and fruits in it. I can say that I'm addicted to watermelons and would eat them all day long if I could. Still, it doesn't mean I count calories very rigorously. I find plenty of opportunity for guilty pleasures like ice cream, chocolate bars or a delicious chocolate cake.
Another aspect of being on cam is wardrobe, which I won't pretend to mind. I love shopping; there's no secret about it. I like to build up my wardrobe with sexy dresses, provocative skirts and high heels, but at the same time I love urban clothes, too. I think the urban fashion really suits me, and jeans, t-shirts and sneakers are pretty comfortable and a good choice when I'm out in the town or the park.
This is so me! ??? I'm in love with #watermelons ❤️?❤️ #funny #animation #truestory #pure #addiction pic.twitter.com/MQLrOzhLNz

— GuiltyCaprice (@guiltycaprice) August 17, 2017
Life before cam
Before being a cam model, I was a dancer. I love doing it and try to include dancing sessions both in my cam shows and personal life. It's the kind of activity that makes me jolly, relaxes me and makes me forget about any sorrows. I also love clubbing and rocking the dance floor with my friends.
#Dancing, my true #love, my old #passion… I'll never forget those times when I was rocking the #dancefloor ? #fbf #FridayFeeling pic.twitter.com/OnwhIVX3cx

— GuiltyCaprice (@guiltycaprice) August 18, 2017
Sunday funday
I'm quite a vivacious person and a huge fan of outdoor activities. I love spending time in a park, taking a relaxing walk there or simply lying on the grass with my friends. You can also often find me at the beach getting tanned, an activity I totally fancy.
I also love to travel; to discover new places, new customs and new foods. Every time I get a day off, I try to jump on the first train and visit a new town. I wish someday I'll have the proper time and the opportunity to travel all over the world.
Recently, I've discovered a new hobby I really enjoy: sailing. I daydream about a cruise along the European coasts or even the Caribbean. Until then, though, I'll enjoy myself with some cruises on the Danube River or with a couple of boat trips on appealing lakes from different corners of my country. I can't say now that I see myself canoeing and rafting in the near future, but since I'm quite an adrenaline junkie, I may try that too.
Enjoying a relaxing #boattrip to make my #dayoff a bit special! #TravelTuesday #reddress #lake #park pic.twitter.com/3VfpvRKJWV

— GuiltyCaprice (@guiltycaprice) August 15, 2017
Cam life is a process
Once I started camming, I included in my daily activities a little bit of space for reading and researching. It was a complete universe for me, and I wasn't accustomed to different types of requests — like for different fetishes, for example. Thus, I keep on reading. I look for ways to understand people and to make them happy on a daily basis. It's been less than a year since my debut on cam and, even though I've learned a lot of new things, there is still plenty of room for more insights. Besides that, I also enjoy reading travel and fashion blogs or good books.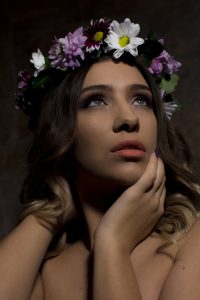 In spite of the busyness and stability I get from camming, I surely can say I'm a normal person. I enjoy good movies I like to go out on the town, or sometimes simply to stay in bed listening to music. I'm a big fan of Chinese and Mediterranean cuisine, and I love hanging out with my friends. I can't say that camming really changed my daily routines. On the contrary, it gave them a purpose and made me value every day of my life even more!
—
Find Caprice on Twitter at @GuiltyCaprice.