Dear Lola,
I've been camming for almost three years now and done well at it, but I know I can't keep doing it forever. I keep thinking I need to make a change, but the thought makes me nervous. How do I know when it's time to quit?
Notta Quitter
Dear Notta,
It's a real shame there isn't much information out there about how to exit sex work gracefully. We, as cammers, often go without support or guidance through this important transition. It's especially unfortunate because, for many of us, just the thought of leaving can be emotionally murky and scary, filling us with uncomfortable feelings. Often, that indicates we don't always plan ahead like we should.
As I see it, there are two main reasons it can be hard to think about life after camming. The first is most of us got into sex work for one thing, and one thing only — we needed the money. Camming can be a great job — flexible, fun, and creative. However, as you point out, for most of us, it's not something we go into expecting to be a career. It makes it scary to think about how to earn a living otherwise, especially if we haven't taken steps to line up other employment.
The other big reason life after camming can be hard to contemplate is imagining no longer being able to do the work, either mentally or physically. It's not nice to contemplate being injured, sick or burned out or no longer having agency or privacy. These are scary prospects, no doubt. It can make our situation feel especially precarious, like there's no backup plan if things go wrong.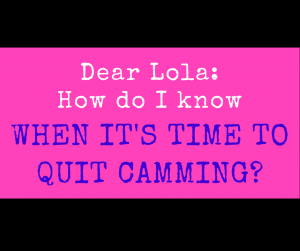 It's good you're looking ahead. We need to be proactive when we work for ourselves. Let's break down your situation into two parts: What are your short-term and long-term goals? Let's start off with where you want to get to and then think about how camming fits into those plans.
I recommend a simple visualization exercise. Sit someplace quiet with a blank piece of paper, close your eyes, take several deep breaths and ask yourself where you would you like to be in a year. In two years? Five years? Write down your goals and wishes for yourself. Do you see camming still a part of your life as central income, or as a side-gig? How does the thought of camming a few years down the road make you feel? Whatever your end-goal might be, try free-writing concrete steps you can take to achieve it.
Now let's return to the present. Take a moment to really ask yourself whether camming is working for you. The way you framed your question, it wasn't clear whether you wanted to make a change or are just feeling like you should. If you're restless and craving other challenges in your life, that's legitimate. However, satisfaction with the status quo is perfectly fine, too. Don't fall into the trap of viewing camming as not a "real" job. It certainly is, as long as it meets your needs.
For most of us, cam work will be temporary or side work in the long run. The nice thing about it is you can take a break whenever you want and get started again with the flick of a switch. You may find yourself dipping in and out as you move into the next phase of your life. Tapering off is perfectly natural — no need to beat yourself up about that.
What we haven't talked about is what is waiting for you on the other side. What would you like for your last day of camming to look like? How would you like to celebrate the end of this phase of your life? I always advise anyone in the sex industry to write herself or himself a letter on their last day. Take some time to explain how you arrived at this decision and how you're feeling. It's a gift to your all your future selves.
As Brené Brown said, "If you own your story, you get to write the end of it." The most important thing is you're looking ahead. Getting clear about what you want your future to look like and how camming fits into it is the surest way to get where you want to go.
Until next time, be sweet to yourself.
Lola D.
—
Lola Davina is a longtime veteran of the sex industry and author of Thriving in Sex Work: Heartfelt Advice for Staying Sane in the Sex Industry, a self-help book for sex workers now available at Amazon, Barnes & Noble, iTunes and wherever else ebooks are sold. Contact her at Lola.Davina@ynotcam.com and visit her on Twitter, Facebook and Tumblr.
Image of Lola Davina courtesy Pat Mazzera.