On Sept. 18 2017, ManyVids posted the following statement, "ManyVids Protects the Freedom of Sex Workers," in response to a policy change from MyFreeCams. In the statement, ManyVids said "Healthy competition is always a great thing, as it helps companies come up with better solutions to evolve in the right direction."
The statement continued on to say that ManyVids will always allow ManyVids models to promote and link to whatever they like, ending with a statement about free speech — "Freedom is more important in this world than anything else."
Click image to enlarge.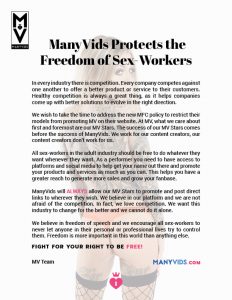 Email correspondence from ManyVids stated the reason for the post: "Recently [MyFreeCams] made a policy change on models displaying [ManyVids] links on their site. That caused a lot of models to ask us what our position would be in regards to this."
Further correspondence with ManyVids stated that "in a letter to all of their models, [MyFreeCams] said that due to our recent policy change (which was the MV Takeover*), [MyFreeCams] won't be allowing any links from [ManyVids]."
A portion of the message sent out to some MyFreeCams models on Sept. 14 reads: "Due to a policy change at [ManyVids] where they have started to sell tokens to be tipped during live shows, this domain is no longer compliant to be linked anywhere on [MyFreeCams], per our usual rules."
The message continued on to explain that for this reason, any links from the ManyVids domain had been removed from MyFreeCams profiles containing them.
Click image to enlarge.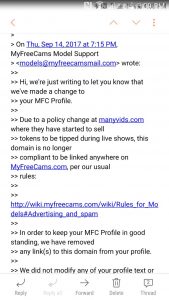 Requests for additional comments from ManyVids and comments from MyFreeCams had not been responded to at publication time.
What do you think? Email me your thoughts: erika@ynotcam.com.
*MV Takeover is a feature that allows users to tip a model when they are live on the ManyVids platform.
—
Erika is a sex positive people watcher (and writer). Email her at erika@ynotcam.com.
Classic Kevin Bacon in He Said, She Said (1991).
Image © Forca