There's a myth in the mainstream world that all you need to do to be a successful cammer is to show your bod and know how to "work it."
This couldn't be further from the truth.
The cam industry is filled with sexy, smart, and beautiful people – if you have any experience at all, you already know how competitive it is to get ahead. Smart cammers know that it takes more than being "hot" to succeed. You have to be a smart businessperson and consistently juggle all the balls of social media, connecting with fans, filming, editing, and more to make a living at it.
Sometimes, a lot of times, it can be overwhelming.
Afterall, you are the CEO of your own company, and you have no employees but you to do all the work!
But it doesn't have to be that way.
You don't have to go it alone.
This week I speak with Dan "Silver Fox" Hogue, the owner of Razor Edge Talent – a company that works as a partner with cammers by helping them with managing of social media, location scouting for content creation, platform monetization, marketing, and more.
Learn about them below to see if they're just what you need to take your career to the next level.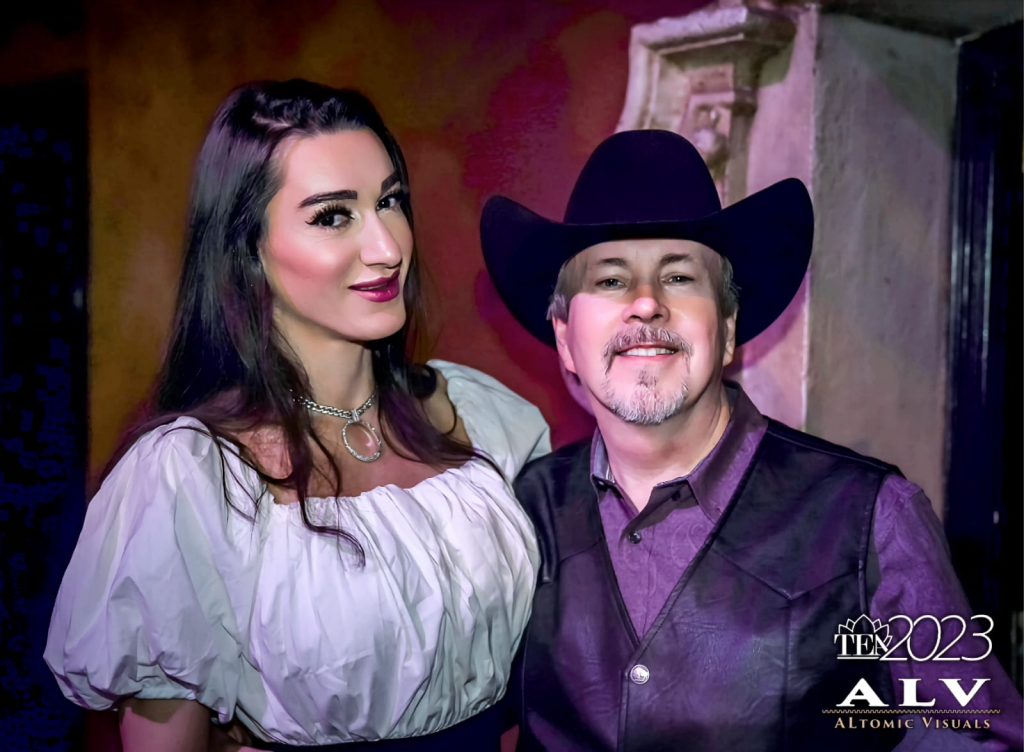 Dan and his partner Bambi Bliss
How did you get your start?
In 1998, my then wife and I were on Adult Friend Finder looking for locals to play with and we ran across a gal Named "Abby." We met up with her and her husband at a swingers' club in Kansas City. We hit it off and they invited us back to their room where they asked us if we would like to shoot some pics for their website.
We looked at the situation and instantly said yes. It was there that a lightbulb went off. We thought that it would be a great ice breaker when looking to swing with other couples to shoot and build a site. We introduced the idea to friends – they were all on board and we progressed steadily.
You've been in the industry for 25 years what do you owe your longevity to?
Couple things – we had a good, long early career in cams 2000-2012, and we have integrity, perseverance, and a love of the industry as a whole.
You've worked with so many cammers over the years, what do you think it takes to make it?
Consistency, the desire to please, good planning, and good equipment.
Why did you start Razor Edge Talent and why should a cammer consider working with your company?
I started Razor Edge Talent because a need was there for my friends.
A cammer should consider working with us because Razor Edge Talent is about the entire portfolio of the content creator – we don't just do OnlyFans we do all that we can for the models' social media: posting on ManyVids, PornHub, XVideos, XHamster and much more.
Further, we manage ad spots, and we do it all for less.
Our house is also a shooting studio – we have 8200 square feet on nearly an acre. Not only is the space open for use for our clients, but we make the camerman and editing available for free.
What are some of most important tools cammers need to take their career to the next level?
A cammer needs to understand all that their provider is offering and then go forward to maximize the uses of that platform. They also need to be consistent and give a great show.
What are your goals for Razor Edge?
This year I'd like to build a traffic network for our clients along with a series of blog networks tied together.
Find out more about Dan and Razor Edge Talent on their website at razoredgetalent.com and follow Dan on his Twitter @Camworlddan, and Instagram @bearsfandan. Check out his partner's Twitter @bambiblissloves, and Instagram @jessicalovesyou.
Main photo credit: iStock.com/Doucefleur

—
Alyssa Collins hails from Minnesota, where snowy days were the perfect excuse to stay warm inside and write. Over the years, she turned that joy into a career and has authored numerous articles for various publications (under pen names). Email Alyssa via alyssa@ynot.com.