Just because you're an adult doesn't mean you can't dress up for Halloween. You may want to do something special in your room this month. (Actually, you should definitely do that.)
Sometimes Halloween shops sell costumes, especially adult costumes, no one should wear. So, we've rounded up five costumes you should not wear on cam, outside your home or in a dark room all by yourself. Avoid the following costumes at all costs.
Who is considered an American and who is not is a hot-button issue this year. Sadly, it's no surprise a company would come up with a costume that takes the issue to the tackiest, most insensitive place possible. Enter the Border Babe Adult Women's Costume.
Border patrol agents are frightening figures to many Americans, so this tongue-in-cheek costume is in incredibly poor taste. And it's made even more insulting by the fact it's yet another outfit that's been needlessly "sexy-fied."
Think about implications of costumes before wearing. Not this one though, it's just offensive https://t.co/9MbsjdhLCD via @TeenVogue

— GeekGirlCon ?️‍? (@GeekGirlCon) September 22, 2017
Adult Queen of the Tribe Native American Costume
People have been up in arms about Halloween costumes that depict Native Americans for years. Sadly, none of that talk has lead to any action, because this costume — and many more like it — still exist. Non-native-American people wearing a Native American costume — especially one that makes a Native American woman look like a sex object — belittles the culture and turns the people within it into caricatures.
This Insta shows a random couple in "Native American costume." It's not the specific costume linked above, but you get the idea.
Adult Sugar Skull Bride Costume
No one denies Day of the Dead and Mexican sugar skull traditions are beautiful, but costumes that commercialize the traditions trivialize the whole culture. This type of trivialization leads to appropriation, or the idea that people easily can "try on" traditions without adhering to their true meanings or understanding how the people in the cultures live.
Be inspired and awed by beauty and cultural history, but also tread respectfully with how you show your love.
Adult Huntin for Love Bride Costume 
If we're being honest, it's the "idea" of this costume that's more irritating than its existence. If there's one thing we're tired of, it's the joke that women are always "hunting" for a groom. This costume is just one in a long line of costumes that subconsciously reinforce gender roles I think we all can admit we're so over.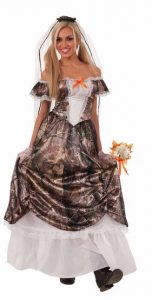 Adult Frank the Flasher Costume 
We had to include at least one costume for the men. Well, at least one costume that's mass-marketed to men. Anyone can wear this, obviously, but let's be real: No one wants to see men or women in this costume. It's not funny. It's not creative. And honestly, it could be triggering to a lot of people you run into on Halloween. The amount of women who get catcalled by men or who have been subjected to a flasher's or public masturbator's antics are astronomical. So, please, keep the fake penis off your costume and your real penis in your pants.
FYI: There is a knee-length, dangling "surprise" under that censored sticker.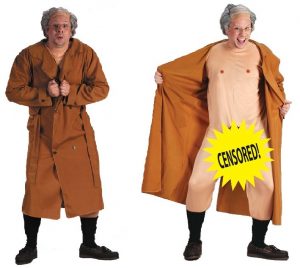 Although the above costumes are especially offensive, we'd also like to state any costume derogatory of a religion, ethnicity or line of work should be avoided.
It's Halloween 2017. Get creative, stay conscious and have fun!
Coming soon, we'll list some unique costume ideas we love.
—
Abbie Stutzer is a writer and editor from Lawrence, Kansas. Find her on Twitter at @abbiestutzer and on Insta at @abbiestutzer. Email her at abbie@ynotcam.com.
Lead image © Ken Cole.