Dear Lola,
One of my best fans keeps pressuring me to do things I don't want to do, including meet IRL. I'm not going to, no matter what, because that's a promise I made to my mom and my sister when I told them I was camming. (And I really don't want to, anyway!) But he only lives two hours away, and he keeps wanting me to tell him about my real life. I'm worried he's going to try and find me… I know I make him sound kind of terrible, but he really is a nice guy and tips me all the time. I don't want to lose him as a fan!
Sincerely,
Tempted/Not Tempted
Dear Tempted/Not Tempted,
Normally, I start with short-term advice and save an endgame strategy for last, but this situation requires laying down a hard truth first: You need to be ready to cut this guy off. He may be nice; he might even be your favorite. But no matter how great a tipper he is, it's not worth the anxiety he's putting you through. Good fans don't make you worry about your safety. Good fans put a smile on your face, a few bucks in your bank account and don't encroach on the rest of your life.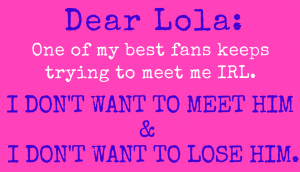 You may think I'm overreacting, but I don't agree. Anyone who asks you to do something you don't offer is, by definition, a manipulator. Most people don't go to the dentist and ask them to bake a baguette. Plenty of sex workers are available to meet in real life; it's a huge red flag when someone tries to get you to bend your boundaries.
If you think I'm being too harsh, let's break down what the very best scenarios moving forward might be. He either:
Stops trying to worm his way into your life. (Unlikely, because it sounds like that's his game.)
Tries to get personal information out of you within an acceptable range that you're able to manage, tipping you big-time all along the way. (Maybe, but remember: You're working overtime for those tips.)
Now, you may not be ready to cut him off today, and if so, no judgment. Only you know all the facts of your situation. But I strongly recommend you set some limits.
If you do decide to keep him for a while longer, you have options: You can either be honest or lie like crazy. Whichever strategy you choose is fine. After all, camming is show business. There's no need to feel like you're doing anything wrong by spinning a story.
Keeping your fictitious life straight can take work, but it also can be a lot of fun. I have a friend who used to tell one client all about her early life on a farm in Kansas, her little dog named Toto and her magical ruby-red slippers. I'm guessing her cover story probably wasn't fooling anyone, but as long as she and the client enjoyed themselves, what's the harm? Sit down, write out your fantasy life story with lots of juicy, fun details and stick to it.
If you decide to go the honesty route, here are two suggestions: the serious, give-it-to-him-straight route or the sexy route.
The serious script sounds like "Hey Bob, I don't appreciate you asking all these personal questions. Please stop, or I'm going to have to block you, and I really don't want to have to do that." One advantage to this is he knows what the stakes are. Some people just don't realize how they sound to other people, and they appreciate honesty. The other plus is if he does keep pushing, then he's made his agenda clear and you can block him in good conscience.
A lot of people don't respond well to constructive criticism, however, so sometimes it's better to sugarcoat things. You can try this: "Bob, darling, I enjoy our special time together so much. What keeps it sexy for me is knowing we can say or do anything while we're in here, but it's all just for fun. The real world is just so messy. Let's not ruin things by talking about that other stuff." If your goal is to keep him coming back for more, sweeter is often better.
Just make sure you're clear. If he really is a good guy, he'll back off. If not, you know what to do. All the tips in the world aren't worth your peace of mind.
Until next time, be sweet to yourself.
Lola D.
—
Lola Davina is a longtime veteran of the sex industry and author of Thriving in Sex Work: Heartfelt Advice for Staying Sane in the Sex Industry, a self-help book for sex workers now available at Amazon, Barnes & Noble, iTunes and wherever else ebooks are sold. Contact her at Lola.Davina@ynotcam.com and visit her on Twitter, Facebook and Tumblr.
Image of Lola Davina courtesy Pat Mazzera.