The latest craze in sex toy design is "touch-free" clitoral stimulators. These clever devices sit a silicone nozzle over the clit, usually without the user even touching it or holding it in place, and create a sucking, massaging sensation.
It's extremely hard to describe the climax these devices create, but women across the globe are going mad for the deep, intense orgasms they deliver. Some reviewers have likened them to a blowjob for your clit, delivering a much more intense orgasm than one experiences with a vibrator.
Several versions of touch-free devices are on the market, each with unique potential to add a bit of flair to your shows and cam-to-cam interactions — as well as improving your day overall. #justsayin
Before we break them down, though, a pro tip worth mentioning: When using any of these devices, slick a little lube across your clit first. This helps create a seal for the nozzle and acts as a cushion for the pulses. This kind of sensation can be very intense. Don't forget to use only water-based lube with silicone nozzles.
Womanizer
Womanizer is without doubt the most well-known of the touch-free clitoral stimulators. Offering several models from the creatively aesthetic W500 to the more practical Pro 40, Womanizer is known for luxury design using different colors and patterns to decorate the products. The recently launched Womanizer 2Go is designed like an oversize lipstick.
One thing the Womanizer is consistent about model to model is the intense, delicious orgasms it brings. Womanizer devices use Pleasure Air technology to create air pulses that stimulate your clit without contact.
Satisfyer
Satisfyer is a more budget-friendly touch-free device. With lots of models to choose from, all under $100, they offer plenty of sensation and power within a silicone nozzle. Satisfyer's flagship model, the Satisfyer Pro 2 (where is the Pro 1?), was a runaway success, as women who couldn't afford the Womanizer's higher price snapped them up.
Satisfyer recently released four new models: Penguin Pro, Satisfyer 1 and 2 (battery-operated) and Satisfyer Deluxe Pro. The Satisfyer uses pressure air waves to bring you to an explosive orgasm in record time. These new models offer plenty of choice at a reasonable price and still give mind blowing orgasms.
Fiera Arouser
The Fiera is less well known. Originally released as a device to revive flagging female sex drive, the Fiera has gotten lost in the new wave of devices flooding the market. The Fiera Arouser is intended to "awaken" the clitoris with suction sensation to prepare it for sex. This is a great idea, but it requires a degree of pre-planning most of us don't apply to our sex lives.
Fiera claims its device isn't intended to achieve an orgasm, but it can be left in place for a prolonged period and could lead to one. Reviewers were left unimpressed with the power of the Fiera, and in the hype surrounding other devices' orgasms, it mostly seems to have been forgotten.
LELO SONA
Recently, sex toy giant LELO has released its own version of the touch-free stimulator: SONA. SONA differs from the Satisfyer and Womanizer in that, where those use air-pulse technology, SONA uses sonic waves to create a massaging sensation. This is quite intense, and the deep waves penetrate right through the clitoris instead of just the tip. The SONA design is very high-end as fans of LELO have come to expect. LELO boasts SONA has Cruise Control technology, which prevents the device losing power when pressed hard against the body.
Shots HIKY
HIKY is a suction device in the truest sense of the word. Instead of air, HIKY uses pressure and pulse waves to create a suction-like feeling. Put simply, the HIKY actually sucks, hence the name.
The head of the HIKY has a hole in the centre, which you place over your clit. It then uses a combination of vibration and suction to stimulate the nerve endings in your clitoris. The clever design means the body of the HIKY can be used as a traditional internal vibrator, as well. Shots claims the device is the most advanced clitoral suction product in the world.
. @Spunklube @Masturgasm and @665Leather Present @EldoradoTweets First to Distribute #HIKY by @Shots_America https://t.co/VSIQ63arc1 pic.twitter.com/yAtWWpcOfp

— JRL CHARTS (@JRLCHARTS) February 27, 2017
Lumunu Traumtanzer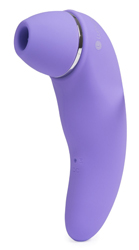 Very similar in design to HIKY, Traumtanzer is a lay-on clitoral stimulator. The nozzle of the Traumtanzer has a small circle of silicone fronds to add sensation during use. You place your clit into the nozzle, lying face down on top of the device. It then uses a combination of suction and vibration to simulate oral sex. Much like HIKY, the Traumtanzer has been designed so the body of the device can be used as an internal vibrator.
—
Check out YNOT Cam's Lube 101 for more info about what's what and what to use where, when.
Katy Seymour is a super-sex-positive writer in the U.K. who believes kink is life. Email her at katy@ynotcam.com.