Bad Dragon toys are everywhere.
Founded in 2008, the company offers a wide array of fantasy-themed dildos, masturbators, packers and more.
Bad Dragon is edgy. The designers push the envelope with materials and technology, as well as the fantasies their toys explore. The company's main mission is to help make fantasies real for individuals who want to indulge a little deeper. As such, Bad Dragon offers extensive product customization: Every toy is available in a choice of colors and firmness. There are also custom color options.
We talked to Derek Young, Bad Dragon's administrative manager. He shed a bit of light on what makes the products unique.
—
YNOT CAM: So, what is Bad Dragon?
Derek Young: We design and create adult toys, such as dildos and masturbator sleeves, which help adults achieve whatever fantasy they want to envision either with themselves or a partner. These toys are made from 100-percent platinum-cured silicone and are unique, exotic and completely body-safe.
Would you describe Bad Dragon toys as especially niche or novelty?
I would say Bad Dragon toys are both niche and novelty, but more on the niche side if I had to pick one. The reason for the novelty aspect is because we have many clients and customers that view our products as pieces of art or a very unique and special product to them, so thus it is a piece of novelty in that it is new, original or perhaps unusual.
But I would see us as more niche, as we are very much catering to a unique side of adult toys, especially when it comes to the fantasy aspect, customization of colors we offer on our toys, the handmade nature of our products and, of course, the body-safe materials we stand by 100-percent for our products.
We could be heroes…all weekend long with seven special edition Bad Dragon colors available on ALL compatible toy models!https://t.co/rZqbWV4p4f pic.twitter.com/NSSu0AgwDy

— Bad Dragon (@bad_dragon) November 18, 2017
How could a newer or more vanilla model incorporate Bad Dragon into her room?
We offer a very large selection of products and features that [models] can slowly explore and experiment with if they are not wanting to dive head-first into our lines. These range from a myriad of different dildos/masturbator designs to features like suction cups and, of course, still being able to choose colors if that is the most adventurous they would like to go for the time being.
We can certainly appreciate the feeling of reservation someone may have when taking a first look at Bad Dragon, but we have always been thrilled to hear the praise that comes with a first-time user regarding the quality and unique feel our product can bring to shows and, of course, the bedroom.
What about a more experienced model, perhaps someone who's into cosplay or fetish?
We have been told in the past by experienced webcam performers and models that our products are sort of a breath of fresh air to them due to what we offer versus general sex toys. A substantial amount of praise we receive is related to the quality that is especially felt by models who have used and experienced dozens of different toys from various manufactures.
We also offer an incredibly large pallet of customizable colors, firmness options, features and sizes that any cam model, I am sure, would be thrilled to experience and experiment with. How they use Bad Dragon toys during a performance also has so many application due to the different lines of products we offer.
Any especially unique or useful product suggestions?
The Pearce, a winner at the 2017 Alt Porn Awards and our first toy that includes a silicone "prince albert" embedded on the head of the toy. Piercings can be a tricky thing to attempt and get into for many people due to many reasons we have heard. However, the fantasy and/or individualism that can be attached with it is something we have wanted to explore for a long time and bring to other people. Pearce is the product of that vision and desire to explore that fantasy, along with bringing a fully embedded silicone option for others who want to bridge that gap into the fantasy slowly, if that is their desire.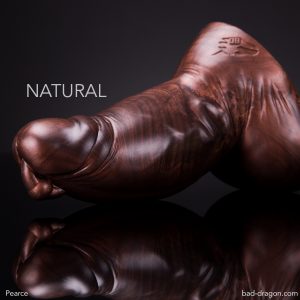 Simply by the nature of your products, Bad Dragon seems like it caters to more niche social and sexual identities. Is this true?
While I do see where you are coming from, we at Bad Dragon focus on catering to people in general and the various fantasies and fun takes on sex toys we can bring to them. We want to provide a high-quality product that is personal to the user while at the same time breaking down the barrier to entry by showing that our products are for everyone.
Because of this, we are paying attention to a wider audience and are focused on making it easier for people to digest the idea of a high-quality fantasy product that has a personal sense of ownership. At the same time, we are keeping our roots close as to not lose sight of what excitement we want to share and showcase to others.
Sadly, one woman will die of breast cancer every 13 minutes in the US. Help us fight #breastcancer with @BCRFcure!https://t.co/u80c7G7LaY pic.twitter.com/SzhwhTAJGv

— Bad Dragon (@bad_dragon) October 15, 2017
Anything else you'd like to add?
On behalf of Bad Dragon, we are eternally humbled and thankful for all the support and warm reception we have received from customers, fans and clients alike. It might sound cliché, but not any less true: We wouldn't be able to share this vision and excitement of fantasy products if it wasn't for you all.
We will continue working on and bringing this incredibly sexy spin of fantasy products to you all and will continue servicing you with all your needs, suggestions and desires. We aim to please, and the best way we know how is to keep on trying to make fantasies real.
Day 2 of @EXXXOTICA #NewJersey . The #baddragon team is ready. Are you? pic.twitter.com/rOna8pVbMA

— Bad Dragon (@bad_dragon) November 4, 2017
Find Bad Dragon on Twitter at @bad_dragon. Find them on Insta at @baddragontoys.
—
Erika is a sex positive people watcher (and writer). Email her at erika@ynotcam.com.