By Eve Thompson 
We've all seen lately on social media the body positivity trend, but most people are not really aware of what it is actually about. If you are not careful and don't use it the right way, you might just end up body shaming people without even thinking.
Being a cam model for a while, I've learned that everybody is somebody's type, no matter the shape and size. When it comes to camming, body positivity is what all of us are trying to figure out — and in this line of work, body shaming is something we stumble upon on a daily basis.
So, what really is body positivity and why don't many people know the real meaning of it?
Body Positivity: The real definition
"Body positivity" had a different meaning when it first came about. The term was first used in treatment and recovery for anorexia back in 1996, when TheBodyPositive.org was founded.
The main idea behind The Body Positive's workshops and lectures was to reduce focus on changing body weight through disordered eating and exercise and, instead, promote health at every size. In the '90s, the phrase was also used to signal to consumers that what they were reading or watching is not harmful, triggering or oppressive.
Today, body positivity is used to challenge the idea that only certain bodies are accepted in society. Body positivity recognizes that all bodies are equal and beautiful. It's all about deciding what feels good and what is healthy for your own body and for you personally (and letting others do the same thing for themselves). Body positivity means that you deserve to be happy in your own body without having others judge you based on your size and shape.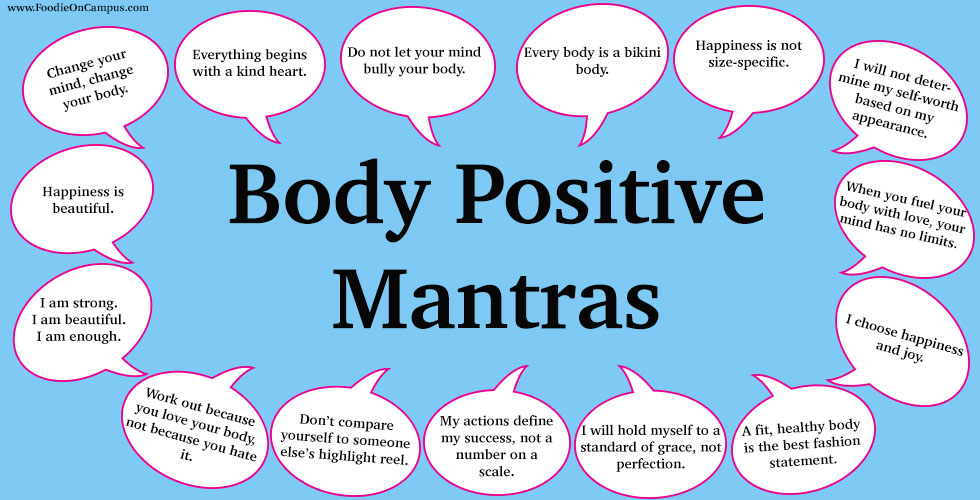 You can't escape society
We're all humans, and we all are affected by the world in one way or another. It's normal for everyone to feel ambivalent about their body from time to time. It's also normal to want something different from what you have from time to time. We all experience this.
But don't seek change because you want people to see you differently or to accept you. Don't become someone else just because society wants you to and has a certain view of what a "perfect" body looks like. If you want to change, do it just for you. If you're happy with the way you look and are confident in your own skin, then be yourself and people will love you just the way you are.
Body positivity is for everyone
I've seen lots of comments such as "body positivity is only for plus-size women." I've also seen many fitness people that claim you need to workout and eat properly to feel body positive. Well, I don't believe that to be true.
Body positivity is for all people of all shapes and sizes — it just matters how you feel about yourself. It's embracing principles of acceptance regardless of the size.
Body positivity is somewhat tricky when it comes to being unhealthy. In my opinion, it's ok to feel great about yourself and to be confident in your own skin, but health is also important. We can't ignore the fact that sometimes body positivity is viewed as promoting obesity – no! Those of us who are body positive don't promote obesity — we promote health at every size. This is an important distinction.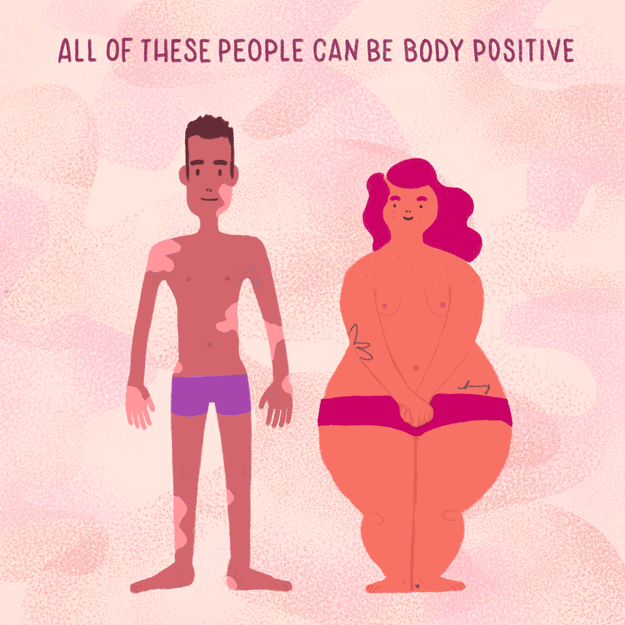 Body positivity doesn't make you vain
If you are happy and pleased with your body and if you feel great in your own skin, that doesn't make you vain. Being body positive doesn't mean we think we are perfect. It just means we are confident in our own skin. It means we love to learn more about ourselves and what makes us happy. It means we are still improving ourselves to the best of our abilities, so we can be truly happy — not selfish.
From Body Positive to Body Shaming
Most people are not aware how easy it is to go from body positivity to body shaming.
When some people think of "healthy," they think of how thin people are. That's wrong. You can't judge people's health based on how they look.
It's also important to be aware that words have great impact. For instance, "curvy" is an empowering word for some people, but for other people it may hold different meanings that are less positive. So, be careful when you talk about things that you're not aware of, offer people the respect that you'd live to receive, educate yourself and learn from your mistakes.
All in all, body positivity is about making our world a better place – a place where everyone can have the bodies that they please, be respected and have the same opportunities as everyone else — and here I am again talking about camming.
This is what I love most about camming: Everybody is somebody's type. It's a world where you can feel confident in your own skin. You will find people that will judge you, of course, but most of them will love you for who you are.
Find Eve Thompson on Twitter at @EveThompsonOff.
Hello darlings, I wish you all an amazing #MondayMorning pic.twitter.com/dszgZzbxGv

— Eve Thompson (@EveThompsonOff) January 8, 2018