Terra Storm started camming in April 2017, coming up on one year ago. She's from southeast Ohio and "can't wait to leave!"
"I'm very anxious to hit that one year mark so I can fully reflect on what kind of year this was for me," Storm said.
Storm has learned a lot during her time on cam, from how to incorporate her other interests into her work to finding ways to balance life as a single mother with her career online – My daughter will be two this May, and it's been a journey doing everything alone. I never appreciated how hard it was for other single moms until I started doing it – which is pretty unique for the Buckeye State.
"One day I plan to move out west and really start living my life. I feel like there's so much more opportunity out there and more people who are in this line of work for me to engage and network with," Storm enthused.
Terra Storm took some time out to talk with us about her work online and what she's learned in the past almost-year on cam.
—
YNOT Cam: What prompted you to begin your career online?
Terra Storm: In all honesty, I never initially planned to do camming. I got completely stressed out with my customer service job, so I quit it on a whim. I had a major struggle trying to find a solid job after doing so, so I started branching out and looking in multiple places for things that could be a potential option. That's when the idea of being a cam model actually spawned.
The cams that I typically viewed, and still view, are so full of life and the models seemed to always be so happy and genuinely love what they do, so I figured — what was the worst that could possibly happen if I was to give it a try for myself? I am very glad that I did because I love every minute of it, and the overall experience has been beyond fantastic.
I'm online @MyFreeCams! #onmfc https://t.co/ee1UKYxo7K ?? pic.twitter.com/aVIpwFtp04

— Terra Storm (@TerraStormOff) February 13, 2018
How did you go from beginner to more serious about your work?
When I first started camming, I was doing it off the couch in my living room. The only tool that I really had that was in good shape was my computer. I was using my gaming headset as a mic, had no music to play AND I had a really crappy quality webcam. Also at the start, I would only be online for maybe an hour or two a day, then call it a night.
As I learned that this was something that I wanted to take seriously, I began to invest more time and effort into my work. I bought an entirely new cam setup that I now have in one of my spare rooms. I have a new high quality mic and camera (multiple of them). I upgraded my internet, that way I have fantastic speed so I can stream without any lag issues. I have gotten multiple outfits and toys for the viewers and have gone from one hour of daily camming to making it a full time job where I cam for eight or more hours every day.
How does a service like Stripchat help you be better at your job?
I choose Stripchat because it helps newer models really get their foot in and do well. Stripchat is constantly innovating with new helpful features for us models. I love that Stripchat allows me to have maximum flexibility with my shows. I game, draw and do all sorts of naughty shows. It really is my show to do, and almost anything goes!
Stripchat support is second to none, which is super important to me. It means a lot to me for support to be there when I need them or their team just checking up to see how I'm doing. It's kinda cool that they make sure I'm happy and satisfied.
Live Now!! ??
.
.@chaturbate @stripchat @MyFreeCams #selfie #cammodel #modelling pic.twitter.com/G9C9GEbne7

— Terra Storm (@TerraStormOff) February 8, 2018
Outside of camming, what are you most interested in/passionate about?
As a gamer, I love any solid MMORPG the most. My absolute favorite game is EvE Online because it serves as a good challenge, has a relatively high learning curve, you have to put thought into the actions that you put forth in the game, it is an open world sandbox and you get to enjoy it with other players. It has one of the most supportive and fantastic communities since everyone understands the struggles and hardships that you have to go through while playing the game. I have made some good and certainly lifelong friends while playing this – so, I adore games like that. Not only can you get lost in the game itself, but the community of the game brings forth even more life.
When streaming games on cam however, I lean more towards the action shooter games where the viewers can have a better chance of trying to distract me and throw me off guard while playing. I simply set up my broadcaster the same way I would if I was to be streaming on Twitch, but I use xpslit broadcaster for cam rather the OBS. So If I have had a really good day overall on cam or if I'm not feeling good but still want to have some time with my viewers, then I will have our game night streams where I will game and have a lush/pussy, face, and game cam running for them to enjoy.
I love geeking out to anything and everything — things ranging from comics, to shows and movies. I love fantasy novels, conventions, cosplay, and… yeah, this list could go on and on forever. I love going to conventions the most and I'm hoping to get some awesome cosplays this year as well. Life goal is to do a beast Diablo 3 demon hunter cosplay! Hands down my favorite comic character would be Hellboy. I used to have tons of Hellboy comics that I sadly don't have anymore, but I am considering stockpiling my wishlist with them and hoping to get some nice treats.
MultiPass! About to go live!! ❤❤
.
.@chaturbate @stripchat @MyFreeCams #fifthelement #leeloo #cosplay #gamer #geek #cammodel #modelling #selfie pic.twitter.com/wmM5UKZypu

— Terra Storm (@TerraStormOff) February 13, 2018
If you could change one thing about today's world, what would it be and why?
If I could change one thing about the world, it would be to get rid of borders in the world. When you think about it, the fact that we still split up our countries and spend resources fighting each other over religion, politics, etc is just dumb.
I'd change that to a point where humanity learned to accept each other, pooled our resources together and changed the world for the better. Thinking about our accomplishments that we do under the circumstances of war, distrust, etc, I think we could do amazing things if we accepted every one, had faith in each other and worked towards common goals.
Find Terra Storm on Twitter at @TerraStormOff and on Stripchat here.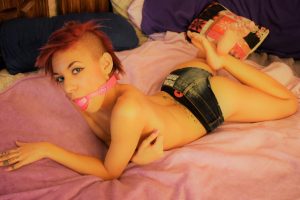 —
Erika is a sex positive people watcher (and writer). Email her at erika@ynotcam.com.
Image via TJ SMITH.