"I've been camming since webcams were invented, literally," Goddess Lilith shared.
"I feel like I was part of history in the early days of the internet. I was even part of a documentary out of Los Angeles back in the day, though it never reached completion, sadly. I got a free trip to Las Vegas out of it, though, which was awesome!" she continued.
Goddess Lilith grew up in New England and currently lives in Las Vegas. She still visits the east coast several times a year and runs several well-attended fetish events, the most notable being Exalted.
"After attending FemDom events all over the world, I decided it was high time to bring one to New England. The United States in general is severely lacking in this type of event, so I am very proud to be doing this," she explained.
She's also a death metal singer, which – holy shit, that's cool!
"I've been doing that since the age of 15. I've toured the United States four times and Canada twice with my band," Lilith shared. "People often compare my vocals to Dani Filth's [from Cradle of Filth], which is one of the highest compliments. I get all fuzzy inside with joy whenever I hear that."
But even in death metal, there is sex worker discrimination.
"I do try to keep my band separated from my fetish work," she added. "The metal community tends to be pretty judgy, believe it or not, and I have a hard enough time in that genre as a female, without the added 'Uhhhh….. She's a domme? And a cam model…?!' bullshit."
Lilith took some time out to share a bit more about her world online.
YNOT Cam: "Camming since the beginning" – can you tell us more? What prompted you to begin your career online?
Goddess Lilith: It just sort of happened. I loved being in front of my computer. I was actually addicted to my computer for many many years, so I found ways to generate income by sitting in front of it. Aside from camming, one of those ways was by farming in-game money in the game "EverQuest" and selling it for real money to other players.
At the time, I also had part-time retail jobs. I had a couple that I enjoyed like working night shift at a toy store and working in a print center, but after awhile I really got tired of having to adhere to someone else's schedule and learned I could make more money by staying home.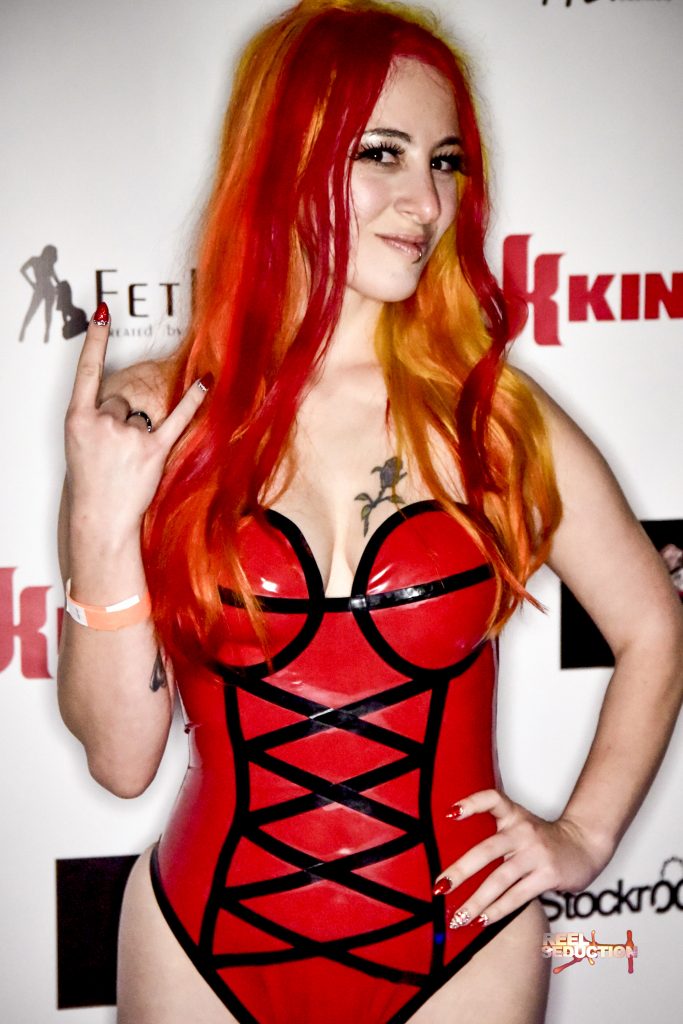 And how did you find camming back in those early days?
When I was in high school, I stumbled across Ana Voog, who had the first popular "lifecam" site, and I was instantly inspired by her. She was not just a pretty face. She was a pretty amazing artist, and I loved the way she could express herself by sharing her life and visions online. I quickly got my own cam and started camming from my bedroom.
For me, in the beginning anyway, it was more about art and expressing myself and not about getting naughty in front of people. But I'm not exactly ashamed of my body, and I quickly learned that I was a bit of an exhibitionist — so it wasn't long before all that followed.
[When] I turned 18, I was on the FIRST adult webcam site, which many of my fans, and webcam fans in general remember – CamWhores.com. When MyFreeCams came into existence in 2002, they offered everyone on [CamWhores] a bonus to sign up, and thus I became one of MFC's very first cam models.
(We actually used the term "camgirls" at the time, though I must say, I do prefer the more current term of "cam models" — It sounds so much more pro.)
Wow… MFC since their beginning! Pretty amazing. How did other aspects of your work evolve?
After a few years, I got a bit burnt on camming and became a dominatrix, setting up my own private dungeon in Boston and filming some of my sessions, when I discovered I could sell them on clips sites.
My style of clips were all just real time BDSM FemDom sessions. I had no idea that the whole style of just sitting in front of your camera all dolled up and talking shit while showing off your body would become so incredibly popular. So, I was late to the party with that one, but as I've started to step back from real life domme sessions a bit and have gone back to my roots of being in front of a camera, I've been filming clips in that style as well.
I've mostly gained notoriety as a foot fetish, trampling, and ballbusting mistress – but I've had a lot of fun with role play, humiliation, financial domination, hypno/mesmerize and pet play. I do phone sessions as well.
I like to stay busy, and I simply cannot stomach the thought of having a boss and doing a 9-to-5. I'd rather have fluctuating income and complete control of my life than have a ton of money and no time or energy to spend it on things I enjoy, like travel.
What are some highlight, challenges, and general observations you have about camming and clips making?
The fluctuating income is what sucks the most about the business. There is no rhyme or reason when getting on cam some days. Clips buyers can be very fickle and picky, especially now that they've all been spoiled so much by all of the content that now exists. And of course, your fans do eventually run out of cash, especially if you're not their only favorite.
Another thing that sucks is, after a,while, you do end up having to do things outside your comfort zone if you want to survive in the industry. I've known many producers who have had to sacrifice bits of their integrity and aren't happy about it, but simply had to  to keep sales up. I'd be lying if I said I never did anything that I was uncomfortable with just to get that client or that sale.
That's pretty intense…
I've also accepted that at some point after being in the BDSM industry, I will — probably sooner than later, at this point — need therapy. I have seen some of the most absolutely disgusting and vile things that one could possibly see, things you cannot even imagine. It is depressing and also horrifying of what kinds of things humans are capable of doing and thinking!
A vanilla observer in my Twitch channel — where I stream me playing games, but also talk about my line of work — once said, "I came here to check out this new expansion… but instead, you showed me the darkest part of humanity."
It is absolutely true. This industry is NOT for the weak. I have to give a huge mention and thank you to my partner, who was willing to get into the industry last year and help me bear some of this burden. Without him, I would not be anywhere near as active, period. He not only edits my clips for me now, but also handles a lot of the correspondence and responding to the bulk amounts of emails I get across my own email, as well as for the events I run. He shares in my frustrations and the disgust that often comes with dealing with some of these people. He gives me ideas for new clips and new ways of dealing with mentally draining clients.
I am so thankful for this, because after so many years, it just wears on a person after awhile.
Outside of work, what are you most passionate about?
Music. Nature. Art. Dance. All of the good things.
If you could change one thing about today's world, what would it be and why?
I can't just pick one — it's too difficult — so I'll go with two.
1: Being able to reproduce should require, at the very least, a basic intelligence test.
2: The internet would stop killing people's attention spans, and we as a society would learn how to READ things again. I cannot even count how many emails I get on a DAILY basis with people asking questions to things I have already spelled out meticulously on My site and other places!
If someone wanted to talk to you about BDSM training or professional mentorship, can they?
I do offer BDSM training for interested submissives and slave wannabes. I offer this online, either through classes in my cam rooms or 1-on-1 training. This is a subject that I feel very strongly about. Many new to the lifestyle do not know even the smallest number of basics when trying to approach a domme, so I am happy to share this knowledge. I also offer private consultation to new, aspiring dommes for a nominal fee.
As time goes on, I plan to step more into a teaching role — whenever I tire of performing. I love to help motivate and be an inspiration to others. It is deeply important to me!
Find Goddess Lilith at GoddessLilithDomme.com and on Twitter at @GoddessLilith66.
—
Erika is a sex positive people watcher (and writer). Email her at erika@ynotcam.com.
Oh, you've never heard a Cradle of Filth song before? Let me help you fix that!