The powers of amethyst stones are virtually unmatched. They promote calm, balance and peace and help eliminate impatience — and we felt a little bit of peace when we spoke to the rainbows and butterflies that make up Amethyst69Baby, Melissa Mills. 
Mills started camming "for fun" when she turned eighteen.
"I took a break for a while, returning to the industry this year," she shared with us. "I am now twenty-one and more serious than ever."
A born performer, Mills loves the opportunity to get creative with performances that cam provides.
"I love to entertain and play dress up. I have a lot of fun and I enjoy what I do, especially exploring new things exclusively with my followers," she shared.
Mills took some time out to answer four quick questions, her energy flowing — as those connected to the crown chakra often do.
YNOT Cam: What prompted you to begin your career online?
Melissa Mills: I worked in a bar that glorified women's bodies [before I started working online]. And once I found the online community of camming, I really liked what it had to offer. I realized I would rather work from the comfort of my own space and from anywhere and be able to travel full time in my RV eventually!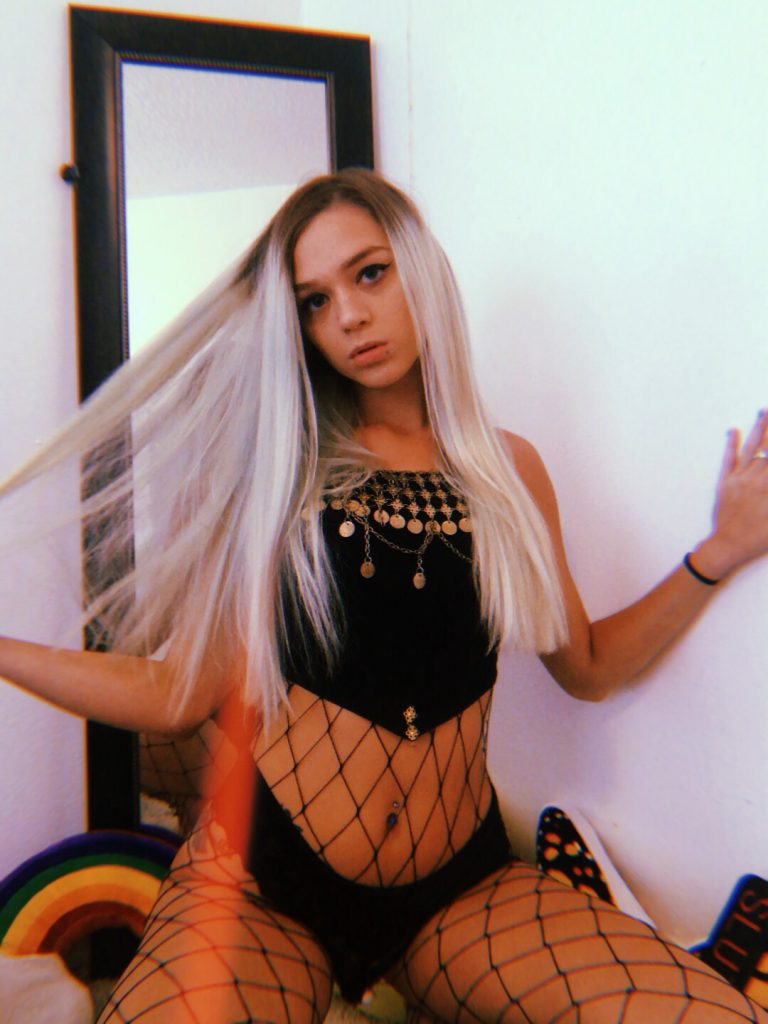 What are some difficulties that come with working exclusively online?
I think the most challenging thing is just knowing when to take a break and to just stop and love yourself. It can be draining creating content and balancing every aspect of your time. So often we forget to stop and recharge so that we can bring the best energy for our fans.
Outside of your work, what are you most interested passionate about?
I'm passionate about human connections and really understanding other individuals' mentalities. I am an open book, and I don't mind talking about the raw and commonly uncomfortable topics that sometimes bury the root of our problems or things we need to heal from.

If you could change one thing about today's world, what would it be and why?
…[t]hat people are so comfortable being hateful towards a stranger without knowing the inner workings of why that person is the way they are… [j]ust that people wouldn't be so judgmental. Sometimes we as humans are so quick to judge without knowing the inner workings of a person or situation.
Find Melissa Mills on Twitter at @amethyst69baby.
? Want to buy my snapchat? Tip 555 on CB for snapchat with username

?Live Cam: https://t.co/857SbW399C
?Custom Vids: https://t.co/AEzGhDvt5U
?Wishes: https://t.co/vkcBDERFYx
?Pics: https://t.co/SNmLHuu8uR
☎️Chat: https://t.co/G2jpuJ7YOy pic.twitter.com/eiT5GA0k6W

— MelissaMillsCB ?? (@amethyst69baby) October 8, 2018
—
Erika is a sex positive people watcher (and writer). Email her at erika@ynotcam.com.