pluviophile, pansexual, holy cunt, sacredslut, greywitch — That's what Ellie Boulder's Twitter bio says.
Boulder started uploading clips with her boyfriend in November 2016. "After just uploading for fun, we realized we were making decent ad revenue — and by decent, I mean worth paying attention to but not a livable wage," she explained.
"I also started getting requests for custom videos. A couple months later, I started stripping — at age 33, you can do anything you want at any age! — and doing more work online," Boulder added.
It's been two years since Boulder got into the adult industry online, and in that time she's learned a lot – and has even started coaching as a way to support new and experienced models' work endeavors.
Boulder took some time out to tell us about her career online, her approach to coaching and more.
YNOT Cam: What prompted you to begin your career online?
Ellie Boulder: I worked in the service and restaurant industry for 17 years with a brief stint in retail and a few months at an office job. Although I have always been a sexual being, the thought never even crossed my mind that I would be able to do it myself. After I discovered I could make money online doing something I loved, it was game over.
Finally visited the famous @Powells in Portland! Photo cred @SerenaLexxx pic.twitter.com/pELu53Q8xS

— WelCUM to CUNTucopia (@ellie_boulder) December 11, 2018
What are the best things about working online? What are the challenges?
I LOVE LOVE LOVE networking and connecting with other models and finding people I have a lot in common with. I also love pop culture and memes and social media. I'm an attention whore, and I love being seen so having followers and engagement feeds the inner whore. The challenge is to not get sucked in to working all the time or doing generally unproductive "busy work" while neglecting selfcare and relaxing.
I just started reading this book that I absolutely already love that's helping me with time management and keeping up with that challenge. It's called How to Not Always Be Working by Marlee Grace — life-changing.
How do you characterize your clips? Who are they for?
I have some feisty and taboo clips, but I have a lot of vanilla clips as well. I consider myself to be a fetish model, but really I love to do custom clips. So most of the crazy stuff you might see are custom commissions. I pretty much will try everything once and as long as all parties are legal, paying and consenting, I'm game. I also love experimenting a lot. I'm curious about what sells well, and I try to find the sweet spot between what sells well and what I want to make.
Some of my clips are for clients who I converse with regularly. I have a nun clip, for example, that was commissioned by a client who is a married active church-goer. It was actually really hard for me mentally to curse Jesus [in the clip] because, even though I don't identify as a Christian anymore, I didn't want to "take the Lord's name in vain." I personally don't have a sacrilegious fetish, and I don't really hate the Catholic Church — actually, quite the opposite. It has such a rich tradition, and the imagery and traditions are comforting for me. I'm not a practicing Catholic and I'm sure the church would excommunicate me anyway if I was, but I feel like I can respect the tradition and still make porn about it.
Everything should be questioned. Aside from human life and consent, all sacred things should be defiled. Everything and nothing is sacred at the same time. Nothing and no one should be above reproach. Holding curiosity about human nature and sexuality and religion and beliefs is much more beneficial than condemnation.
This one makes me wet. pic.twitter.com/Hm9cAievd1

— WelCUM to CUNTucopia (@ellie_boulder) December 11, 2018
You career coach models. Can you tell us more about your approach?
This is a tough business. It's tough to be your own boss and be the end-all-be-all of every aspect of your business. It takes a lot of planning, thinking, decision-making, experimenting and tweaking. I've gotten a lot of experience in my two short years in the industry. Before that, I had two failed online businesses, but for years I gleaned a lot of information from studying social media and business, observing trends and really listening to experts in the field.
I'm 35 and a mom, so I also have a bit of life experience that I bring into my coaching. I also use my yoga teacher training, Reiki training and skills as a witch for helping and healing. I love to help people, and I love to share my knowledge.
So, what does it involve?
First of all, success looks different to each person. I help models define what they actually want and then make a plan of action to get there. And since the getting there looks different for each model, I help with defining, planning, managing and executing. Also, staying motivated and getting pumped is important.
When I get off a coaching call with someone, I always tell them to never hesitate to ask me questions or to hit me up. I don't ever want anyone to feel abandoned after we chat. Support during work is so important. If any models reading this ever need a pep talk, please DM me! My DMs are always open to models in need. Of course, I'd love to do a paid coaching session, but sometimes a pep talk is all you need!
After I discuss defining and planning with my coaching students, there are two things I tell them to focus on: immediate moneymaking activities and business building activities. For example, my favorite immediate moneymaking activity is doing a flash sale on SnapChat. Most of the time it works. Sometimes it doesn't.
If a model is discouraged and down about something not working, it's important to remember to take all information as just that – information. It's data you can analyze to make more profitable business decisions in the future. It's not productive or beneficial to say, "Oh I didn't sell this because I'm not good enough or pretty enough or no one liked me" blahdy blah. It's just not true!
There are people that want [what you're selling] in this world of 9 billion and counting, and lots of people will pay for it. It's just a matter of finding them. Stop complaining about not getting tips or sales no matter what your follower count is. You don't control your follower count. You control your visibility. People can't buy what they don't see, what they don't know about!
Gimme a D for DICK!#cheerleaderfetish #toetouch pic.twitter.com/7ZMvxDSIcS

— WelCUM to CUNTucopia (@ellie_boulder) December 8, 2018
Sounds like a bit of tough love for n00bs! What might more experienced models get out of your coaching?
Even models with experience can benefit from a fresh set of eyes on their promo and marketing. Sometimes we can hit an income plateau, and we need just a little boost to overcome it.
Also, everything I do with new models, I do with experienced ones as well. We define, we plan, we execute. If something isn't working, we'll dive into it and figure out a solution. Oftentimes, we know exactly what we need but hearing someone else say it aloud can be affirming. All models get discouraged, sometimes even experienced ones! Sometimes it can be even harder after becoming jaded and tired. I have an almost inexhaustible reserve of motivation and pep talks to give though!
Outside of your career, what are you most passionate about?
I feel like I find some way to incorporate everything I love into work. I'm at this weird place in my business where I don't think there's time to rest or relax or have hobbies or fun so, as a result, I "chill" by sitting on my phone tweeting and answering Snap messages and doing promo. Until someone invites me to do something fun and I convince myself I deserve it, that is.
I have neglected a lot of the things I'm interested in, but I am working on getting back to making time for them. I love hiking and being outside. I love learning and experiencing new things. I love to read and play video games. The best day ever would be sitting outside a cafe or quaint location while it's raining with my partner or my kids or chatting with a friend.
I'm a pluviophile so when it's raining, I'm happier. I know it's a bit ironic, but the rain gives me such a sense of comfort and groundedness. I'm also a trained Iyengar yoga teacher. Although I haven't taught public classes in a couple years, yoga philosophy is still very much ingrained in my psyche, and I find a way to integrate it into every aspect of my life.
If you could change one thing about today's world, what would it be and why?
I feel like I'm in a Miss America pageant saying this, but – honestly — world hunger. I really wouldn't change anything else because humans are humans and sometimes an ideal "better world" isn't actually better in practice. Everything is a grey area, except eating.
Find Ellie Boulder on Twitter at @ellie_boulder and ellieboulder.com.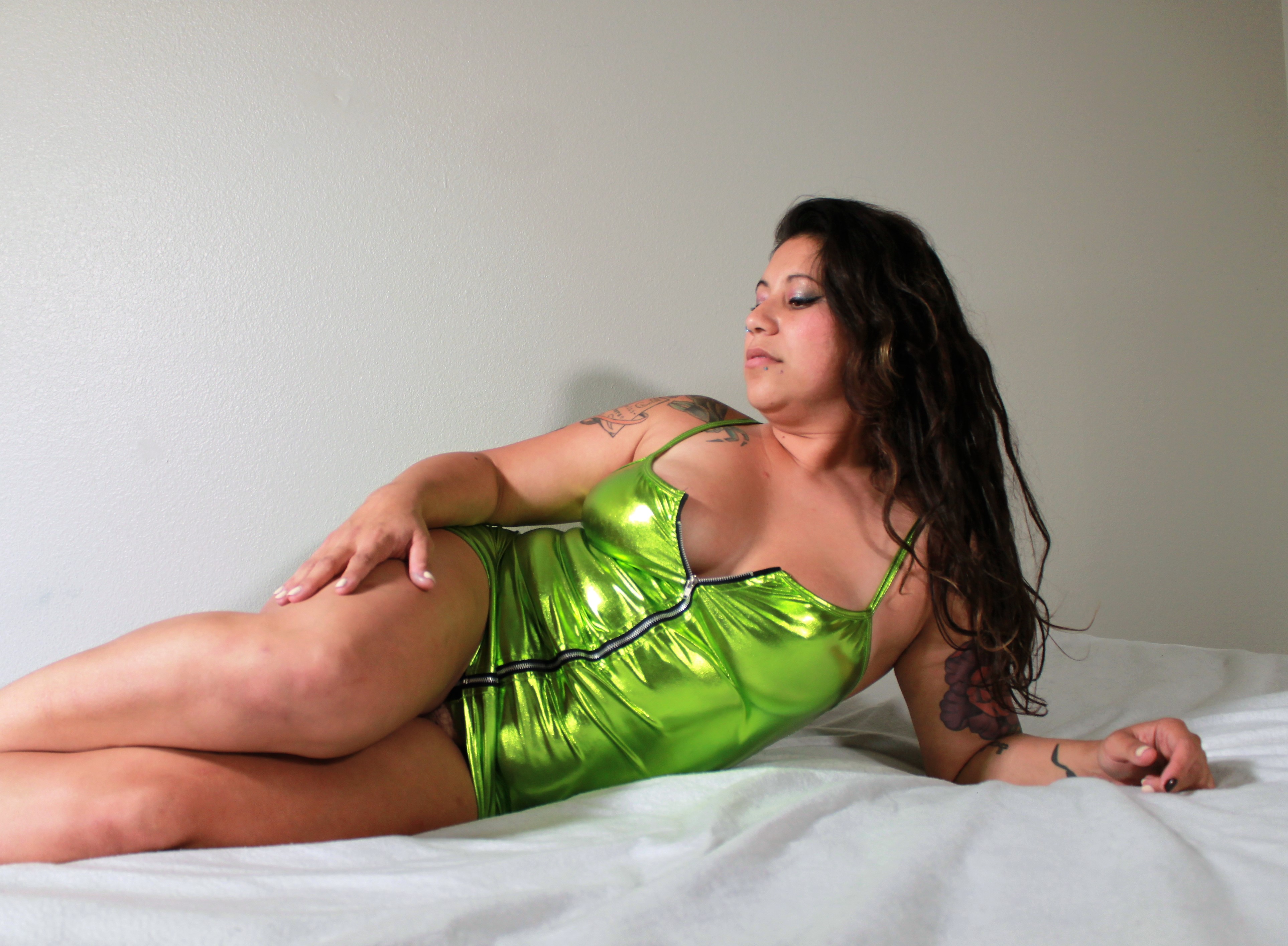 —
Erika Chan is a sex positive people watcher (and writer). Email her at erika@ynotcam.com.