"Hitachi" is a popular term among porn creators and consumers alike, referring to sex toys collectively called "wands" — clitoral vibrators with elongated handles and round, smooth, vibrating heads.
The original Hitachi Magic Wand is a staple of the cam industry and has been imitated many many times by other toy manufacturers. These were initially designed as body massagers to ease pain, but their other more pleasurable usage was quickly popularized. These wand toys are easily recognized and revered in the camming and porn industries and almost always genericized as "hitachi" regardless of the particular brand. (Much like "Kleenex" has been genericized to refer to…"facial" tissue.)
Happy Wednesday!#HumpDay #GoodVibesOnly #GoodVibeTribe #MagicWand pic.twitter.com/ySXOqHxNIb

— Hitachi Magic Wand (@HitachiMagic) March 28, 2018
For my birthday last month, my partner gifted me the Pornhub Supercharged Wand Set, which gave me my first ever experience with a vibrator wand. So, I can't compare this wand to any others on the market, but I can say with confidence that the Pornhub Supercharged Wand is a sleek, satisfying addition to my collection.
Pornhub Toys offers a small selection of other essentials, including vibrators, anal toys, rings, strokers, bondage items, and even interactive toys that sync with compatible Pornhub videos to mimic the on-screen action. Along with the basic wand, which boasts 8 speeds and 20 different vibration patterns, the Pornhub Wand Set also includes three additional attachments: a ribbed, textured head covering, a quadruple-bead attachment for anal play and a rabbit attachment for G-spot stimulation.
Screengrab of product (below) taken by the author.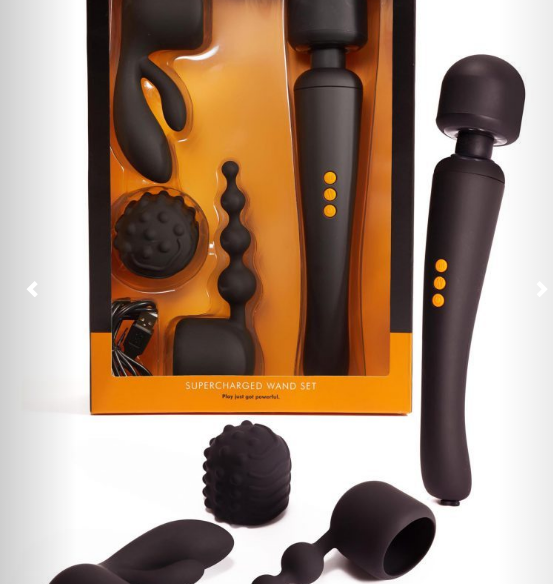 Some toys you might find on Amazon or in novelty shops are made of cheap and/or unsafe materials and often don't come close to delivering what they promise. Unique, durable and body-safe toys aren't always cheap, but in the case of the Pornhub Wand Set, the price is certainly worth the reward.
This wand is one thing Pornhub has done right. On the one hand, it comes from Pornhub, a company that knows what they're doing… but on the other hand, it comes from Pornhub, a company notorious for allowing copyright infringement and unethical distribution of adult content. If you do not wish to give more money to Pornhub, the crown jewel of porn piracy, there are many more wands out there that deserve your love! But this is my first experience with a wand, it was a gift, I absolutely adore it and I'm excited to share my thoughts.
Pornhub's online toy store does not give dimensions for any of its products. I guess you're supposed to presume the length and thickness of a vibrator based on photos of models holding it in their hand. The box that my wand came in also did not offer any size measurements, but it did come with a nifty little manual describing the mechanics, attachments and maintenance. The user manuals for Pornhub's Bluetooth-compatible toys are available on their site, but this one is not.
The wand and all attachments are made of silicone, so they should not be used with silicone-based lubricants, massage oils or lotions. Do not clean them with alcohol or harsh soaps. Use gentle soap and warm water or a specialized toy cleaner. There are three buttons on the wand — from bottom to top: power, pattern and speed. To turn it on or off, press the power button. To change the pattern, press the middle button. To make it vibrate faster, press the top button. The wand does not vibrate if it's plugged in and charging.
Vibrations: 10/10
The Pornhub Wand is cordless, USB-chargeable, smooth, non-porous (easy to clean) and strong as hell. With some of my other vibrators, I find myself wishing they were just a little stronger or they had just one or two more vibration patterns. The Pornhub wand has 8 speeds and 20 patterns, and not once have I wished for anything different about these features.
The weakest is a nice, casual vibration setting that's a good place to start from. I haven't been able to tolerate the 6th setting (the 3rd-strongest) for more than maybe 10 seconds while edging, so if strong vibrators are your thing, I can't recommend this one enough.
Attachments: 6/10
My biggest complaint about this wand set is that the attachments are difficult to, well, attach. Each of the three silicone attachments have rounded bases that are designed to slip over the head of the wand. As a sex toy enthusiast with arthritic hands, I am physically incapable of sliding the attachments onto the wand itself. I don't know if this inaccessible design is standard for wand attachments, as this is my first experience with them.
I have to have my boyfriend attach them to the wand for me, or I cannot use the attachments. He says they are objectively difficult to attach. The edges cave in slightly, so the openings don't slide easily onto the wand, and you have to stretch them over the head… somewhat like putting on a penile condom, but with stronger, thicker material, a bigger head and much more required hand strength. On the plus side, though, you won't ever worry about the attachments coming off or sliding out of place at all.
The first attachment I experimented with was the textured head, which has raised lines and dots. This one is my favorite, at the moment. It brings about the same sensations of the basic smooth head of the wand, but like, with raised lines and dots. I particularly enjoy utilizing the raised dots by applying different angles to different parts of the vulva. It gives different kinds of physical feelings that lead to the same satisfying outcome — hah. In my experience, the textured head also leads to a quicker orgasm than the basic wand or the rabbit attachment.
I also enjoy the rabbit attachment, but it might not be as pleasurable for users who go for thicker or longer toys. Pornhub boasts "the equivalent of 4 toys in 1," but the rabbit attachment isn't comparable to a real rabbit toy, in my opinion. The phallic portion of this attachment extends from the rounded base that slides onto the head of the wand, with an insertable length of less than 3 inches. The bulkiness of the whole shebang (wand + rabbit attached to it) can be hard to juggle all at once, even when the rabbit attachment is so small. I like to keep one hand wrapped around the handle of the wand but I also have to keep my other hand on the clitoral stem (the "rabbit" part) of the attachment to hold it in the right place.
If I'm playing solo, unfortunately there are no other hands available to stimulate other parts of my body. That's okay, though, because the vibrations are enough for an ethereal penetrative/clitoral combo orgasm. However, don't expect this to be satisfactory as a rabbit toy — you'd be better off with a toy specifically designed as a rabbit clitoral/G-spot stimulator. Pornhub has those, too: the Turbo Rabbit and the Bluetooth-compatible Virtual Rabbit, which appear to be longer and thicker than the wand attachment.
I'm quite the amateur in the anal department, so I put off trying out the anal bead attachment. There are four beads extending from a rounded base that slips onto the head of the wand. This was my first experience with anal beads, and I wasn't super impressed. My opinion on this attachment should probably be taken lightly since I'm nowhere near a connoisseur of, or expert on, anal toys… but I had to try it.
This attachment is a soft silicone, like the rest of them, and the beads are smooth and comfortable. I didn't really care for them either way, and when I experimented with the vibrations they didn't do anything for me. But like I said, not an expert — I didn't even get past the second bead. I'll try again when I'm less inexperienced with anal play.
Overall:
When browsing PornhubToys.com, be aware that Pornhub does not currently display measurement details on any of its toys, which is super annoying. I would absolutely not purchase an insertable vibrator without knowing how big (or small) it is — I would hate to spend $80+ on a toy only to discover that it was too big for me, or not big enough.
Pros of the Supercharged Wand Set: vibration strength, material, variety of vibration patterns, cordless and USB rechargeable
Cons: Attachments difficult to attach, does not work when charging
The Pornhub Supercharged Wand by itself was, in a word, a cumtastic first wand, and a worthy addition to your personal and professional  life.
—
Alsanna James is a student, advocate, spoonie, writer, gamer and adult content creator. Half silent oracle, half professional sexpot, you can email her at alsanna@ynotcam.com and find her on Twitter at @AlsannaJames.