"I was born in New Jersey but live in Tampa, Florida now. I've been camming for almost a year. My cam-iversary is April — send gifts!" Kendra Knight said with good-natured glee.
"I'm also a huge animal lover — elephants, lizards, snakes, platypi — it doesn't matter, I love them all," Knight shared, which something many people can relate to. Knight however may be a bit *too* daring when it comes to making animal friends.
"I was on my back porch recently and saw a red wolf in our backyard," she shared. "Of course, I had to try and call it over so I could snuggle with it! He didn't come though… My husband keeps telling me I'm better off, but I'm not so sure."
In the spirit of disclosure, Knight also shared with us that she's a mom – and this is the first time she's letting that particular cat out of the bag.
"Balancing camming and family life is a struggle at times, but it's great that I can make my own schedule, be own my boss and still be there for my rugrats when I need to. It also helps that I have a supportive husband too!" she explained, which is probably the greatest endorsement for work online ever.
Knight took some time out to share more about her family life, her work online and all her many adventures – one red wolf at a time.
YNOT Cam: What prompted you to begin your career online?  
Kendra Knight: After high school, I was my grandmother's caretaker for nine years. She had dementia. I was also kind of a shut-in. I had a few opportunities in my twenties to do some modeling, but unfortunately I was in a relationship with an insecure a-hole that fought me the whole way. I know, I know, that's not a good excuse. Thankfully, I'm in a better place now, and I have a fantastic opportunity to really put myself out there.
Last year, before I started camming, I was working as a bartender at a local strip club. It was a pretty wild time. I did pretty well, but too many of the customers just couldn't understand boundaries. One of the customers leaned over the bar and licked me from my hand up to my elbow — like that horny dog in the Bugs Bunny cartoons. Ugh… I was done after that.
I was talking to my husband about my desire to do some glam and fetish photography shoots as well as possibly dancing if I could get over the invasive customers, and he mentioned camming. I get to put on the show without customers getting in my bubble — win, win!
New hair cut ? pic.twitter.com/y1sdeKeHin

— Kendra Knight (@kendra0knight) January 7, 2019
Your Twitter says you currently reside in Tampa and are moving to LA. What are your goals with such a big move?
Well, my Twitter is a little misleading.  My plan is to split time between LA and Tampa, where I call home.
I'm interested in shooting mainstream scenes and hopefully land some reputable print work as well. Everyone I've spoken to has made it pretty clear that LA is where it's at if you're committed to making a career in the adult industry successful. Not to say that you can't be successful — totally subjective — without going to LA.
So my thought process is that shooting for mainstream will get my name out there more. It's my hope that I put out solid content with established production companies that my fans will love, and I bring them with me to all of my other outlets: camming, Snapchat, social media, clip sites and conventions where they can get to enjoy me behind the scenes.
I'm not sure how long I have for a camming career, so I'd like to learn as much as I can about the industry so that I can perhaps one day mentor other women looking to get into the industry. I have a ways to go though, and I still have so much to learn myself!
My advice: get an agent. Let them help you navigate the waters if it's something you're interested in doing. I threw my name out on Sexyjobs.com, and omg did the offers start coming in. I mentioned I was going to LA on Twitter, and omg did the offers start coming in.
Everyone that owned a cell phone cam started hitting me up. The part that I was most apprehensive about was jumping into an industry where I didn't know anyone. Do your homework. Don't just dive in. Talk to other models. I was very surprised at how responsive some of the other models were.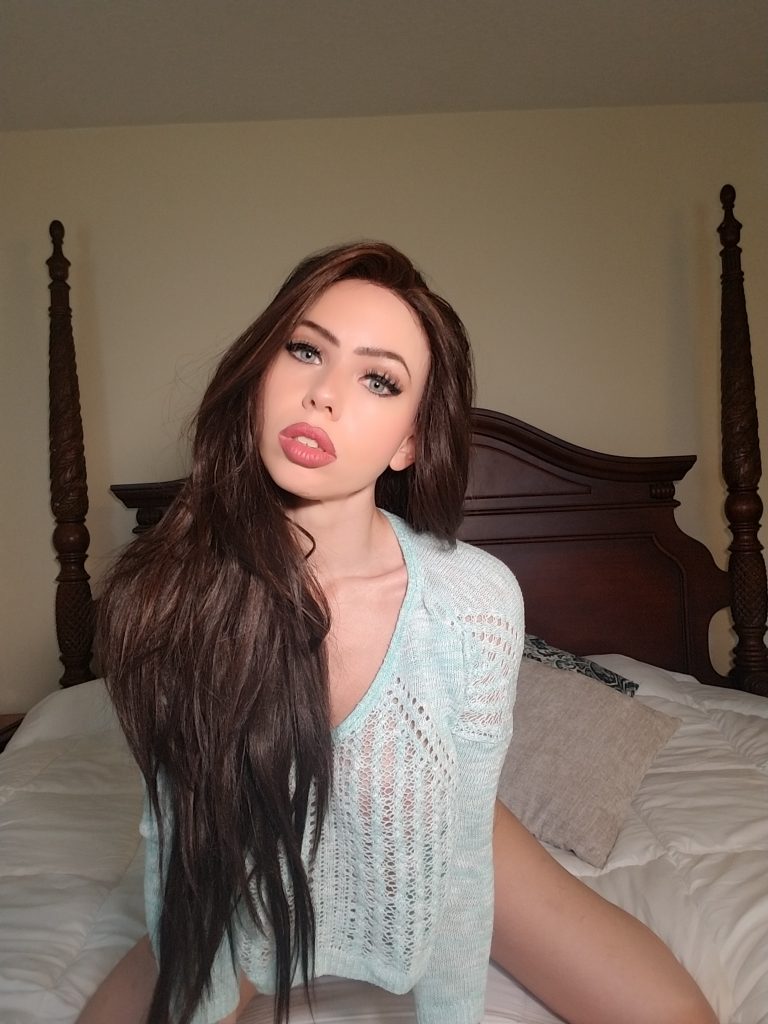 What are some general observations you have about working online?
Socializing with my fans is pretty awesome, making my own hours is even better! But then there's tech… uggghh.
I wish I was a little more mechanically inclined and really wanted to know more about tech, but – alas — I am not and I learn it because I have to. As I was putting on my mascara when I was twelve years old, I never thought in a million years that I would need to know wtf OBS was and Elgato Cam Links and DSLR Cams — and I guess I still don't, but it really helps put a good show together.
I'm a pretty big fan of the PPM sites as well, but in my opinion they really box you in. The traffic and no chargebacks is frikkin' great! But no self-promotion unless it's specifically with their site feels very limiting. I understand their point of view and their business model… But in spite of how well I have done on PPM sites, I've decided to make the move to token sites like MyFreeCams and Chaturbate. There are just so many more opportunities for recurring sales and engaging with your fan base when you're not online.
Your Insta following is a lot larger than your Twitter, which is interesting considering how adult non-friendly Insta is. Why do you think one platform is more developed than the other?
I originally spent more time on Instagram than I did Twitter. It was really just an easier concept for me. Personally, I have a lot more engagement with my fans on Instagram than I do on Twitter. Twitter let's me post some lewds though, so I think it's necessary to find a decent balance.
The real key is finding that sweet spot of cross promotion between the three platforms: Instagram, Twitter and Snapchat — kind of like a storyboard scavenger hunt. Insta vs Twitter has a bit of the Apple vs Droid feel though as well. You either love it or hate it – and I'm a Droid girl by the way.
I've had the Insta police on me before when I pushed the limit, so I actually went in in a panic and started taking stuff down. I don't think Twitter being adult friendly is counter-productive. I can, however, see how easy it is to get lost on someone's feed, so it feels like you almost have to spam. And I don't like spamming, so it's a challenge for me to figure out how effective I'm being.
Honestly, I think I have plenty more to learn about the effectiveness of Twitter.
Outside of work and your career, what are you most passionate about?  
I love homesteading! For most of my life, I've raised some type of livestock or had some type of fruit and vegetable garden. Chickens, pigs, goats, etc. — I love the farm life, especially when the babies arrive… OMG, I sound like Elmyra!
I have rarely felt a greater sense of accomplishment than harvesting my own fruits and vegetables. Like, I grew that stuff, how awesome is that?! In three years, I'm hoping to be on a 20+ acre ranch in Tennessee — I just hope there's a decent internet connection.
If you could change one thing about today's world, what would it be and why?
I would change the "PC"ness of the world. I think everyone is so afraid to talk about things, or they feel like they need to sugarcoat what they say in fear of being rejected by society.
If we could all just be our own weird and openminded, free-speeched selves, I feel that life would be much easier.
Find Kendra Knight on Twitter at @kendra0knight and on Insta at @kendraknightx.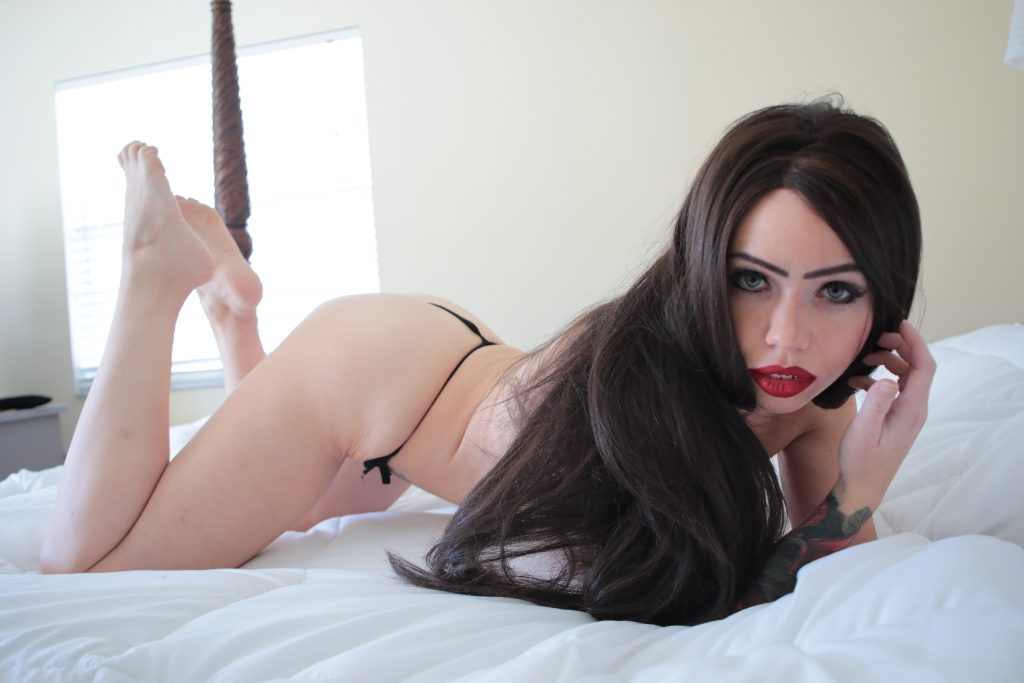 —
Erika is a sex positive people watcher (and writer). Email her at erika@ynotcam.com.
Also, Kendra kinda a little bit *is* Elmyra!