Two months ago, ManyVids introduced their own tube site, MV Tube, priding it as a rebellious alternative to unethical, piracy-driven porn sites. This month, in response to more frustrations from MV Stars, they made some changes to MV Tube.
Here's the gist of this update: MV Stars now get $0.01 per 15 views (or $0.67 per 1,000 views) across all their MV Tube vids. Initially, as I reported in a previous article, MV Stars were to be paid $0.60 per 1,000 views across all their vids on MV Tube. ManyVids didn't mention, however, that if you didn't hit 1,000 views in one month, you wouldn't get paid for them.
Cam model, pro domme and MV Star Dahlia Dee brought attention to this issue by tweeting screenshots of an email from ManyVids Support. In the email, a support agent writes that they had set MV Tube to restart everyone's view count after the first day of every month.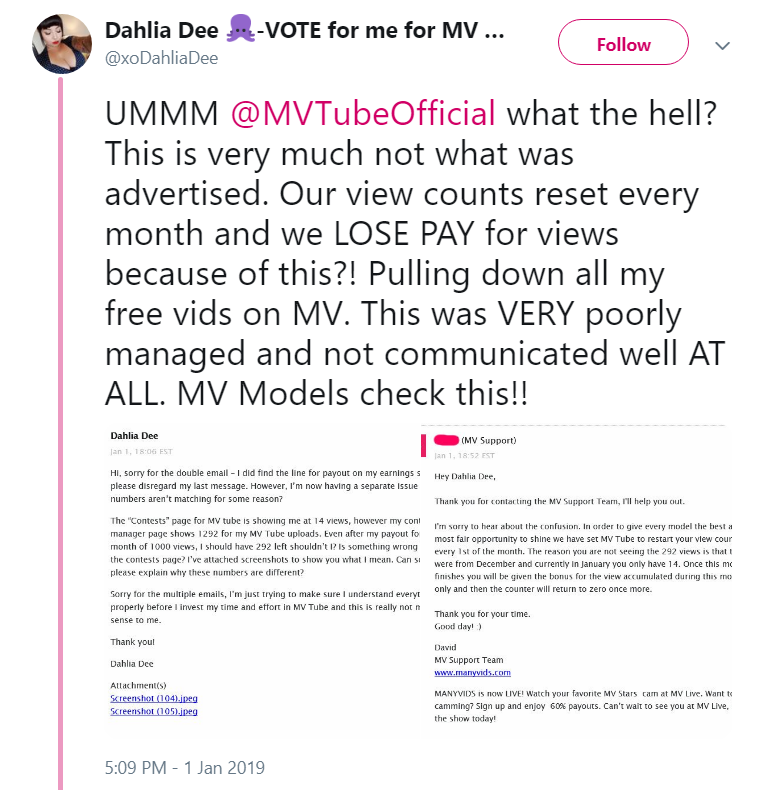 This means that MV Stars would not be getting paid for MV Tube views unless they reached 1,000 views within one month. (MV Tube earnings are paid out on the 1st of every month.)
For low-profile models or those who do not upload to MV Tube frequently, resetting the view count every month means they won't receive any payment for views on their MV Tube vids if they cannot reach the 1,000 view benchmark in time. Models were quick to point out the absurdity of this policy, and many were upset about the deception involved.
In MV's November 8 announcement about MV Tube, once they made adjustments to the site following initial backlash, they had claimed:

MV never publicly clarified that if you didn't get enough views to make those 60 cents, you wouldn't get paid at all.
"No catches, no fine print, just a straight payment to our content creators paid out on the first of every month," they wrote. The catch: your views reset on the first of every month. The fine print: if you don't reach 1,000 views in one month, you won't get paid.
This lack of communication has upset MV Stars, especially for a site that prides itself on ethical distribution, empowerment and transparency. After Dee posted this email, MV Stars tweeted their frustrations to the ManyVids, MV Support, and MV Tube Twitter accounts as well as MV CEO Bella French.
French was quick to respond. The day after Dee posted about this, MV announced a payout increase to $0.67 per 1,000 views and that all views would be paid monthly. French clarified that once you hit 15 views across all your MV Tube vids you'll be paid $0.01. MV Stars will be paid once each month for all MV Tube views in that month, as long as they have reached 15 views across all vids.
MV Tube views will still reset at the beginning of each month, after payout, for "payment purposes only." MV Stars do not currently have a clear-cut "Tube dashboard" in their Earnings tab to monitor MV Tube views/earnings for each pay period, though Tube earnings are summarized when you receive payout from the site. A ManyVids pay period generally lasts two weeks. Instead of biweekly payments, though, MV Tube revenue is paid out every other pay period, on the 1st of each month.
As soon as you reach the minimum of 15 views (all your vids combined) you will get paid for all those views every month. Once all your views have been paid, at the end of each month, we will reset the views for payment purposes only. The views on your vids won't be reset.

— Bella French (@bellafrench69) January 2, 2019
It is unclear why MV was resetting (and not counting) MV Tube views or why they did not make this practice clear to MV Stars from the beginning. Perhaps this was a matter of misunderstanding between French and the ManyVids team when view revenue was first introduced. French has acknowledged the mistake, apologized and promises to continue improving MV Tube.
—
Alsanna James is a student, advocate, spoonie, writer, gamer and adult content creator. Half silent oracle, half professional sexpot, you can email her at alsanna@ynotcam.com and find her on Twitter at @AlsannaJames.
Screengrabs by the author. Woman in red hoodie via ManyVids.