Earlier this year ManyVids (MV) introduced secure streaming in attempt to combat a common method of piracy. If users can't download vids, they will be discouraged from illegally re-uploading them to other sites. So, for a few hours on May 3, MV had disabled downloads, and the streaming option was the only option.
ManyVids responded quickly to the ensuing backlash. They then introduced the "Stream Only" feature, in which uploaders can choose to to make vids available to stream only. Some MV Stars upload a downloadable version and also a cheaper, stream-only version of certain vids. Previously, MV Stars were able to upload vids to the site and make them free to stream and download.
On November 7, ManyVids announced MV Tube. In this initial announcement, MV said: "All different types of vids are welcome: previews of vids or full videos, one of your YouTube vids, interviews, behind-the-scenes footage, and sexy snaps."
This announcement was met with a plethora of reactions from MV Stars, as well as members. On one hand, some are seeing fun potential in MV Tube, like an adult-friendly YouTube. On the other hand, many performers had critiques and complaints about this new venture.
ManyVids boasted, "We're starting a new era of conscious consumerism with vids, produced ethically, for you to enjoy ethically." Possibly the number one question begged by MV Stars was, "If MV Tube is so ethical, why aren't you paying us?"
ManyVids pushes the fact that all vids on MV Tube are uploaded consensually by the copyright holders, pointing to other tube sites profiting from stolen content. Pornhub has long been a cornerstone of "free" porn and the popularization of porn piracy. As many performers pointed out though, at least Pornhub pays their verified uploaders. Pornhub now has a model payment program which allows uploaders to sell videos and receive cuts of sales in addition to ad and viewshare revenue.
Initially, MV Tube did not offer any revenue share options. ManyVid's November 7 announcement offered bonus cash prizes to the top 3 MV Stars whose free vids had received the most views each pay period, in the same way that MV's "Top Earners" — performers who bring in the most profit — are rewarded with extra money.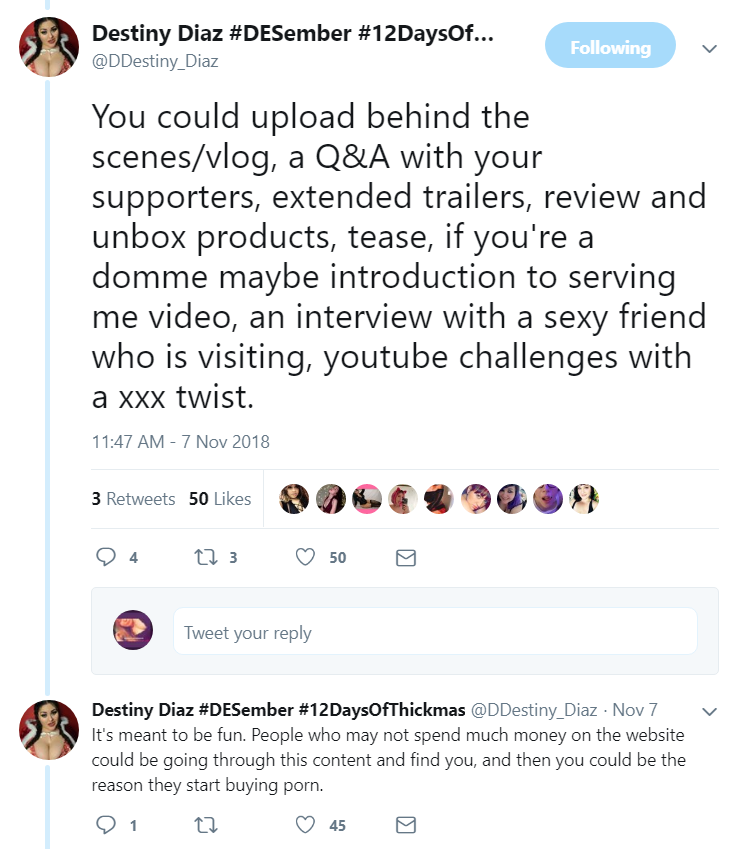 Grab from @DDestiny_Diaz.
Another complaint from MV Stars following the announcement was that performers did not consent to having their free videos uploaded to this new tube site. This assertion is fallacious: at this time, MV Tube is not a separate tube site, but a tab on the main site, just like MV Fetish. MV Stars upload their vids to ManyVids, consenting to having their content hosted on MV and organized however the algorithm/search engine organizes them. After the initial announcement, all free vids on ManyVids just had an "MV Tube" sticker on them.
After much criticism, MV now allows uploaders to differentiate between "Free" vids and "MV Tube" vids as they choose. MV has not clarified whether they plan to introduce an entirely separate MV Tube website.
Again, when ManyVids Stars and Members shared their feelings about this this new feature, ManyVids responded quickly. On November 8, the day after announcing MV Tube, ManyVids announced clarifications, plans and changes to MV Tube, among them a removal of the Top 3 bonuses.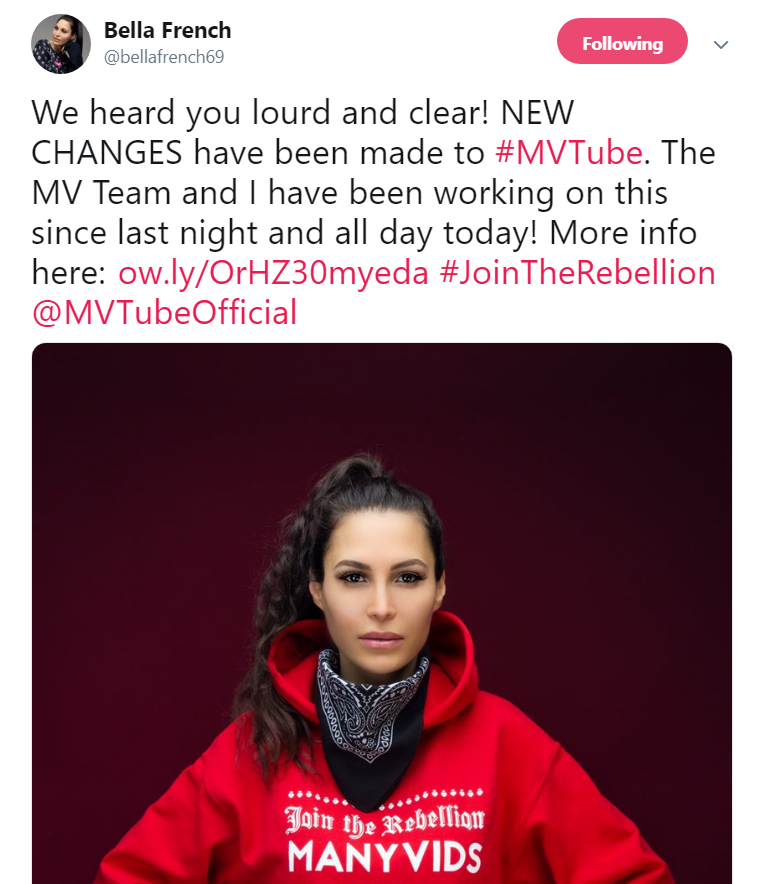 Grab from @bellafrench69.
Some performers are wary of MV Tube or do not wish to be associated with a tube site at all. In response to such criticism, MV now allows uploaders to choose whether free vids will appear on MV Tube. Videos will only be live and searchable on MV Tube if they are marked "MV Tube." Vids marked "Make this vid free" will be searchable on ManyVids but not MV Tube.
There is no available option to set a download price for free vids unless they are on MV Tube. When editing a vid under "Pricing" MV Stars can choose whether it will appear on MV Tube. The MV Tube homepage does not display videos that have a sale price, but MV Stars can now offer vids on MV Tube FREE to stream, but set a download fee if they choose. (To make it free to stream AND download, set the download price as $0.)

Grab via the author.
ManyVid's November 8 announcement also clarified:
MV Tube will not affect MV Score or Rank.
All sales from MV Tube downloads will be added to your earnings each pay period.
MV removed the bonuses for top MV Tube Stars and instead will pay all uploaders $0.60 per 1,000 views across all their vids on MV Tube. The list of top MV Tube Stars (performers whose vids get the most views) will remain on the MV Tube homepage "for extra exposure."
Revenue generated from MV Tube vids — $0.60 per 1,000 views — will be paid out on the 1st of every month.
Other things to note about MV Tube:
Videos posted for sale are not displayed on the MV Tube home page. If a viewer clicks on an MV Tube vid, that uploader's other vids are displayed on the right side of the page.
FREE vids must be added to your library in order to stream or download them. If you click on a free vid (one that is not your own), it will only show you the preview until you add it to your library. On the contrary, MV Tube vids can be streamed or downloaded right from the video page.
MV's GeoBlock feature also applies to MV Tube.
Of more than 610,000 videos on ManyVids, MV Tube now hosts just above 3 percent — over 20,500 — of all vids on MV.
A bright, MV-pink "Make It Rain" or "Tribute Me" tip button accompanies every vid on MV Tube. Additionally, on November 29 MV announced plans to continue giving 80 percent payout on tips, forever.
ManyVids CEO Bella French has been vocal about trying to make ManyVids a safe, productive place for adult content creators. She tweeted: "I believe in change, I believe in the power of a group. I believe in the power of sex workers." Will you #JoinTheRebellion?
—
Alsanna James is a student, advocate, spoonie, writer, gamer and adult content creator. Half silent oracle, half professional sexpot, you can email her at alsanna@ynotcam.com and find her on Twitter at @AlsannaJames.
All image grabs by the author. Banner image rearranged by YNOT.