Early on February 7, ManyVids (MV) began implementing a plethora of profile changes. The site revamped the organization, design and usage of MV profiles and did not officially announce these changes in a blog post until several hours later.
MV profiles are now set up much more like a social media site, a venture appropriately called MV Social. It reads like a combination of MFC Social, MyFreeCams' new spin-off social media, Pornhub's model "Stream" tab and Twitter.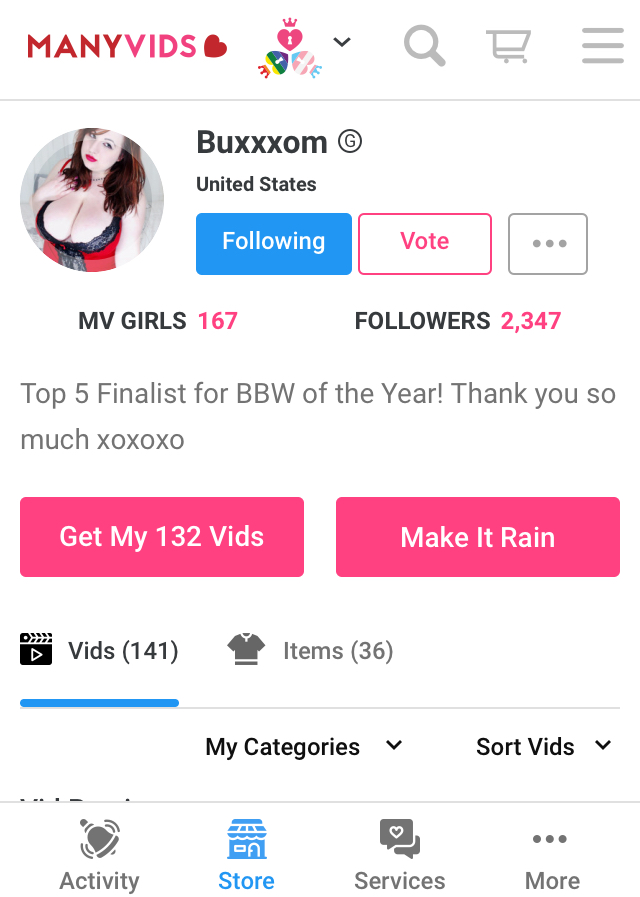 The motivation for this new feature stemmed from the daunting trend of social media sites censoring, banning and de-platforming sex workers and other NSFW content producers.
MV's press release regarding MV Social stated:
Social media's become an essential part of everyone's life and for adult performers and content creators an important part of their business and livelihood, but every year social media platforms become more and more censorious, sex-negative, and anti-sex worker.
MV claims "MV Social will transform the profile pages into a powerful (and fun!) multifaceted tool to connect to fans and generate even more revenue" — without the risk of getting censored or banned for distributing sexy content.
It makes sense for MV to want to introduce a social media platform so soon after a competitor, MyFreeCams (MFC), launched theirs at the end of January. MFC Social however is a separate site from MFC and does not interfere with the layout of MFC profile pages like MV Social. MV Stars and members alike have expressed their frustration with the introduction of MV Social — the sudden, unannounced changes to MV profiles appear to have impacted traffic and sales.
Elle Faye shared her traffic for the month of January through February so far:
All of January vs Feb. Look at that massive drop since MV social started on the 7th. pic.twitter.com/MzmYYeFRCH

— ELLE FAYE (@PsyFaerie) February 10, 2019
Destiny Diaz shared her's as well:
We are looking into this issue. It seems like pushing the new MV Profile has broke the analytics. Members are going into your MV Profile, it's just not being calculated. We will fix this.

— Bella French (@bellafrench69) February 10, 2019
In a word — alarming!
MV CEO Bella French tweeted that the update has been interfering with MV's traffic analytics, pointing to a site-wide bug. French also claims that, overall, MV's traffic has increased. MV Stars say their profile traffic has declined much more significantly than vid traffic.
It's possible that such a major site-wide update could affect the site's analytics and ability to accurately count traffic on individual profiles. The drops in traffic MV Stars are seeing could also be due to MV members being understandably frustrated with the update and not bothering to interact with other profiles. Either way, this is perhaps an issue that could have been avoided with beta testing.
French claims they had been working on MV Social for several months prior, however, there doesn't seem to have been any effort to crowd test this switch-flipping paradigm shift prior to its integration. Members and models are complaining about issues with disorganization, bugs and privacy. Some users like the new layout and the concept of a social media-oriented porn site, but it's widely agreed that MV's execution was poor.
Little Puck had this to say:
We Need Advance Notice on Updates @ManyVids

We really didn't wanna spend our week doing damage control.

This Is Our Livelihood: We Need to Know the Tools in order to be on top of our game. not playing catch up, not dealing with bugs, we just wanna do our jobs.

— FETISH STAR OF THE YEAR 2019 ??** (@littlepuck) February 7, 2019
There has been a noticeable lack of consultation, communication and transparency. Many MV Stars are frustrated with MV for not appearing to crowd test these new features and — particularly — for not gracing us with a warning beforehand.
Users have suggested (and pleaded with) MV to beta test these new features before rolling them out. In the past, with things like MV Fetish and MV Tube, the MV team didn't privately beta test or even announce these new changes until after they had been added and made available to everyone on the site. All MV users would benefit from a closed beta program and direct communication with MV's quality assurance team.
Take a look at MV Girl Buxxxom's profile: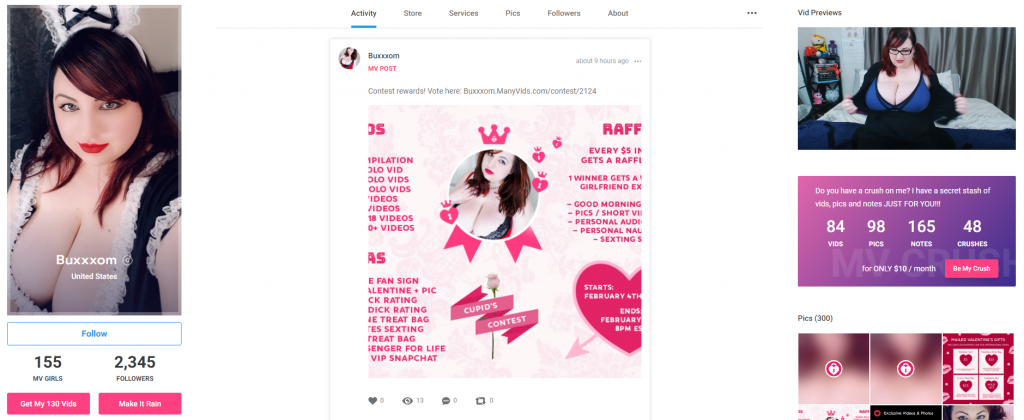 Key Features of MV Social
Your "Home" tab is only visible to you — strikingly similar to the Twitter timeline. It shows the posts, uploads and sales of everyone you follow. You can like and comment on posts and even "Re-MV" — an action akin to RTing — posts to your own activity feed.
Your "Activity" tab is visible to everyone. Activity feeds displays all of your posts, sales and Re-MVs. You can write your own posts (and include pics, gifs and vids), but other users cannot post to your activity feed, and the "Wall" tab is now gone.
Your "Store" tab includes all vids and store items you have available for purchase. There are sub-tabs for each, and "Vids" is the default. All of your profile clicks default to your Store/Vids tab. Custom vids and other services are listed in the bottom left corner (just like before), as well as within their own "Services" tab.
Your "Followers" tab is currently visible to everyone. Previously, the number of followers was visible on all profiles, but you could not view a full list of followers. Members have said they don't like this feature for privacy and poaching reasons, and MV Stars have said it's causing them to lose handfuls of followers. Some have suggested making it optional to toggle follower visibility.
A full list of new features can be found in MV's announcement. Keep an eye on the ManyVids Twitter and the MV Blog for MV Social updates.
Thank you all very much for your feedback. We will definitely be working hard on making improvements every day for the next couple of weeks. This feature has phenomenal potential when it comes to communication and increasing sales. #TeamWorkMakesTheDreamWork ???‍♂️??‍♀️????‍♀️?

— Bella French (@bellafrench69) February 7, 2019
French promises to continue improving MV Social.
—
Alsanna James is a student, advocate, spoonie, writer, gamer and adult content creator. Half silent oracle, half professional sexpot, you can email her at alsanna@ynotcam.com and find her on Twitter at @AlsannaJames.