In a recent blog post, ManyVids announced new site features: a new vid sub-section called MV Fetish, new occupations for "MV Stars" (content creators), new video categories (tags) and a new tip button for fetish stars. The same day, MV also announced a 20 percent increase in payout on tips — models receive 80 percent of tips (instead of 60 percent) through October. A week after announcing MV Fetish, MV introduced markup codes.
These changes came quickly following a reduction in payout on iWantClips, a site known for fetish content. In an email notification to artists on September 24, iWantClips specified the following changes: a decrease in revenue share from 70 percent artist payout to 60 percent "in order to stay competitive" with sites like MV and Clips4Sale and payout percentage for tips and tributes increased from 75 percent to 80 percent. These changes began October 1, 2018.
Fetish clips ("vids") can be found on ManyVids, but do not dominate MV's market or reputation as they do on sites like Clips4Sale or iWantClips. Now, MV has added a section specifically for select fetish vids. MV Fetish is not a separate sister-site of ManyVids, but a centralized section of the main site to easily find certain categories of vids. MV's announcement came three days after IWE notified performers about its payout reduction.
The timing of this announcement, the increase of tip revenue share and MV Fetish's initial focus on kink and femdom paints MV Fetish as a strategic attempt to draw fetish content creators away from iWantEmpire.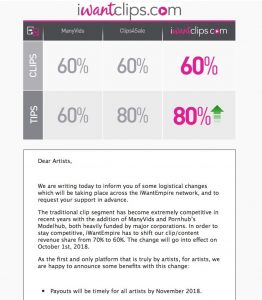 (Grabs of message iWE's September 24 message.)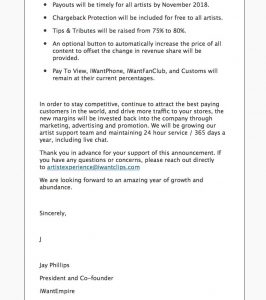 Regardless of intent, let's explore the new MV Fetish options.
Click on the new tab — "MV Fetish" — to go to the MV Fetish home page. Initially, Femdom was the only major category on the MV Fetish page, with 100 various related tags to search on the MV Fetish Femdom page.
On October 5, MV announced the addition of two more main categories (though they had been there for several days), so there are currently three major categories of MV Fetish: Femdom, BDSM and Kink. There are 100 related sub-categories under each of these three, which can be found in a drop-down menu at the right side of the page OR listed as Top Categories on the far left side of the page.
The drop-down menu seems to be sorted arbitrarily. Models and members have recommended putting the drop-down menu in alphabetical order instead. As with all vids on MV, those tagged with multiple categories will show up on searches for each of those individual categories. There are currently 1,138 accepted video categories (tags) — of these, several hundred can also be found within MV Fetish, comprising about a quarter of all accepted tags on the site. In the October 5 update, MV encouraged everyone to email help@manyvids.com with suggestions for new categories.
Also accompanying MV Fetish is a new selection of occupations.
It's not necessary to select any of the new occupations in order to show up under MV Fetish. To appear on the MV Fetish page, you simply need to tag vids with any of the hundreds of Fetish tags. Models can choose up to three "occupations" to designate what is your role besides MV Star. Previous options included student, stripper, webcam model and porn star. New additions for MV Girls include BBW Goddess, Brat, Bratty Princess, Boss Lady and Financial Dominatrix.
Selecting any of the new occupations will label you what ManyVids calls an "MV Domme Star." MV also introduced markup codes, something iWantClips has been renowned for. These are promo codes used to inflate the price of an item so the buyer pays more than the list price.
To create a markup code on ManyVids, go to Settings –> Marketing Tools –> Promo Codes –> Check "Markup." Available markup options are 10 percent, 15 percent, 20 percent, 25 percent, 50 percent, 75 percent, and 100 percent.
Additionally, MV's tip feature pays out 80 percent for the month of October. "MV Domme Stars" (those who list any of the new occupations) have a "Tribute Me" option instead of the default "Make It Rain!" Domme Stars aren't clearly divided from other MV Stars. There are currently no indicators on model profiles aside from listed occupations and the "Tribute Me" tip button.
Here is an example from Josie4yourpleasure: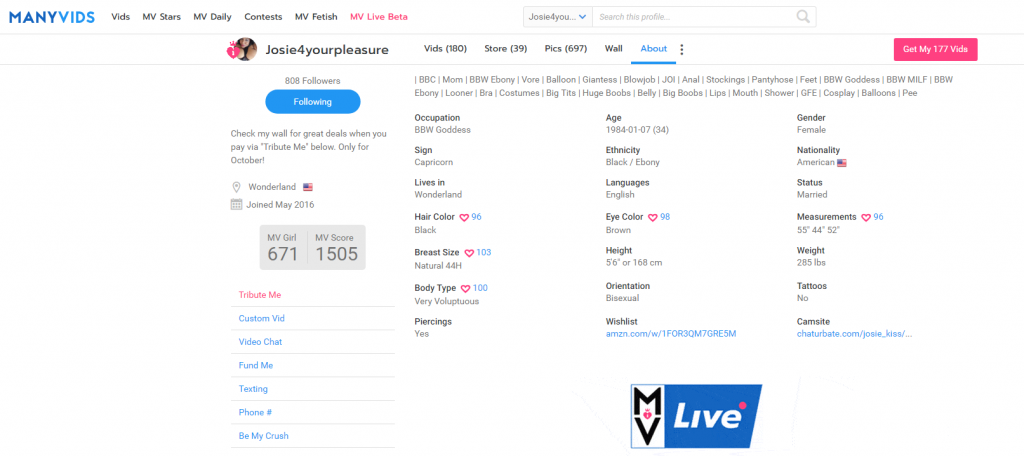 Note how Josie has chosen one of the new occupations, "BBW Goddess," so her tip button in the lower left is now "Tribute Me" instead of "Make It Rain!"
MV has been criticized for broadly naming this new page "MV Fetish" with such a narrow focus on femdom and similar kinks. It stands to reason that such a name would encompass a much wider variety of fetishes.
The focus on feminine terms, such as MV Domme Star, Dominatrix, Goddess and Princess, also contradicts MV's stated goal of giving "all content creators the same opportunity to shine and be successful." What about their MV Boys and MV Trans stars, or MV Girls who don't wish to use feminine labels? What about subs and switches who do fetish work but do not want to be labeled a "Domme Star?" What about the wide range of fetishes not under the femdom, BDSM or kink umbrellas?
Models have suggested renaming it to better reflect the current focus on femdom and findom. It's also been recommended that MV focus on improving current site features and fixing sitewide issues, glitches and bugs before rolling out big new features. They haven't made clear intentions to add fetish occupations for MV Boys or MV Trans Stars.
More information, feedback and promotion can be found on the #MVFetish hashtag on Twitter. Follow @ManyVids for updates and keep up with the MV Blog.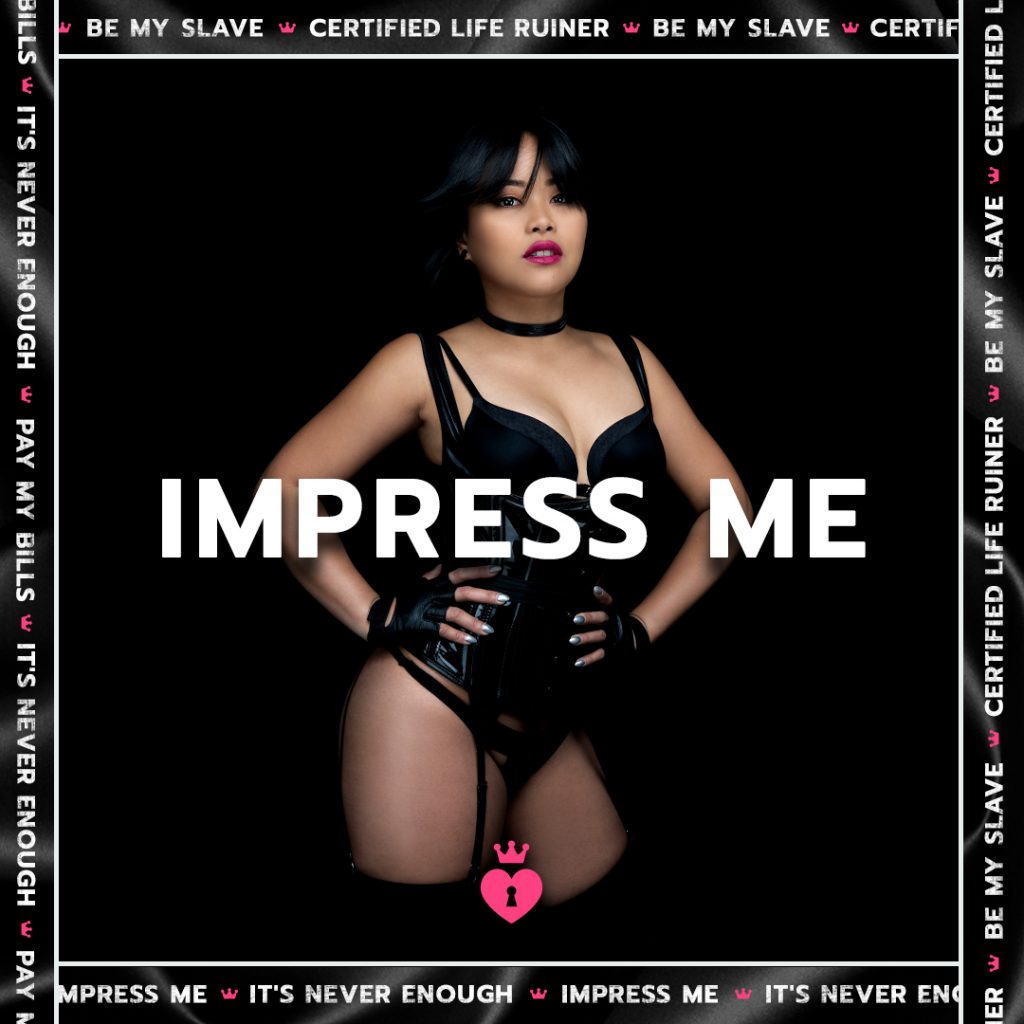 —
Alsanna James is a student, advocate, spoonie, writer, gamer and adult content creator. Half silent oracle, half professional sexpot, you can email her at alsanna@ynotcam.com and find her on Twitter at @AlsannaJames.
ManyVids image via their blog. Screengrabs via the author and by the editor.