This week I talk with Epiphany Jones, a woman who has an incredibly inspiring story of how camming freed her from being "just another statistic."
After losing her job, Epiphany was determined not to be another poor, young, single mother on benefits struggling to make ends meet. Starting off as a cam girl on Chaturbate she then moved on to doing professional shoots about a year ago. Spreading her wings even more she also launched a show called "Spilling the tea with Epiphany" that gives the scoop on the industry.
Thankful to her fans, a huge supporter of Chaturbate, and a savvy promoter and entrepreneur who never misses a chance to market herself, Epiphany doesn't just survive, she thrives. She is truly a success story.
Read on to be inspired by her journey!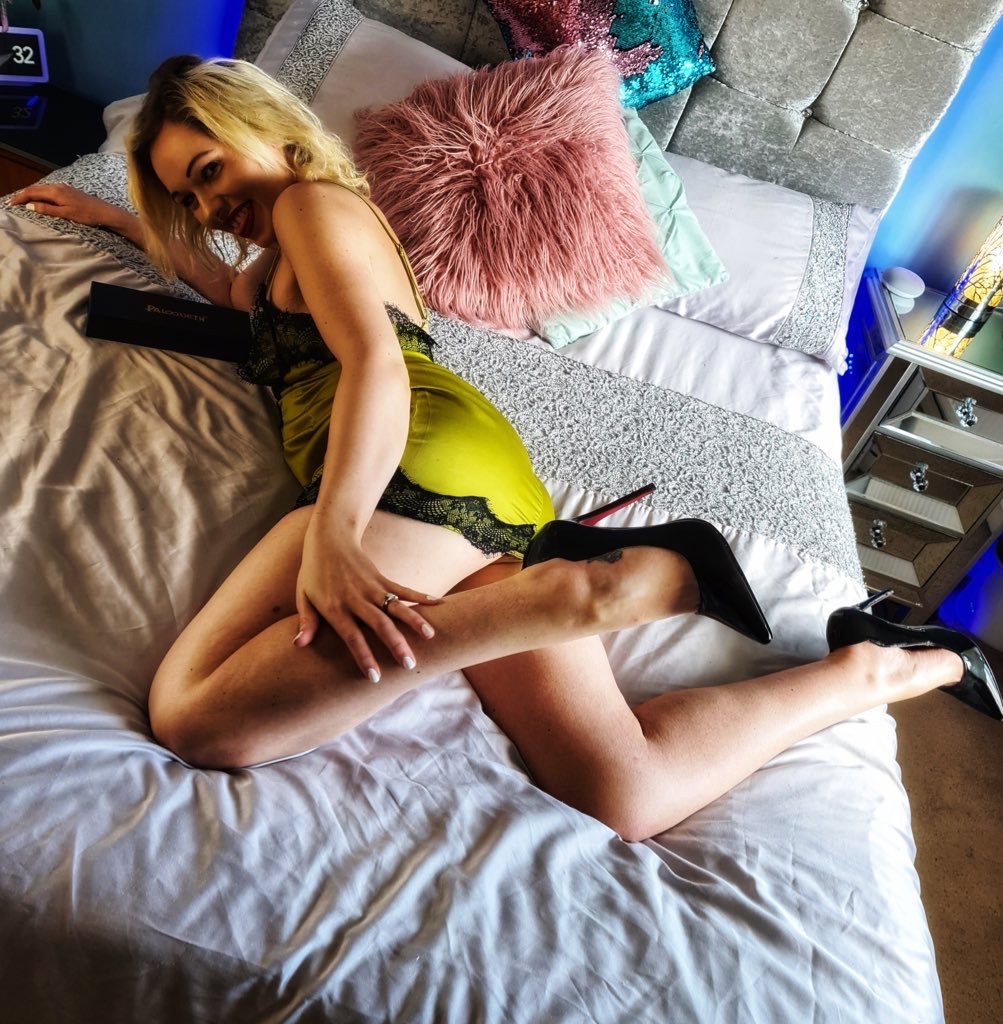 Epiphany Jones on cam behind the scenes live at Chaturbate. 
How did you get your start in the camming world?
Almost 10 years ago I was made redundant from my job, and I was finding it difficult to get another one that suited my lifestyle. During a heart to heart, one of my guy friends (who is now my husband) introduced me to camming by showing me two websites, MFC and Chaturbate.
I was absolutely fascinated, it felt so empowering to know that I could do it all in the safety of my own home. After a bit of research, I decided to take a leap of faith and jump right in to streaming on Chaturbate. I love Chaturbate as they have apps, games, and banners. It's a lot more interactive compared to other sites, in my opinion.
I went from struggling to pay for a tiny flat I couldn't afford and living in constant fear of being evicted to owning my house and driving the car I've always wanted. My life is completely different. I am different. I have ambition, drive and focus and I feel truly blessed for all the support from my fans, promoters, camming, creators, porn and wrestling communities. From the bottom of my heart thank you to each and every one of you!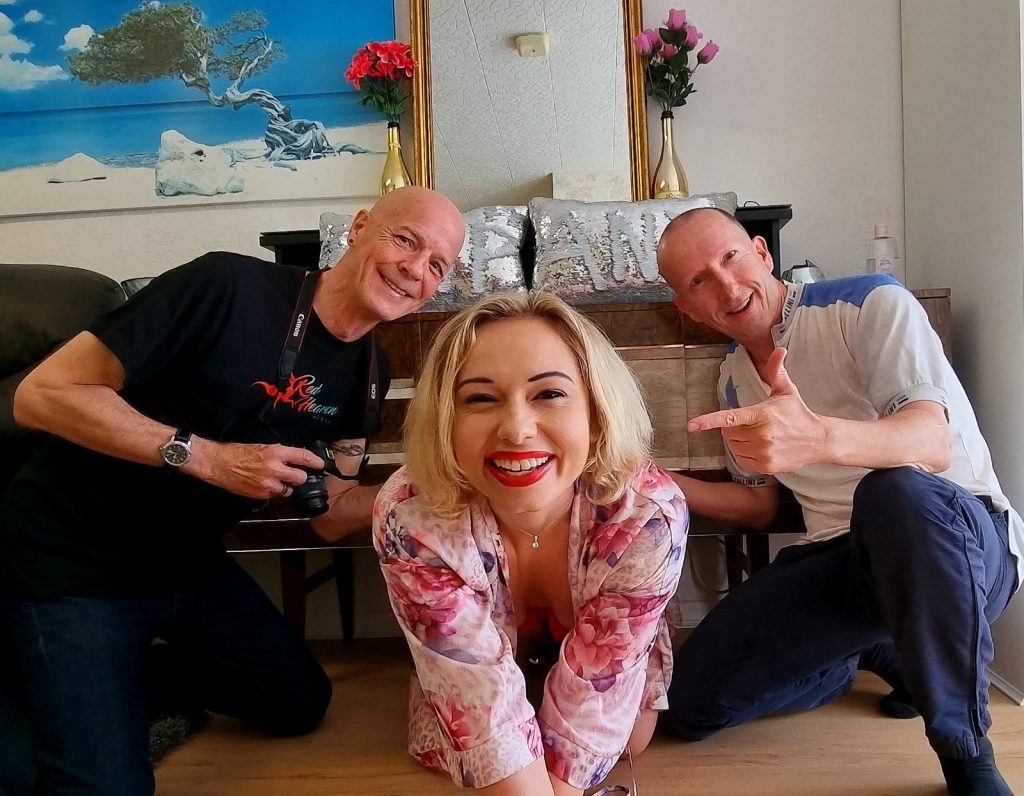 On set behind the scenes with U.K. producers Terry of Red Heaven Media and Eddie of Hertz House Productions. 
You've recently moved on to doing professional shoots. How were you able to secure these jobs, and what advice do you have for others seeking to up their game?
How do I do it?
I am my own agent; I find producers I would like to work with by engaging with posts on socials, attending networking events, expos, and industry social events. This is how I got the opportunity to shoot with Harmony films and how I also do extra work for one of the biggest porn companies in the world Brazzers.
I truly believe we have to create our own luck.
The competition is fierce, you have to be hungry for it. Never give up, no matter how many knock backs you get. Dust yourself off, pick yourself up, keep on chasing your dreams and work hard to achieve your goals.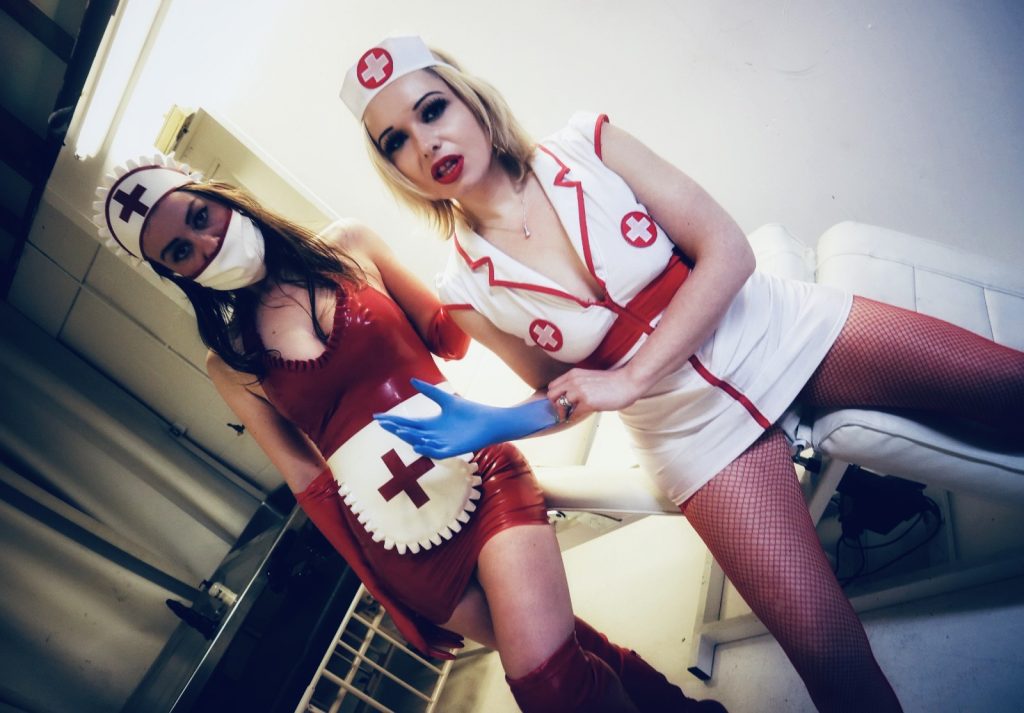 Red Heaven Media Evil Nurses shoot with Cate Macqueen – award winning female Dom.
Tell us about the impetus for your weekly podcast "Spilling the tea with Epiphany."
"Spilling the tea with Epiphany" started from me being a group gossip with my porn fam online.
I'm always surfing the web, so I see news, stories, and announcements as they're breaking. I'd post links and they would say things like "thanks Epiphany for spilling the tea." Many mentioned I should get a podcast.  The show was born when my friends Belle Secrets, Selena Secrets and @SalaciousCreate asked me to have a segment on Belle Secrets You Tube channel to talk about the industry.
What have been some of the challenges of getting your show up and running?
Unfortunately, after a year or so of "Spilling the tea with Epiphany," Belle's secrets got taken down for violations on periscope and YouTube, which meant I had to find another site to host my segment. Luckily ManyVids came to the rescue and "Spilling the tea with Epiphany" moved exclusively to ManyVids as a FREE to watch SFW video series.
However, only a few weeks ago we got some bad news.
Because of all of the recent changes on adult sites, we are now required to have model releases for everything. It's an impossible ask to get releases from the likes of the BBC, OnlyFans, New York Post, Elon Musk etc. I'm currently in the process of redesigning the show and looking for another sex worker friendly platform that will host and stream the full-length episodes.
If you know of another site or you can help, please get in touch with me on my Twitter @eipiphany666cb.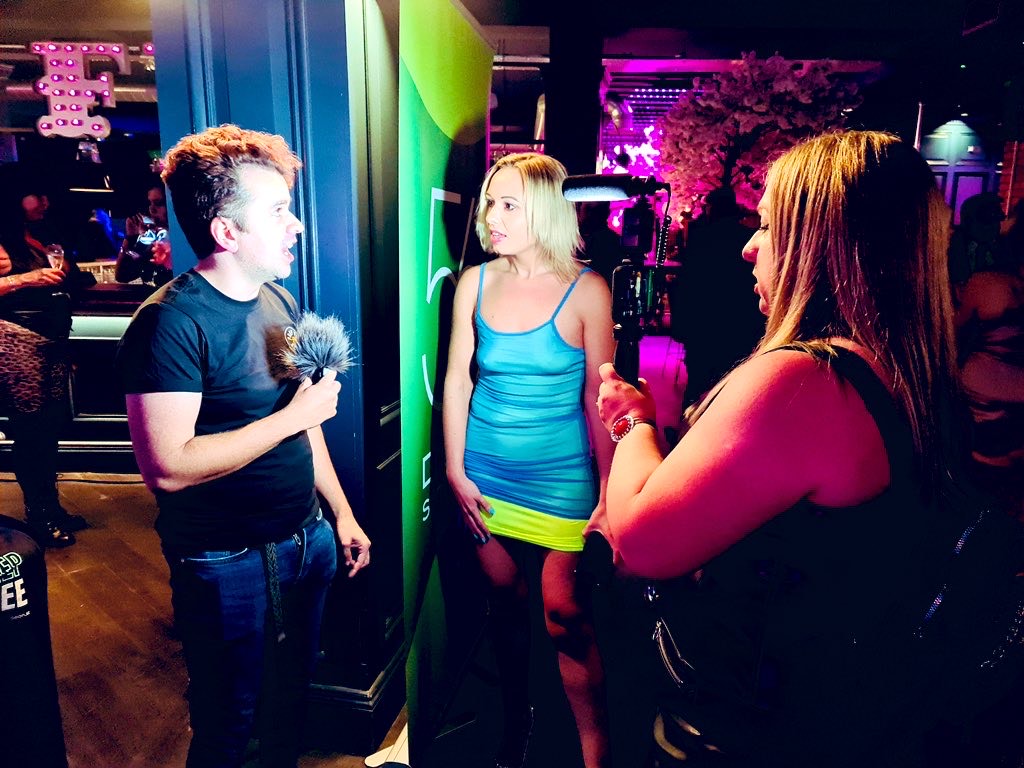 Epiphany Jones at SNAP summer party interviewing Dean Street, Selena Secrets, and Belle Secrets. 
What keeps you committed to building your career even when there are setbacks?
My hopes and dreams keep me motivated, focused and committed. I believe determination and resilience is the key to overcoming setbacks. I try not to take things personal, even a superstar like Beyoncé has experienced setbacks. It's all part of the road to success.
You also wrestle for Mr. Rain. What do you enjoy most about it?
I thrive off how wrestling makes me feel – powerful, strong, alive, and it keeps me focused.
Wrestling also really helped me channel my emotions, made me more disciplined and has taught me how to control my competitive ego. I've learned how to lose and win with grace.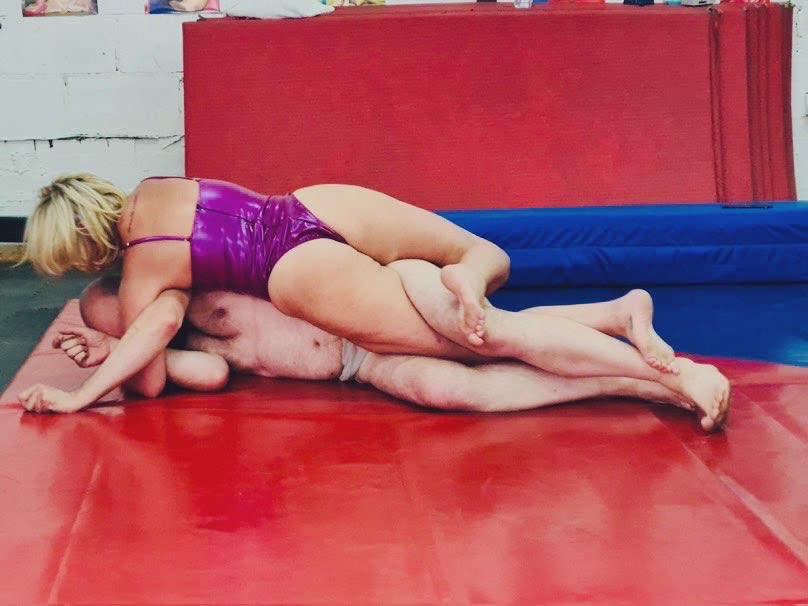 Epiphany mix wrestling on the mats at Monica's Wrestling Centre summer party.
What are your goals for 2023?
I've got a lot of big plans for this year!
I want to work with more producers and studios, attend more worldwide events and shoots, and focus on my camming and content. I'm excited to say my amazing fans have almost hit my fund me goal on ManyVids to get a new DSLR camera. This will help me to put out more cinematic content and grow as a creator and photographer/videographer. I would love to do my own productions in the future. I'm also currently training hard in the gym to prepare for my return to Monica's Wrestling Centre in March.
—
You can find out more about Epiphany on her website at epiphanyjones.co.uk, Chaturbate @epiphany_666, OnlyFans @Epiphany666cb, and Manyvids at EpiphanyJones.Manyvids.com. She also asked that you get in touch with her if you have stories for her podcast and/or if you'd like to work with her or want free promotion on any of her socials.
—
Alyssa Collins hails from Minnesota, where snowy days were the perfect excuse to stay warm inside and write. Over the years, she turned that joy into a career and has authored numerous articles for various publications (under pen names). Email Alyssa via alyssa@ynot.com.