Generic — general, common, not specific.
None of these things really describe Lydia Love — and yet, maybe there's something tricky to a person who slips behind such a blanket, self-assigned descriptor?
Love, who's been active in the industry since October 2017 when she was nineteen years old, currently lives in Los Angeles. She makes clips on ManyVids and is busy cultivating quite a presence online.
"I've enjoyed my time in the industry so much, and I'm excited to continue this journey," she told us — and then took the time out to share much more.
Read on to learn more about Lydia Love and her unique take on the cam space today.
—
YNOT Cam: What prompted you to begin your career online?
Lydia Love: Before I was a performer I had so many random jobs that I didn't necessarily enjoy. I actually talked about every single one of these jobs in one of my YouTube videos… I worked at Taco Bell, as a CNA [certified nursing assistant], waitressing and much more.
As soon as I turned eighteen, I knew I wanted to be in the adult industry, but I never had a push to take it seriously until one day the manager at strip club I was waitressing at made me feel disrespected. I quit that job on the spot with less than $100 in my bank account. I definitely don't recommend doing that, but it really showed me how passionate I was about the adult industry when I was struggling in the beginning.
I didn't know what I was going to do for work, so I made an account on ManyVids. I quickly made it my main priority to grow a fan base. A year and a half later, here we are! I don't regret anything that led me here at all.
Speaking of your channel, I see you just recently started it. What are your for-fun goals on that platform?
I would really love to have a big fan base on there one day, and I have plans to take it much more seriously very soon. As of right now, I just do it for fun in my free time because I don't make any money from it. I genuinely enjoy talking to my audience and sharing my personal stories with them in a way other than on cam or Twitter. Releasing new videos makes me feel so happy, and I love getting feedback from my audience.
What are some of the most rewarding things about working online? What are some challenges?
Being my own boss has been incredible for my self esteem. It's really showed me that I don't need anyone's help to be successful in life, and I love all of the freedom that comes along with it. I love that my income and growth is related to how much time and effort I put into it.
I would say my biggest challenge with being self employed is that it can be very isolating at times if you let it be. I have an amazing support system, but unfortunately I'm not on the same time schedule as most people in my life. A lot of the time I catch myself wanting to just stay in and work. My mind feels guilty at times when I think about money I could be missing out on when I'm not working.
I am still trying to find a perfect solution to this but I just want everyone to know how important it is to prioritize self-care in an industry such as this. It is an insanely rewarding job, but it definitely comes with some challenges.
natural lighting + portrait mode is really that bitch ✨ pic.twitter.com/NAFXGLHBlS

— lydia 💕 (@generichoe) March 27, 2019
It looks like you recently posted your first girl-girl clip. What prompted you to change up your game like this?
When I entered the industry, I told myself that I would only do things for as long as they made me happy. If I lost my passion, I'd move onto the next adventure.
Shortly after my one year anniversary in the industry, I felt like I was getting the "cam girl burnout" everyone talks about… I didn't want to let that happen, so I thought of ways to get that spark back. I had always wanted to do girl/girl content, but I wanted to wait until I had a large fanbase first so that my first girl/girl release would be a huge deal.
Luckily, trying something new was amazing for my career and I have received nothing but support! I feel motivated now, and I love this new chapter of my career that I'm working on. Mary Moody was an amazing first co-star, and I can't wait to share what else I have planned.
I see that you have two Twitter accounts — @generichoe and @lydialovexxx. Why the need for two? 
My backup Twitter started as an account for me to post things I didn't want to put out to my larger fanbase, but the account grew very quickly. A large amount of followers follow me on one or the other, so it's a great way to reach everyone by retweeting my own posts.
On my main Twitter, I have a large amount of followers who aren't interested in my x-rated content and just enjoy my posts, so on my back-up account I post video teasers that I don't want on my main. That all probably sounds confusing, but it works for me!
hii everyone here's my links:
videos/panties/photo sets/cam: https://t.co/3lNFNspqcb
snap: https://t.co/S51OvsqyW7
200+ nudes: https://t.co/m32UHCIUCz
text/call me: https://t.co/dATHeir4fy
moving wishlist: https://t.co/4cJ8Xte0aK
$lydialuv23 pic.twitter.com/ShsFS5K4el

— lydia 💕 (@generichoe) February 28, 2019
Outside of work, what are you most passionate about?
I feel like most of my time is definitely spent working and doing things behind the scenes for my career, but I do have a few passions outside of the industry.
I really love animals and I enjoy taking in foster animals and helping them become healthy so they can be adopted. I haven't been able to do this lately because of my living situation, but I will be again this summer. I also care about spreading mental health awareness and being there for people struggling with it as much as I can. I hope that one day I am able to do much more for that cause.
If you could change one thing about today's world, what would it be and why?
I wish that everyone was more accepting of each other. I hate seeing so many people scared of being who they want to be because of backlash from society. In a perfect world we would all be more understanding and loving towards others. I think that everyone is struggling in different ways, and it's very important to put yourself in other people's shoes.
Find Lydia Love on Twitter at @generichoe and @lydialovexxx. Find her on ManyVids right here.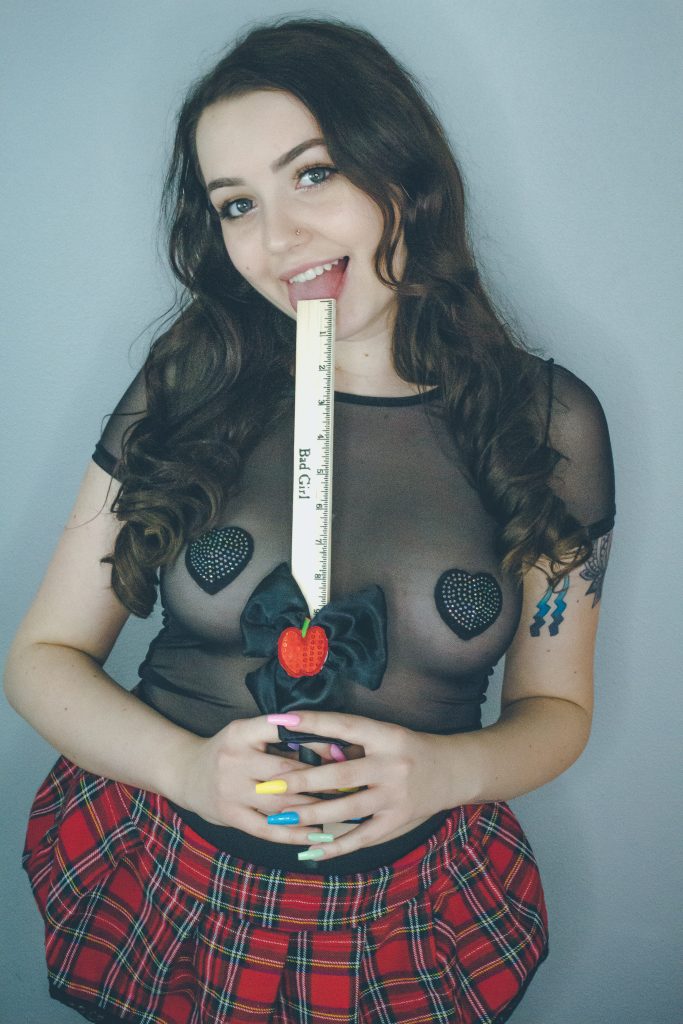 —
Erika Chan is a sex positive people watcher (and writer). Email her at erika@ynotcam.com.