Meanings can get skewed when messages come in text form. Jokes and sass may fall flat, unfortunate autocorrect blunders may have you delivering "ducks" and "dick" instead of "fucks" and "sick" and you generally just need to take a second look before you send anything when so much rides on your butterfingers.
The same goes for emails. Whereas text may be a hyper-fast version of an error, the time it takes to write an email may render an actual error or sincerely accidental accident more intense-seeming than a text blunder.
ManyVids was recently involved in a mistake made along these lines. The issue, which occurred this past weekend, was shared by Jessie Minx. The whole thing was pretty rough.
First, Minx shared the following message from ManyVids, which she seemed to have received out of the clear blue sky. The email conveys, among other things, that 1) someone reported pictures Minx had shared that included images of a child (the child in question is Minx's child) and that 2) they/ManyVids "feel it isn't ideal for ManyVids to be promoted on the same social media page where personal content including children is posted."
They then asked her to "consider separating this personal content including images of [her] newborn from the professional Twitter profile linked to [her] ManyVids account."
Because, you know, no personal life allowed!
So I got this email ?

Posted three photos all of which the baby's face was completely hidden or obscured.

It's cool thou…. thought I was sharing my life in a safe way with my birth announcement and the fact she almost died but I guess not. pic.twitter.com/fa6IBKBNah

— JessieMinxxx.com (@JessieMinx) April 7, 2019
Then, it seems like Minx received an equally tone-less second message, likely in response to a query she may have sent about the first email: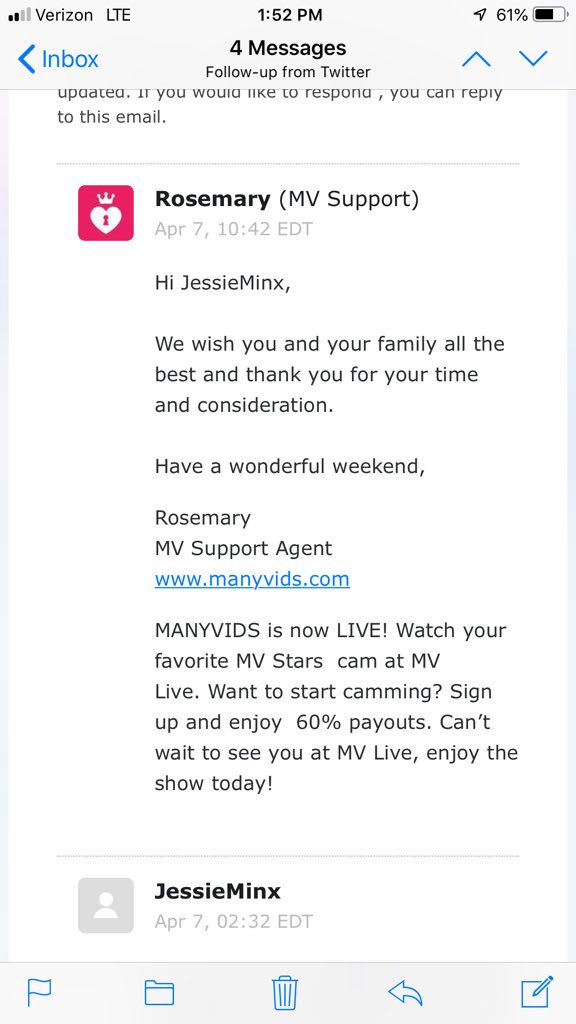 Finally, next came some clarification. In this third message, ManyVids apologizes for their previous correspondence and also lets Minx know that the reports they received regarding her posts were threatening.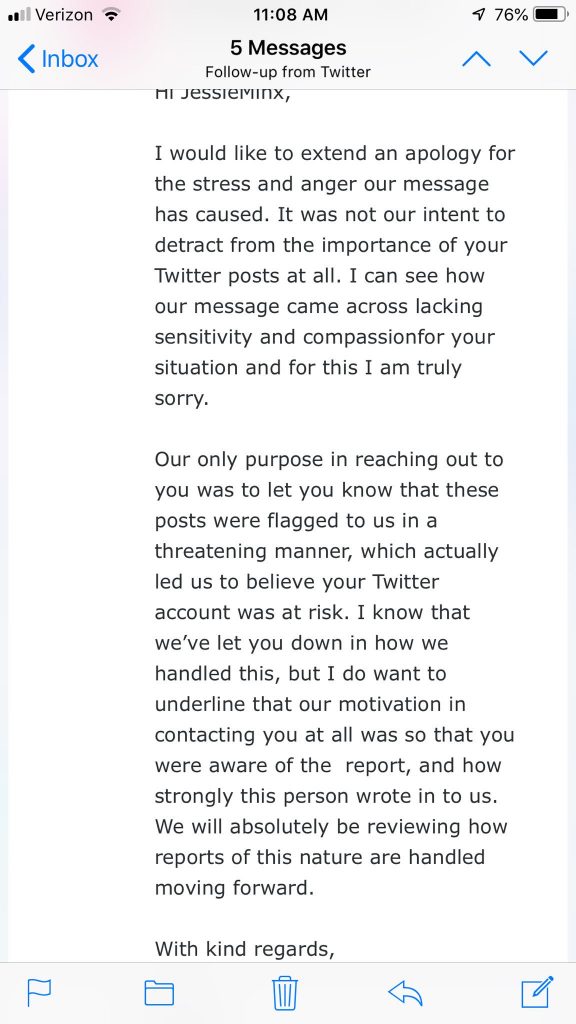 Though in reading the first message and comparing its contents with what I see in the third message, I'm not really seeing the "concern" or the "reaching out because we only want to help" that ManyVids is claiming. But, given the nature of electronic communication mishaps, it could be that they just literally wrote a shitty, poorly toned and timed message in response to a… err… zealous message/report.
I wasn't the only person who though the messages were not exactly coincident in their sentiments. Squishy Marzipan wrote: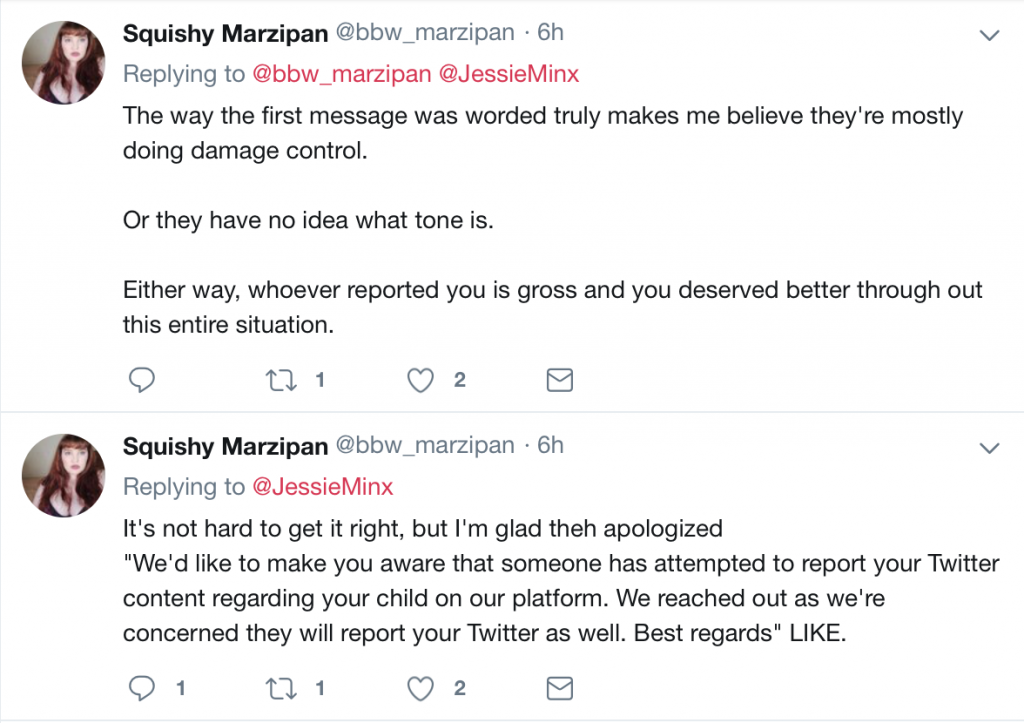 Many other community members weighed in in support of Minx, which was kind. Minx herself suggested she was "struggling with postpartum" and was certain "that's just making this ordeal worse in my mind."
Postpartum feelings ranging from the blues to outright depression are not uncommon. New mothers and those who are there to support them need to be mindful of the very real impact these feelings can have. The Mayo Clinic wrote: "Postpartum depression isn't a character flaw or a weakness. Sometimes it's simply a complication of giving birth. If you have postpartum depression, prompt treatment can help you manage your symptoms…"
Being in the midst of something like the postpartum experience may certainly contribute to misunderstandings in interpersonal communications, but in this specific example it definitely doesn't seem like Minx's lady hormones were causing her to have spell of histrionics. Instead, it seems like, intended or not, Minx received a really crappy email from a work platform that was quick to oops gentle-down its tone when she called them out.
Bella French herself reached out to Minx with an explanation of their intentions, which itself sounded kind. It also sounded like a nice reminder to be very clear in your words and intentions from the get-go.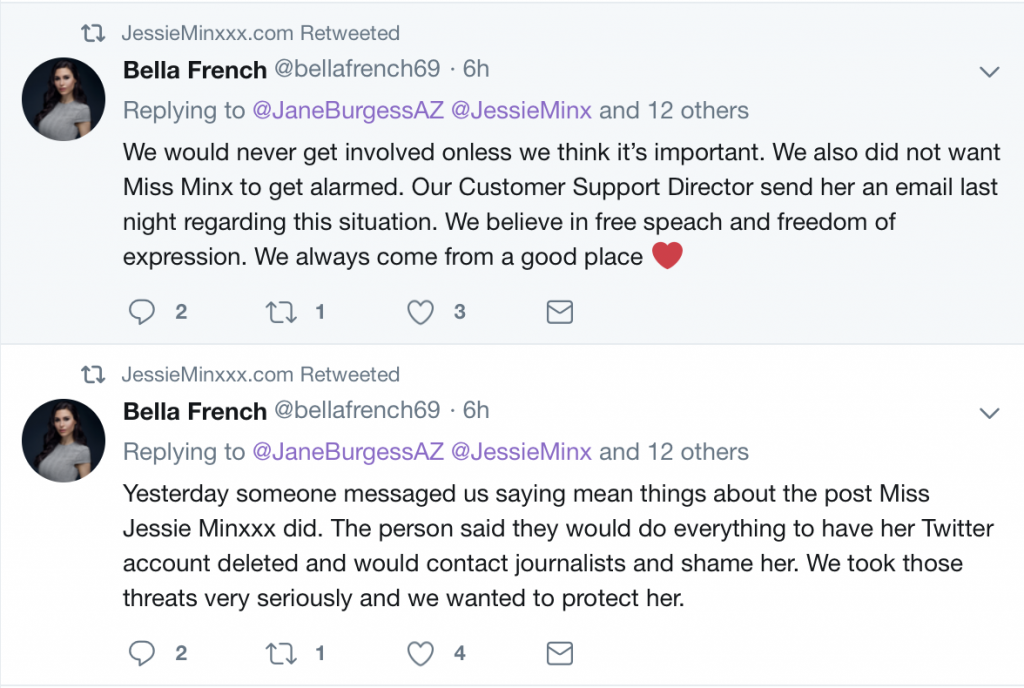 —
Erika is a sex positive people watcher (and writer). Email her at erika@ynotcam.com.