Yesterday, the adult industry received the following announcement from Sharesome.com (edited for clarity):
LOS ANGELES, CA — Industry-specific social media platform Sharesome recently announced the launch of a facial recognition tool at FindThePornstar.com.

According to the company, millions of people watching porn every day have, at some point, wondered who a specific porn model is and where more of their content can be found. In response, the site recently organized a porn hackathon to answer the biggest question of them all: Who is this porn star?

"If you think about it, the most common question you find under a porn clip or erotic photo is 'who is she?'" said Sharesome founder Ralf Kappe. "That's why we decided to take a day off from regular work and try to come up with a simple solution for all porn fans out there." [emphasis added]

Kappe says the initial version of FindThePornstar.com was developed based on proprietary technology during a one-day hackathon with more than twenty participants and notes that curious fans can try out the website by pasting a link or uploading a photo that includes the porn model's face, with FindThePornstar responding with their (stage) name and the accuracy probability.

The service uses artificial intelligence to quickly identify models and also accepts user feedback to help fine tune its algorithms.

"What we realized is that we're not only providing answers to fans," Kappe concluded. "Once integrated with Sharesome, the technology behind #FindThePornstar will make sure that the original content creators will be automatically detected, tagged and rewarded for their original work, no matter who uploaded the content."

For more information, click here.
Ummm no. Nope. Definitely not. Like, what the ever-loving fuck, Sharesome?!
By their own description, the Sharesome team just decided to pop off work one day in order to come up with a "simple solution for all porn fans out there." Simple — like hackable? Simple — like no thought whatsoever given to the implications this tool might have?
Facial recognition tools of varying capabilities have been around for some time now — in this sense, what Sharesome has created here is nothing new — and so have debates about its functionality, bias, privacy issues and how it should or should not be used in general. For all these reasons and more, having a tool like FindThePornstar as its marketed/packaged to emerge now, in 2019, from within the community, is pretty fucked up.
Forget about former performers who don't want to be identified… Forget about internet creepers of the most savvy level… Forget about "false positive" identifications… Forget about the fact that performers only get one face and that same face is present on their professional and personal spaces online — forget about all this stuff, and just focus on the escalating pursuit of sex workers in today's society. Does your vanilla job know you're also a cam model? Does your kid's school know you were a performer in 2010? Does anyone recognize you from an ad you may have posted online?
They may now.
Now, obviously, any of these issues could have happened before. Again, Sharesome didn't create facial recognition. But they did decide — on a whim, it seems — to put this tool together with a big splash at this current moment. That is the dumb fuck issue here.
Clearly, no one at Sharesome was really thinking this through. Luckily, many community members were ready and willing to help them consider different scenarios (read: catastrophes) that this new, fun and totally NBD technology might initiate.
I went through and grabbed a few choice tweets via @SharesomeCom in the hours immediately following the announcement. There were more and more popping up by the minute though, so this is not comprehensive by any means.
Here's one exchange wherein Sharesome is totally naive about the power of Google and its all-reaching tentacles (hi, Google!):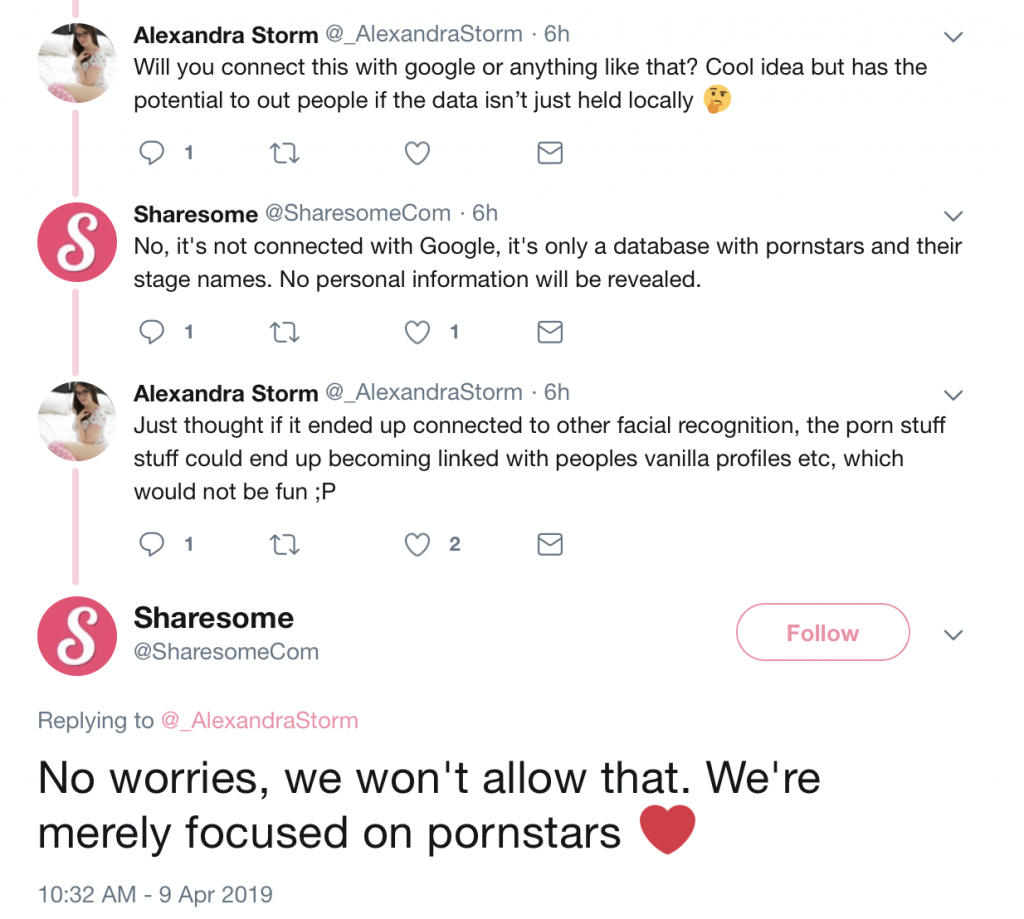 Also, "merely focused," eh?
Here's another wherein Tudor Bold talks about how fast they put this shit together: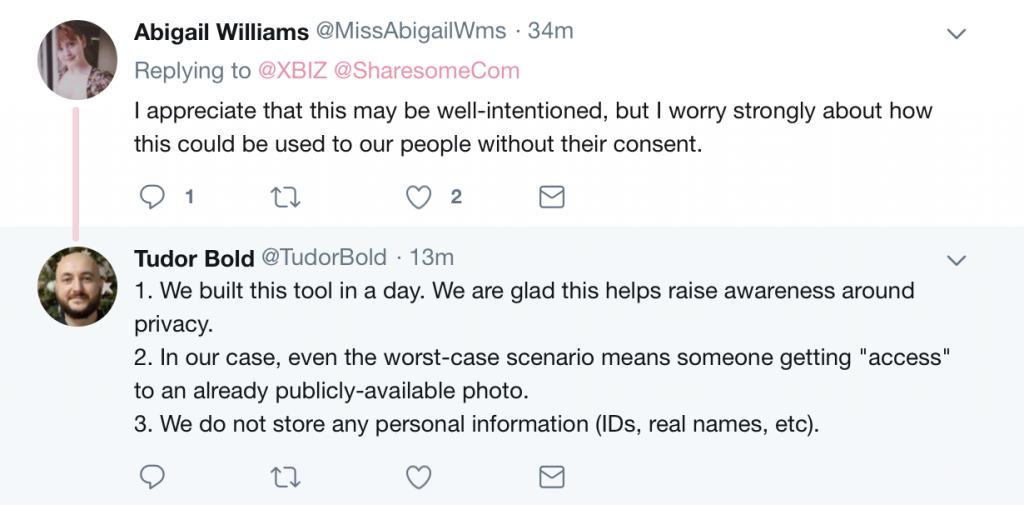 Cool story, bro!
Here's one that minimizes The Slayters' concerns about security: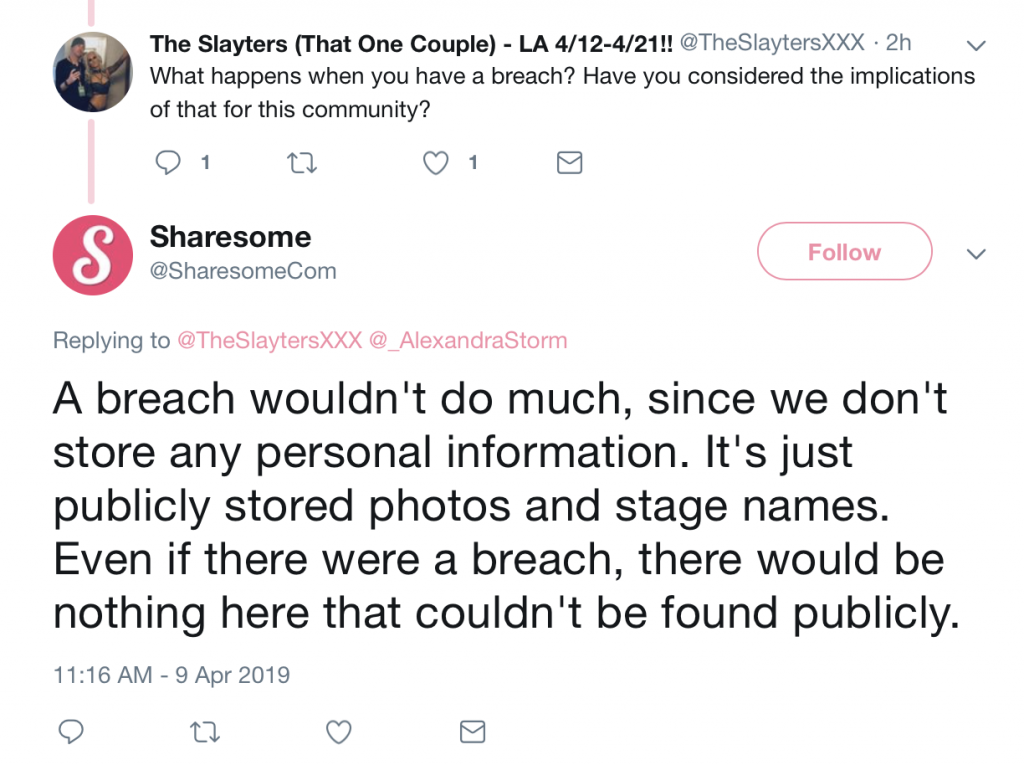 And finally, I thought this last one was super interesting.
In the press announcement, Sharesome made it very clear that this lil' tool is designed to let fans find their most-desired-yet-not known-to-them-yet models. Based on this tweet however, FindThePornstar IS ALREADY PIVOTING to, ya know, empower performers to police their own content and protect it from piracy.

Funny that Sharesome doesn't seem to understand how copyright infringement works either. smdh.
Keep your eyes open and on this, friends. FindThePornstar could be an epic shit storm that's about to break right on our collective heads.
—
Erika is a sex positive people watcher (and writer). Email her at erika@ynotcam.com.