When you are gaming, you want your skills to be hot, not your device. 
According to TechCrunch, Razer has a gadget that will help keep your phone cool during a heated match — a range of protective, cooling mobile phone cases that are compatible with the new 2019 iPhones, 2018 iPhones and the Razer Phone 2.
Razer's Arctech 
Razer recently introduced the world to Arctech, a phone case built for gamers specifically designed to help stop phones from overheating during "resource-intensive" activities.
"The product is a phone case specifically designed to help stop phones from overheating during resource-intensive activities like gaming," TechCrunch reported. "The product uses Razer's proprietary Thermaphene technology sandwiched between a microfiber lining and an outer casing with perforations to help let the heat out."
According to Razer, Thermaphene is a proprietary, thermally-conductive material that dissipates heat. So, your phone won't get hot. (Or, at least, it will get less hot.)
This allows for better phone performance and improved battery life. Razer wrote in press material that, the cases "have been designed to allow unhindered network connectivity, ensuring smooth gameplay and video streaming as well as working seamlessly with Qi-certified wireless chargers."
Let us say that again, with emphasis: "…ensuring smooth gameplay and video streaming." Noteworthy!
There are two versions of the Arctech case available now — the Slim ($30) and the Pro ($40). As a bonus, the Pro provides added drop protection. If your device is contained in a Pro, it should be able to withstand a ten-foot drop. 
Here is a "how it works" graphic from Razer's press material: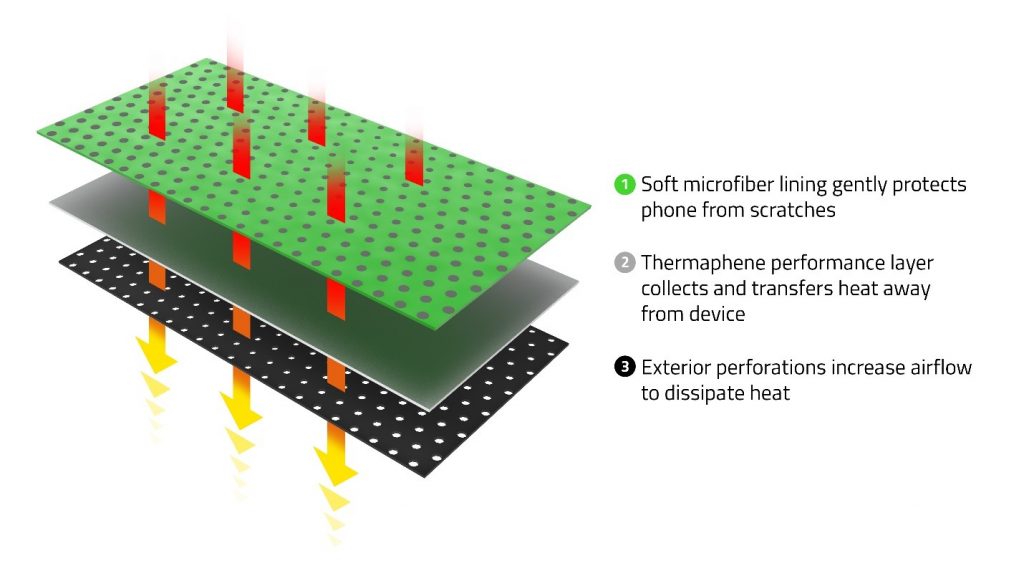 Alana Evans on Keeping Cool While Gaming 
We reached out to Alana Evans — performer, model, gamer and APAG Union president/founder — to ask what she thinks about the new case. She said excited about the release. 
"Razer creating a cooling case for your cellphone is brilliant," Evans said. "Many games like Fortnite are playable on mobile devices, such as a cell phone, so the ability to play your favorite game from your handheld device just got even cooler!" 
Evans added that gamers often find themselves playing for hours, which can cause phones to get hot. "You worry about safety," she said. 
"I can see how this device would also work amazingly for people who like to [cam] from their cell phone," she added. "A lot of girls use that feature with different sites and this could help keep their phones extra cool in their hands." 

Product images via Razer.

We also asked Evans if she favors any other gaming gadgets. She said she is currently partial to controller attachments. 
"The Avenger Reflex is a case that goes over your controller and allows for faster speed triggers and response time," Evans shared. "With little straps and cables and plastic buttons that set over the controller buttons, you have more power over your speed… Now if they'd just make a device that would make me a sandwich ❤️."
Great tips!
—
Abbie Stutzer is a writer and editor from Lawrence, Kansas. Find her on Twitter at @abbiestutzer and on Insta at @abbiestutzer. Email her at abbie@ynotcam.com.