Lennox May moved to Miami from the UK after a serious accident changed her life. She eventually started working in the industry behind-the-scenes in public relations before she transitioned to modeling online.
"I took a break to wrap up college, then I got back into the industry camming and as an affiliate manager," she explained. "Now I am creating my own clip stores and working my way to building my production company, Hollymaze Studios, with my husband!"
May has a passion for languages, which she says helps with her work on cam.
"I am actually fluent in Japanese, and linguistics is what my degree is in," she shared. "I love studying languages, and I think being able to communicate with as many people in the world as possible in their own language is definitely great for camming. I have a few Japanese, Korean and Italian customers and being able to talk to them in their native tongue makes our experience a lot better."
From finding ways to communicate effectively with friends and fans online to practical tips about cam life professionalization, May has a lot of great advice to share — Read on!
—
YNOT Cam: What prompted you to begin your career online?
Lennox May: Before I moved to Miami, my entire life was dedicated to dance. I danced since I was two — ballet, tap, jazz, Latin, ballroom, hip hop — and I achieved my first degree in choreography. At seventeen, I was hit by a car and relocated my shoulder joint, which pretty much ended my dance career. I left England with the need for something brand new and just dipped to Miami.
When I moved, I met Preston P. He was my first introduction to the industry, outside of watching porn like every other person who needed "me time" material. I paid for school in Miami out of pocket and needed other income that I could do in between classes. Camming, I knew, would be a perfect fit.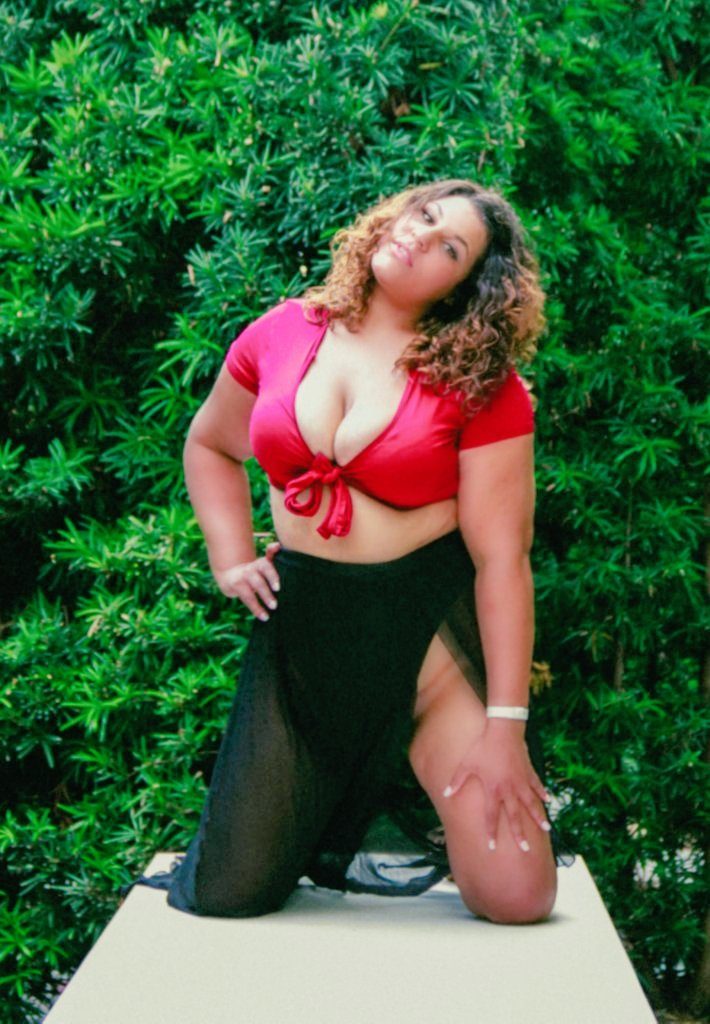 What are some working-online-highlights you've experienced? What about challenges?
A highlight for me is prescheduling private shows. It gives me time to build up anticipation for us both. I get to dress for what fits the session and get my mind into what I will be doing, and that to me is a turn on — the idea of creating a complete live visual fantasy, especially if it's a cosplay session.
It's also great that my husband will cam with me too. So, even if it's slow, we just feed off each other. I one hundred percent recommend and love cam partners.
Definitely the challenge for me is being a parent that cams. Some people have a schedule down perfectly, but I find I can't be that schedule-dedicated with Mumma duties at the same time. I'm totally up for some tips on that in my DMs!
Speaking of your husband, can you tell us more about your work as the Deviant Duo?
I actually got Ruary my husband to answer this one with me, so it's a true Deviant Duo answer!
So, like I kind of tapped into earlier, camming with someone to me definitely makes the time online just fly by when there's those slower moments. It continues the mood in your cam room because you're not just sitting there, although I always try to stay active and engaged even solo as it makes your room enticing I feel. It also expands what we can do in a show.
My husband is my main cam partner, but we have had guest model shows to mix it up. We are a team in love, life, business and camming! The balancing can be tough at times when it comes to fitting both schedules or sometimes gracefully exiting a session because they want a solo show. We try to just know when to set time to do our own thing, and some nights we just want time with each other and just don't cam — but then it will be extra hot and we both say "damn we should have cammed!"
As far as solo versus together, it's pretty easy when he's at work or doing his work from home. Then I cam, clip or edit. He sometimes cams solo, but he prefers to cam as a couple.
Vote for me in the MV Contest Fall For Me Contest @manyvids

Let's get cozy and pop bottles by the fire this fall???https://t.co/OZ0DCXIZrq#bbw #mvcontent #fall #moet #coziness #bbwbeauty #curvygirls pic.twitter.com/Ms42tPykRJ

— Lennox May (@LennoxMayXxx) September 14, 2019
I know you just got back from attending the Exxxotica show in Miami. For models who maybe have never attended a trade show, are they worth it?
I enjoy trade shows. They are fun, and it's a great networking opportunity, especially if you want to do content trade as there are models from all over. It's also great to meet your fans and to even make new ones. For me, the worth varies on the show. Exxxotica is local for me so it was an easy drive, but for models who travel it can be expensive.
My biggest tip is, as much as you can, create a schedule. Cons never go as planned, but don't let that get you down and ruin your time. Shoots get cancelled sometimes or run longer than you expected, and it's just not possible to get everything done — and that's okay.
Also, take business cards. When networking, it's so much easier to give someone your card. It might end up in the bottom of a model's bag during the show, but – for instance — when I get home and empty my bag, I get all the cards. Then, I take a moment to reach out to everyone I met to let them know I enjoyed meeting them.
Finally, selfcare and rest. Show burnout happens if you don't take the time to get some rest, sleep and eat. The temptation to be on the go all day and then go out and party all night is there — and it easily can be done. There's nothing worse than trying to fake it that last day though because you burned yourself out days one and two.
Aside from being a great online entertainer, what are you most passionate about?
I absolutely love traveling and seeing the world and still, of course, dance is a true passion of mine. I want to visit every continent at least once and that ties back to my love for languages. I have a tattoo that's ankle bracelets of "Hello" in the language of all the places I've visited. There's something about seeing the world and other cultures that just fills me with so much happiness!
My dream would be to travel the world taking dance classes of all the native styles of dance for each country I visit and seeing how each culture uses dance for entertainment, religion and ceremonies.
Find Lennox May on Twitter at @LennoxMayxxx and on ManyVids right here.
Get a bit of Lennox in your life.

Clipss: https://t.co/4iFY9nRBj5

Cam: https://t.co/UjtTqKxkQz https://t.co/6tiIAyrv8F

Premium Snap:https://t.co/n01MtmRbal or DM

Text/Call:https://t.co/g8aSfvw2iv #bbw #GoddessWorship #fetish #GFE #camgirl #cammodel #BigBoobs #bigass pic.twitter.com/HTQMZ5xI2M

— Lennox May (@LennoxMayXxx) September 3, 2019
—
Erika is a sex positive people watcher (and writer). Email her at erika@ynotcam.com.