I seem to be seeing things like this more and more lately:
One model tweets something. It can be prom-related or not, no matter.

Some fan or admirer responds.

Then, a second model responds to that response, in the same thread, with something akin to: "If you like that, you'd better check me out instead!" (or similar statement – you get the idea)
It's like the second model is trying to hijack the first model's thought, idea, promo or tweet. I imagine that this sort of thing can happen in other scenarios, too — maybe like when a model goes into another model's chat and attempts to lure people away.
For lack of a better way of referring to this sort of thing in general, I'm gonna call it promo hijacking. (If there's another way this is called that I just don't know about, can someone please email me or tweet at me or put what it is in the comments?)
So, here's my question: Why even do this? Like, for the second model, I don't get how promo hijacking is a good business strategy. Or, maybe it is and I just don't understand?
Promo hijacking, be it intentional or perceived, really seems to piss people off though. For instance, just the other day, I saw this exchange: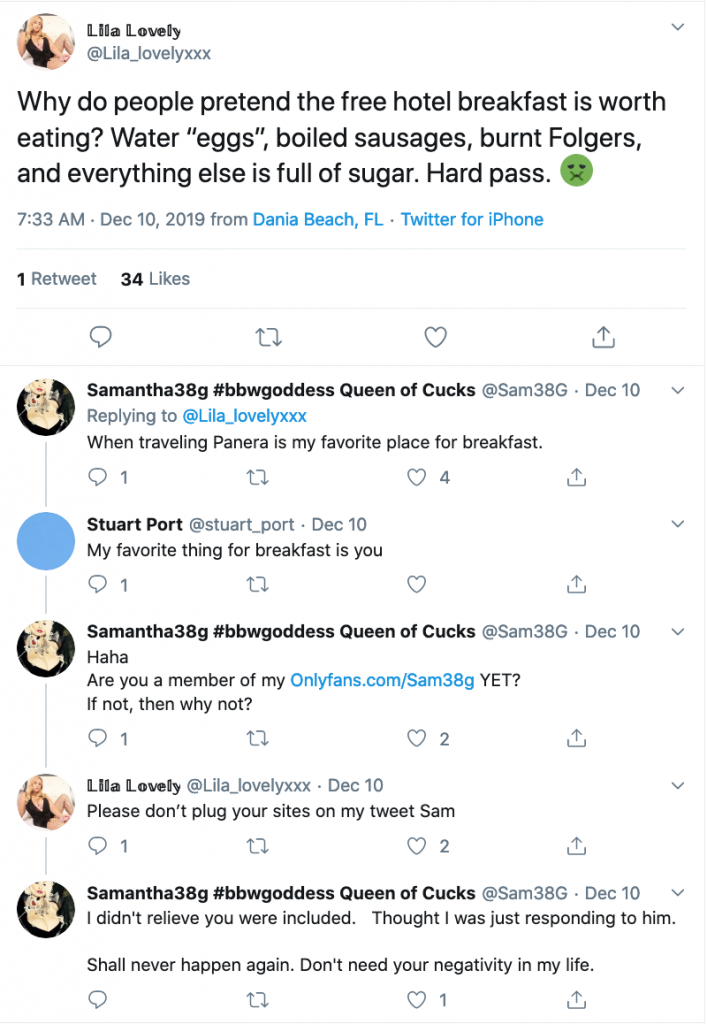 In addition to my same question — How is this a good idea? — there seems to be a lot of missed communication happening here.
For instance, maybe the second model (Samantha) really didn't mean to promo hijack? Maybe she really just meant to respond to the fan (Stuart) only? One could make a fair argument that that he was talking to her, thus she was responding to her fan. But, one could also make the argument that the guy was talking to the original model (Lila). The comment was, in fact and regardless of everything else, in her thread in the first place.
I don't know the answers, but I did reach out to someone to learn more about promo hijacking before I even saw the above referred exchange.
On December 3, Goddess Nikki Kit shared the following standalone statement:
Please don't advertise your own services and or referral links under My posts. 🥰

— Goddess Nikki Kit 🌸 (@GoddessNikkiKit) December 3, 2019
Clearly, promo hijacking — in this case, in the form of Twitter threads — is a thing others have noticed. I reached out to Kit to get some more information, which she generously shared.
—
YNOT Cam: When you write "Please don't advertise your own services and or referral links under My posts," what exactly are you talking about? 
Goddess Nikki Kit: I don't appreciate it when I tweet or post something and somebody self promotes beneath my original post in the comments section. I consider self-promotion to be anything from blatantly posting links for their profit to promoting their services or products more inadvertently. If it doesn't further the conversation but instead steers it towards spending money on someone other than the original poster, it's inappropriate for a multitude of reasons.
Why would someone think this was a good idea or a beneficial strategy?
I could certainly see why someone would see this as a beneficial strategy on a surface level. If a post is getting a lot of traction (likes/comments/shares), then that means a lot of people are seeing that post and engaging in the comments. It seems like a place you'd want people to see you if the post is relevant to the services or products you offer, and you could be right!
The caveat is how you are seen. If you blatantly comment self-promotional links or tell people to check out your products and services, then you come off as an unwanted commercial in a conversation. If instead, you posted something to further the discussion, those who like what you have to say will check out your profile. Your links should be posted throughout your timeline in your promotional posts, and those who are interested will find and visit them.
So, it's more about the context of promotion than it is about the promotion itself?
The thing is, everything someone posts is self-promotion of some sort. Everything a content creator or service provider posts online is intended to further their own brand or business in one way or another. Whether they are blatantly pushing their services or products or tweeting about their day, they are trying to connect with their peers and fans. Everyone should be interested in engaging with and expanding their fan base they have cultivated, as that is where their money and support is waiting for them.
For example, if a model posts a photo of herself in latex, that would be an excellent time to compliment them and even potentially mention your latex garments. You want to engage with the original poster, not post "LOOK AT ME! LOOK AT ME!" Subtly is critical here, as you must come off as conversational and informed in your comment. That will get you noticed in the right ways: being cordial and sharing a love of the topic at hand. People who buy latex-oriented fetish videos will check out your page to see if they are interested. It would be wildly inappropriate, instead, to comment with a photo of yourself in latex or a direct link to purchase some content you created in your latex.
It's insulting to try to piggyback on another model's fan base, and posting your own ads beneath another model's post will likely burn bridges. It also will not gather the response you intended. If someone is perusing the comments of a post they are likely an avid fan of the poster or interested in the conversation. If you post a self-advertisement or referral link in this thread, you're not appealing to the interests of those seeing the post anyway. Social media is used to engage with your fanbase and network with your peers. You do not want your peers upset at you for trying to steal their thunder, and you don't want to look desperate and uninformed to your fan base.
How can people avoid accidentally "promo hijacking" in this way?
The internet is forever, so think twice before you post a comment on a peer's post. Stepping on another model's toes in such a manner can make enemies, even if that was never your intention. Always consider if your post would be welcomed warmly by the original poster, and be prepared for the ramifications if it is not. Of course, this advice does not apply if a model is starting a "follow thread" where everyone is invited to share their content links.
In my honest opinion, it's just not worth it because the risk is greater than the potential reward. You're unlikely to convert people to clients this way. You're also very likely to make a horrible impression on the original poster. Newer models should focus on building their own brand and cultivating a fanbase of their own, as well as befriending other models in the industry.
Find Goddess Nikki Kit on Twitter at @GoddessNikkiKit.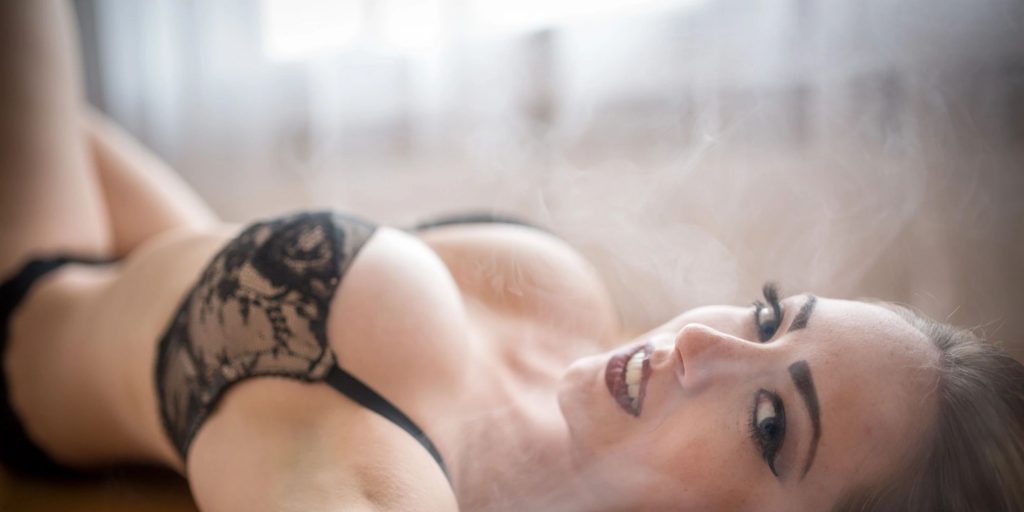 —
Erika is a sex positive people watcher (and writer). Email her at erika@ynotcam.com.