Just because someone can drive doesn't mean they have a car.
In fact, according to Forbes, millennials are actually a lot less likely to have cars than their counterparts from previous generations. There isn't really one particular reason why this has happened, but Forbes hypothesized that there are several big factors at play — and one of the most significant is that millennials are the first generation to have seamless access to convenient ridesharing.
Sure, taxis have long since been a thing, but regularly relying on cabdrivers and taxi services has never actually been the most frugal or convenient way to get a ride. Ridesharing as we currently know it is different.
From avoiding all the frustrations associated with parking in a densely populated area to helping to maintain your emotional wellbeing, ridesharing is great. Obviously, this includes being great for members of the industry as well.
Ridesharing to meetings, appointments, in towns you're visiting for tradeshows and to the airport can help make stressful situations — situations that are potentially amped up by stress-inducing factors associated with the industry — less overloading. In fact, one could argue that there really is a connection between the adult industry and various ridesharing spaces.
In a lot of ways, despite their documented unethical business practices, the adult industry community has become reliant upon the ridesharing industry.
AB5: Ridesharing, Online Sex Work and More 
When California passed AB5, it was generally understood that it was meant to target ridesharing companies like Uber and Lyft. These companies manage their drivers like independent contractors instead of employees, despite the fact that neither company could operate without their drivers.
Remember: The following "ABC Test" is used for determining if someone is an independent contractor versus an employee. You can remain an independent contractor if an employer can prove that you:
(A) are free from the control of the employer in connection with the performance of the work, both under the contract for the performance of such work and in fact;
(B) do work that is not in the usual course of the hiring entity's business; and
(C) are customarily engaged in an independently established trade, occupation, or business of the same nature as the work performed for the hiring entity.
A driver working for a ride hare company seems to fit into the employee category based on this test.
Since AB5 was made law in September 2019, a number of different industries have attempted to amend the legislation to exclude their contractors. The most predominant protesters are — you guessed it — the ridesharing companies. Although AB5 took effect on January 1, Uber is still fighting back on classifying their drivers as employees. They are making changes that they hope will be enough to assuage the government's concerns.
You may have already noticed a change when you request an Uber in California. As The Verge recently reported, the company is putting in place new measures so they can pass the ABC test well enough that the California government will find that they are able to keep drivers as independent contractors. This means several changes to the app as we know it.
On the user's end, one of the biggest changes will be the fare. It used to be that, if you selected an Uber of any kind, you saw the price upfront and whatever you selected, you were locked into. If the estimate was too low, Uber ate the difference. If it was too high, it pocketed it for itself. A lot of drivers were going longer distances and spending more time on the road than they intended, with zero reward for doing so. From now on, the only upfront pricing we'll see will be for an UberPool.
Here's an important kicker: If a driver cancels, they will no longer receive a penalty for rejecting passengers. They can choose to reject entire neighborhoods altogether. Before accepting a ride, they now actually get all the full information they used to get after accepting it. This includes the trip's estimated time, distance, destination and expected fare — this may somehow make a rideshare driver an independent contractor, but it also opens the rest of the world up for driver discrimination — and sex workers know a thing or two about discrimination, as does the Valley itself.
As of right now, it remains to be seen just how much of a difference this will actually make. For the record, California is not the only state that has gone after Uber for not classifying drivers as employees. We may soon see the sweeping regulations made by AB5 extend across the country.
So, the next time you are in California and you get yourself an Uber, remember that the driver's work world is also in state of upheaval — as is the state of an entire service industry that our community relies upon in many ways.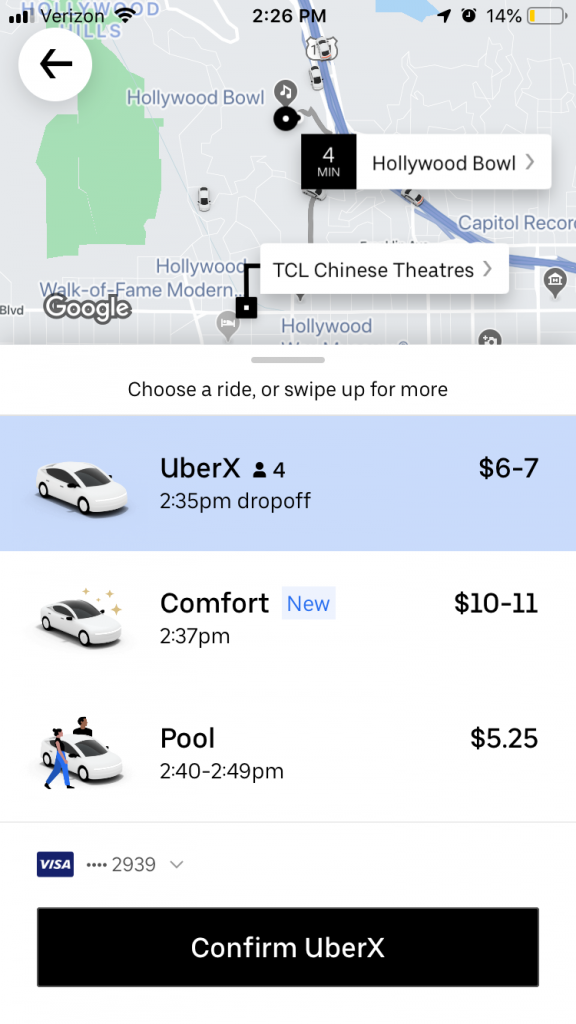 —
JackieMichele is writer and marketer living in the San Francisco Bay Area. Her work has appeared on Yahoo, Food and Wine and the Huffington Post. She's been an editor, an influencer strategist and ghostwriter, a librarian and a teacher. Follow her Instagram at @jackie_gualtieri and contact her via jackie@ynotcam.com.
Background header image by VisionPic .net via Pexels. Screengrab by the author.