If you're on Twitter, a millennial or a pop culture junkie, chances are, you've heard of Rebecca More and Sophie Anderson, better known as The Cock Destroyers. If you haven't, they're performers based in the UK known for their outrageous personalities and love for destroying cocks.
The pair gained a large Twitter following outside of the adult content fan base space in October 2018 after posting a promo video.
That day, More and Anderson had already finished co-hosting a gangbang at London's St James's Hotel. Tickets for the morning event – priced at £300/approximately US$375 – had sold out, but sales for the afternoon session were sluggish. The women decided to record a promotional video to drum up interest.
The Face summed up the dialogue:
Hi guys, says More, massaging her 800cc fake tits. Look at these lovely big tits.

Anderson comes into shot. Do you know what we are? We're fucking cock destroyers. 

Cock fucking destroyers, Anderson agrees.

We love to just get your dick and despunk them fucking balls. MMMM. 

Let's get these fucking balls in your mouth and we'll tea bag you, Anderson says.

Muaahhahahahaaha, More cackles. They kiss.
According to The Face, More already had a "sizeable and engaged gay fanbase, who delighted in her sassy theatrics and memeable promo videos." This promo video though took that adulation to the next level.
"By the end of the day – and largely thanks to gay Twitter, who disseminated the video so far and wide it even ended up getting picked up by the BBC, they were viral stars," The Face wrote.
And just like that, The Cock Destroyer were born.
RT if you like BIG TITTIES!!! @SophieASlut pic.twitter.com/rzpihg3glT

— Rebecca More 🖲 (@more_milf) October 2, 2018
More and Anderson have since embraced their new fanbase and every now and then provide us with meme-able content. Here for instance is Anderson's "Driving for Dick" video, which now has over million views:
Driving for dick pic.twitter.com/4JMK0tYfDb

— Sophie Anderson (@SophieASlut) March 25, 2019
Recently, the duo was featured in a promotional video for Netflix's original series, Sex Education.
Sex Education stars Asa Butterfield as a socially awkward teenager and Gillian Anderson as his character's mom who's also a sex therapist. The show is considered a success, having been streamed by over 40 million viewers and recently been renewed for a third season. More and Anderson's (Sophie, not Gillian) appearance in some promo for the show was everything any Cock Destroyer fan could have dreamed about.
Clad in white lab coats and lensless black glasses, More and Anderson rebrand as The Sex Education Destroyers. As professionals in the sex industry, they give advice on douching, anal sex and vaginal pleasure. Although this isn't technically a *real* educational video, it was more informative than anything a high school sex education tape could ever do. They also discussed clinical testing, homosexuality and consent without the guilt trip traditional sex ed gives you.
I was also surprised to learn several things watching the thriteen-minute clip. They explained anti-viral drugs like PrEP and PEP, which work to prevent the spread of HIV. They also work to fight the stigma of HIV+ individuals, emphasizing those who have undetectable levels of HIV will not be able to transmit it to their partners.
While the video was educational in many senses, it was also hilarious, fun and light. Even though they were working with a big company like Netflix, More and Anderson were able to maintain their raunchy, overtly-sexual personalities with little censorship. They made plenty of jokes throughout the video, with some landing better than others. I physically laughed out loud when the Cock Destroyers — who have a large LGBTQ+ fan base — solemnly joked about the world not having a cure for heterosexuality.
They also poked fun at themselves at the end of the video, surprised they were still clothed by the end of it. Take a peek:
The overall message of the video is sex should be fun, as long as those involved are informed and consenting. I believe those who are new to sex will walk away more informed and definitely entertained — and the best part is you don't have to sign a pledge to stay celibate until marriage. Again, my high school sex education could never.
What I took from the video is that Netflix should work with more sex workers. The sex work community has no shortage of vibrant and interesting personalities. I'm also calling on Netflix to get More and Anderson their own show — 'cause I know it'd be brilliant.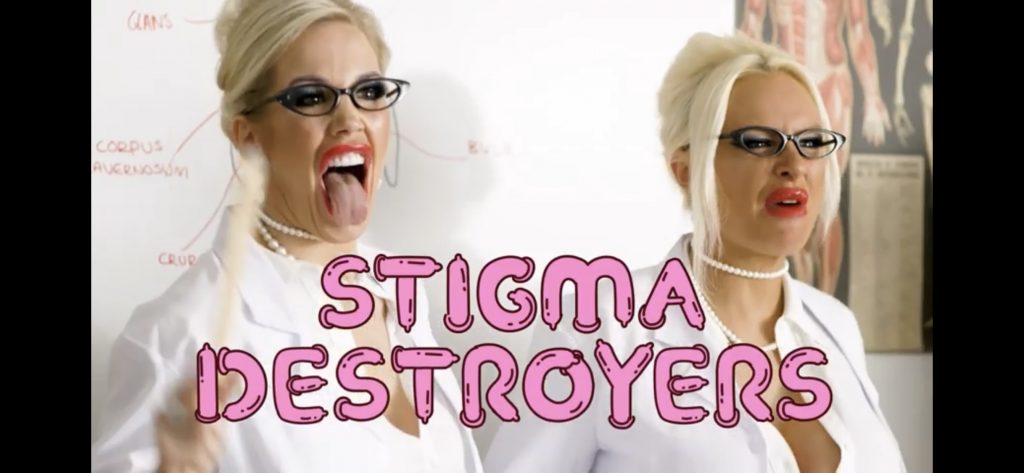 —
Ariane Torres is a writer who says funny things on occasion. Email her at ariane@ynotcam.com and find her on Twitter at @tofulumpia.
Header images via Twitter. Screengrab by the author.