Discussion about the widespread use of Content License Agreements on content-sharing sites has arisen on social media since OnlyFans recently changed their Terms of Service (TOS). Why do they need you to license your copyrighted content? Let's explore!
OnlyFans (OF) notified users of changes made to their TOS on April 15, 2020: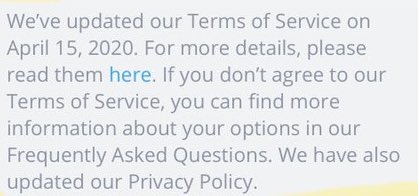 Screenshot courtesy of @MissBNasty
With OF, Section 10 is the one that has stirred particular controversy lately. As of April 19, Section 10.2 of OF's Terms read: "You grant FIL and Our licensees, successors, and assigns the right to use, reproduce, modify, perform, display, distribute, and otherwise disclose to third parties any such material."
Tweets have been circulating, claiming that this clause means OF is selling uploaded, subscriber-only content to other websites and profiting from it, perhaps operating a mirror site, without notifying or paying the copyright holders. OF has been painted as a villainous copyright violator for this. Later, OF added a disclaimer to this section, explicitly stating "We will never sell your content to other platforms."
The clause above employs a License to Use Content, which is incredibly common among sites that allow users to upload and distribute their copyrighted content. In OF's case, here, "third parties" likely refers primarily to your subscribers — the company needs you to grant this license to share the content you upload for sale/distribution on the platform.
Sites that have similar clauses in their policies include YouTube (under "Your Content and Conduct"), Facebook (Section 3.3), Twitter (under "Your Rights and Grant of Rights"), Microsoft (under "Your Content"), Clips4Sale (Section 5.9), ManyVids ("Terms of Service for Uploaders" Section 3.6), AP Clips (under "Considerations"), Pornhub (under "Content Posted by Users and Models"), MyFreeCams ("User Submissions," section 3), Chaturbate (Section VI., "Content"), CamWithHer (Section 5.C), AdmireMe (Section 15), JustFor.Fans (Publishing Rules –> "License Granted to the Platform") and likely many more. Often they may use a phrase like "unlimited, royalty-free, worldwide, nonexclusive, irrevocable and transferrable license." This is typical when you are uploading your copyrighted content to any website, as they need your permission to show it to users and/or buyers, adjust images, add watermarks, post auto-tweets and more.
For more on content licensing, check out this resource from the Digital Media Law Project.
At some point in the week or two following the initial chaos, OF graciously amended section 10.2 to include this clarification: "The clause exists so that we may use your content by adding stickers, text, and watermarks, and to make your content available to Users, as well as for other normal operations of our website. We will never sell your content to other platforms." The company doesn't seem to have publicly responded to the controversy or discussed this revision.
What does all this even mean?
Licensing absolutely does not mean that these sites own your copyrighted content, as the widely-shared screenshot in this tweet (also below) asserts.
Make of this what you want but just wanted you all to know the terms/agreements changed. Apparently there was a notification but I never got one so I would imagine others missed it or didn't get one either! pic.twitter.com/oGkVTLNIGN

— ✨Anna✨ (@yourangelanna) April 16, 2020

When you upload user-generated content to a platform — be it YouTube, Twitter, Pornhub or OnlyFans — the company needs you to agree to terms in order to let you use their services. Of course, they also need to protect themselves from accusations of copyright violation. Their license to use our content allows them to host it on their platforms. Terms tend to be long and full of run-on, hard-to-comprehend legalese so the company can cover all possible bases. Licensing is necessary for them to host the uploaded content and do things like reformat images and videos for viewing on user's devices, advertise with it, add watermarks, post auto-tweets and other purposes that necessitate your licensing them to use it.
All that sounds reasonable, but — by the best I can tell — this is not to say that licensing is without risks, as this also means the company can advertise with your images. Since you agreed to the license in the TOS, they don't have to ask, notify or pay you for that. Still, if you didn't grant these platforms a license to use your content, you wouldn't be able to make money from streaming or posting your content at all.
OF's track record is certainly not squeaky clean, however it remains a source of income for many content creators. Chaotically spreading information, such as accusing a company of stealing and selling copyrighted content (based on language that is extremely common among content-sharing platforms) is harmful to creators who contract with that company.
The Big Picture
This sort of controversy makes its rounds on Twitter every few months or so. In response, quite a few OF users have said they want to leave, and others have said they're dissuaded from signing up. The hype generated from concerning, but emotionally charged, highly debatable and easily researchable, claims encourages people to close their stores, stop buying from this platform and spread more hype to convince others to avoid it, interfering with income streams.
Most Terms of Service include a clause expressly stating that, although the platform is licensed to use it, uploaders still maintain ownership of their content. OF mentions this in Section 1.7, stating that it does not own user-generated content, and again in Section 7.1, specifying that it owns everything else on the site except for user-generated content. Again, granting a license to online platforms does not mean giving up copyright ownership. Still, it pays to be aware of what our rights are as content creators and independent contractors, how these sites work and what policies are standard (or not).
I reached out to OF on April 17 for their perspective on this language and for clarification on which material was added with the April 15 update. At this time/by time of publication, OF has not responded to YNOT Cam's inquiry.
During my research, I also contacted several industry attorneys for more insight on copyright law, what OF can and cannot do with User Content and some of the legal jargon commonly used in TOS. I was unable to get clarification, however, for a variety of reasons including conflicts of interest and lack of response.
All this said, here's the key takeaway: Make sure to familiarize yourself with a platform's Terms of Service, rules and policies before signing up.
—
Alsanna James is a student, advocate, spoonie, writer, gamer and adult content creator. Half silent oracle, half professional sexpot, you can email her at alsanna@ynotcam.com and find her on Twitter at @AlsannaJames.
Background banner image via by Markus Winkler on Unsplash.