Britney Amber's career trajectory is an exemplar of modern adult entertainment.
She began working in the industry after a piece of mainstream media sparked her curiosity. She moved from in-person sex work to porn performance. Then, as the industry changed, she found her work changing again and moving online.
Today, Britney Amber's career epitomizes the contemporary hustle — self-guided and controlled diversified income streams, topped with clever utilization of mainstream platform outreach for awareness (not necessarily monetization).
Also, unrelated but too interesting not to mention: Britney Amber is an avid archer and bowhunter. Thus, in addition to being an adaptable businessperson, she's also the person you'd want on your team during the Zombie Apocalypse.
Take a break and read on to learn more about this interesting, quirky and fully "today" online sex worker extraordinaire!
—
YNOT Cam: How did you get started working in adult entertainment?
Britney Amber: Before I started working in the adult entertainment industry at the Moonlite Bunnyranch in 2007, I worked as a hotel auditor for Best Western in the town of Beaumont, CA where I was born and raised. It was a graveyard shift job, so I would watch the late night shows while I worked. That is how I came across the HBO series Cathouse. My interest in adult entertainment quickly ignited!
People unfamiliar with Southern California often think the entire place is Los Angeles. How does the Inland Empire (or, The IE, as it were) – which includes Beaumont – compare with wider societal fantasies of LA?
I was born and raised in a small town in the Inland Empire — Beaumont, CA — where I still reside. I'm closer to Palm Springs, the desert of California, so I've always compared my hometown more to there.
Most people that aren't from Southern California don't even know what The IE is, so I'm sure it's those same people that might think the Inland Empire is the same as Hollywood.
What's the best part about working in sex work online?
The best thing about working online is working from home! For many years, I would drive back and forth from the desert to the Valley for shoots — over a two-hour drive one way without traffic! Sometimes my drives would be four-plus hours one way I also love having all the creative control of my content.
I've been noticing a lot of industry personalities utilizing mainstream marketing platforms lately — Cameo, tiktok, YouTube, etc – and I see you're on Cameo. What are your thoughts about this apparent trend?
I've been utilizing mainstream platforms such as YouTube, but it's hard not to get everything demonized. I do it from my fans because they seem to really like it and for the creative outlet, not for the money at all. I barely make any money on YouTube.
I love Cameo! Fortunately, I get a lot of Cameo requests, so it's been a great money maker for me. I've heard from many other models though that they don't get many requests. I'd recommend not setting your rate too high and don't be prudish! If you're a porn star or a cam star, you have to expect people are going to want you to dress sexy and say or do sexy things.
Outside of work and your career, what are you most passionate about? 
Lately I've been very passionate about building my own content. I know — besides my career, you asked — but I just started shooting my own content at the end of last year. I still have so many ideas and now, with the quarantine, I'm not able to do much else!
If you could change one thing about today's world, what would it be and why?
I would like to see more people working from home, if possible, even after quarantine is over. Now with more people doing just that and not having to wake up early and sit in traffic for hours, it's not only helping save lives but it's also great for our mental and physical health and — most importantly — the environment.
Find Britney Amber on Twitter at @Britney_Amber and on PornHub right here.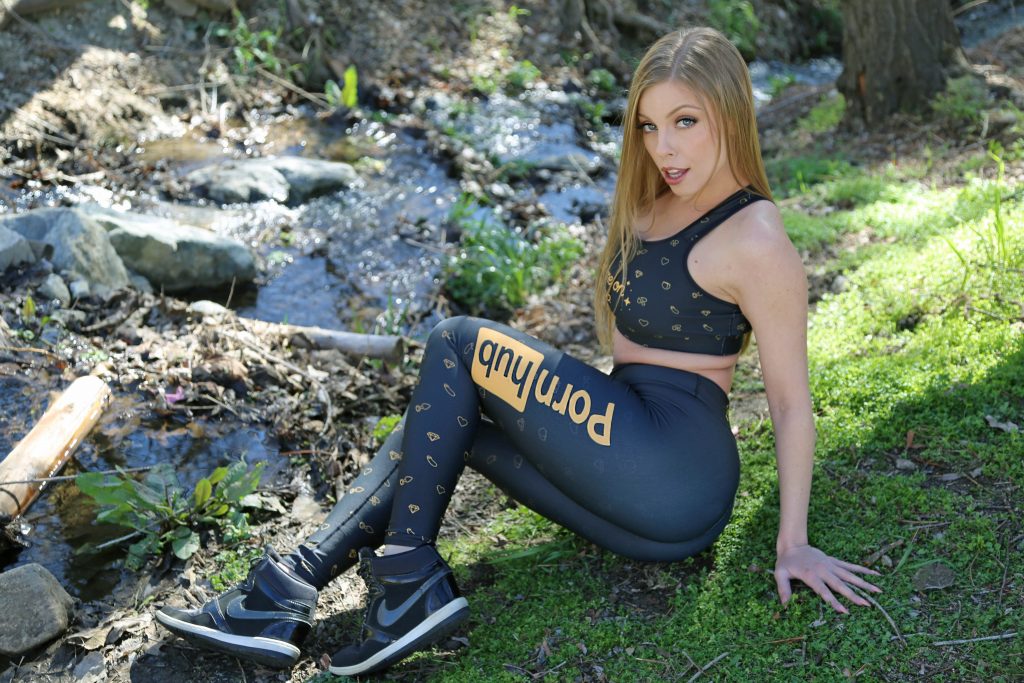 —
Erika is a sex positive people watcher (and writer). Email her at erika@ynotcam.com.