Allyson Wonderland has been in the adult industry for about twelve years now — "I started the day I turned 18 and just celebrated 30!" she shared — and she never once envisioned pivoting to spearheading a sex worker-focused insurance platform. But, that's exactly what she's doing today!
Wonderland's site succexxxful.com started out as a resource blog space for sex workers. It's since morphed into health.succexxxful.com. "As an adult entertainer, you should have access to the same insurance as everyone. We want to connect you to the best providers who are here to help protect your sexy succexxx," the site reads.
We got the chance to speak with Wonderland about the amazing and highly useful work she's doing to help support the community's health and wellness — as well as a bit about some other ventures she has going too.
—
YNOT Cam: How did you go from stripping to working online?
Allyson Wonderland: I had many jobs before I found stripping. I even answered phones at State Farm most recently before and, while my stats were great, I never felt comfortable.
The moment I found stripping, I never looked back at any other industry. When I had enough of stripping and I discovered Snapchat, I mixed the two together for a long time because I could take that job with me… I fell in love with being able to make my own content on my own time, just using my phone.
It was during that time someone mentioned webcam, and from there I was hooked on the virtual sex work world. Although I did miss the stage aspect of stripping and the girls, I didn't miss hardly anything else because I wasn't very good at selling companionship in person. Online is really where it clicked for me.
Webcam slowly took over when I realized I enjoyed editing videos and being in control of my environment over being at the club and still making the same amount of money. It took about a good two years for me to completely hang up my heels though.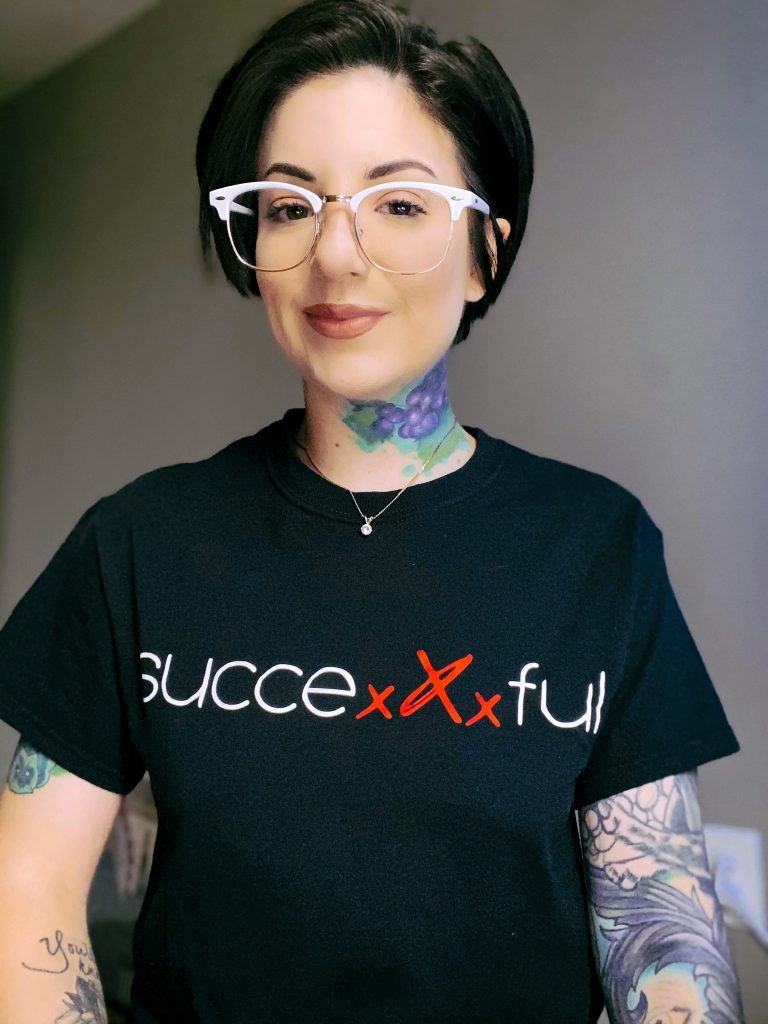 What are some general observations you have about working online?
I've had the opportunity to meet some really cool people along this online journey, fellow models and members alike. I tend to reflect on those moments where my room was having a blast with me and the funny GIFs or inside jokes come out of that.
I don't think I truly expected to have such deep relationships with people I only know online. As a general observation, there is no way to fake that feeling. You have to put in the time and be there, be present to have moments like these. I think we all get frustrated on the slow nights and forget to remember the good ones — and what it is that makes them so good outside of the money.
health.succexxxful.com is the "first and only adult entertainer-focused Insurance platform." Can you explain how it works?
succexxxful is a platform that connects adult entertainers with insurances. I actually was able to get a publicly traded insurance carrier to speak to us on our terms, without judgement about what we do for a living or looking at us like a fat commission check.
Our health exchange works the same as any other insurance website out there. You submit your information via the form or call the phone number at the top to directly speak to an agent!
When someone calls the number or gives their info into the form, what happens? I am thinking specifically about privacy here…
When the user engages with our platform, either via a form or call, they will be connected to our insurance partner. Our insurance partner is a publicly traded insurance company that helps tens of thousands of customers with their insurance needs daily. We approached them in 2019 with the idea of working with the adult entertainment space. After some analysis, they agreed it would be a great market to enter with us as their partner.
As insurance is one of the most regulated industries, privacy is extremely important. Maintaining HIPAA compliance is a very important piece of the equation. Our partner has over 100 carrier options for customers and can help find the right match. Insurance is complicated, and most people don't know their best options.
What about your newest venture, DailyNoods – How does that space function?
Daily Noods is the easiest way for models to get months of promotion for their social and adult media for free. For the consumer, this is the easiest way to verify the model you are subscribing to/paypaling is the real model and not a scammer. I originally made this to be a safe place for the consumer to discover and verify models' media since the issue of pirated content is so huge. I quickly realized if I did things like pay for advertising space on adult sites, it could be a great tool for the models to get promotion as well.
Our primary monetization on the site is from ads and sponsorships, this allows us to keep the site free for users and models. We are seeing a very high click through rate on our ads so far as we have a very engaged user base. Companies looking to reach consumers interested in adult services have a hard time finding new customers due to so many online ad restrictions, Daily Noods helps find them the right new customers.
Outside of work, what are you most passionate about?
My companies do take up a good amount of my time, but when I'm not glued to my phone, I volunteer three times a week at a dog rescue. I also donate a borderline embarrassing amount of my earnings to dog shelters and rescues all over the world.
If you could change one thing about today's world, what would it be and why?
Outside of all the current chaos that needs to be addressed and fixed, I wish it was a lot easier for sex workers to tell their loved ones and families what it is they do. To me, the worry of alienation and not having the support system you want is heartbreaking and so counter-productive to what a sex worker needs.
We thrive when we have a supportive and uplifting atmosphere, and I think we should all be entitled to this despite what career path we choose.
The world is crazy right now, no doubt. Please do your best to be kind to one another and make each day a little easier for someone.
Now is not the time to troll. Now is not the time for hateful comments. Spreading love, awareness and resources is the most important role any of us can play! Please take care of yourselves, hug your loved ones and appreciate your reflection in the mirror. You got this!
Find Allyson Wonderland on Twitter at @succexxxful  and @dailyn00ds.
Check out the new look of our Health Exchange
(https://t.co/AkiiJfMDJR) page!
We are available 24/7 to speak with you about your insurance concerns/needs. #succexxxful #insurance #healthinsurance #sexworkiswork #adultentertainer pic.twitter.com/j9P0uXejyf

— succexxxful (@succexxxful) April 30, 2020
—
Erika is a sex positive people watcher (and writer). Email her at erika@ynotcam.com.