Last month, Romi Chase distributed a press release that offered holiday moneymaking tips for adult content creators. The tips were framed as such: As a surge of new entertainers have made their way onto adult content platforms, Chase was looking to give advice to newbies striving to keep their business afloat during the holidays.
"December is a rough month for online entertainers like myself, as most people prioritize different things during the holidays — buying gifts for their loved ones, treating themselves, spending more time with their families and friends — rather than surfing online," Chase said in a press release.
I thought this was especially interesting because — at the time — Chase, who moved to the US from Poland in 2016 but had only just began working in the adult industry in 2019, had really only experienced one holiday season as an adult content creator.
In the grand scheme of starting a career online, though her time has been somewhat short, Chase has actually done quite well during what could be described as the most tumultuous twenty-ish months in modern history. Thus, unlike the real estate guru who's teaching classes but has only worked while the economy was doing good, Chase has definitely weathered a severe recession.
I reached out to Chase to learn more about her perspective on work and life and what people can do to weather further storms – and thrive!
(Chase's holiday advice, incidentally, was legit and can certainly be used year-round: offer deals to existing and expired subs, including strategic freebies; create free holiday themed content; give a gift, like an exclusive photo set; and plan out content early for strategic release during periods where you yourself might also be doing other stuff besides working. Good stuff!)
—
YNOT Cam: What was the hardest thing about moving from Poland to the United States?
Romi Chase: I came to the States in 2016 from Poland and quickly adapted to the South Florida lifestyle. Coming from what I like to call a "frozen tundra," adjusting to the heat down here was probably the hardest part but at this point I wouldn't have it any other way! I love sunny Florida.
I have a Master's degree in linguistics, and I used to be an English teacher at a high school back in Poland. I went from a rather monotonous, vanilla job to being my own boss selling adult content online. Now, at 28, I'm an indie content creator, a plus size model and a social media influencer. Who would have ever thought I'd end up getting naked online!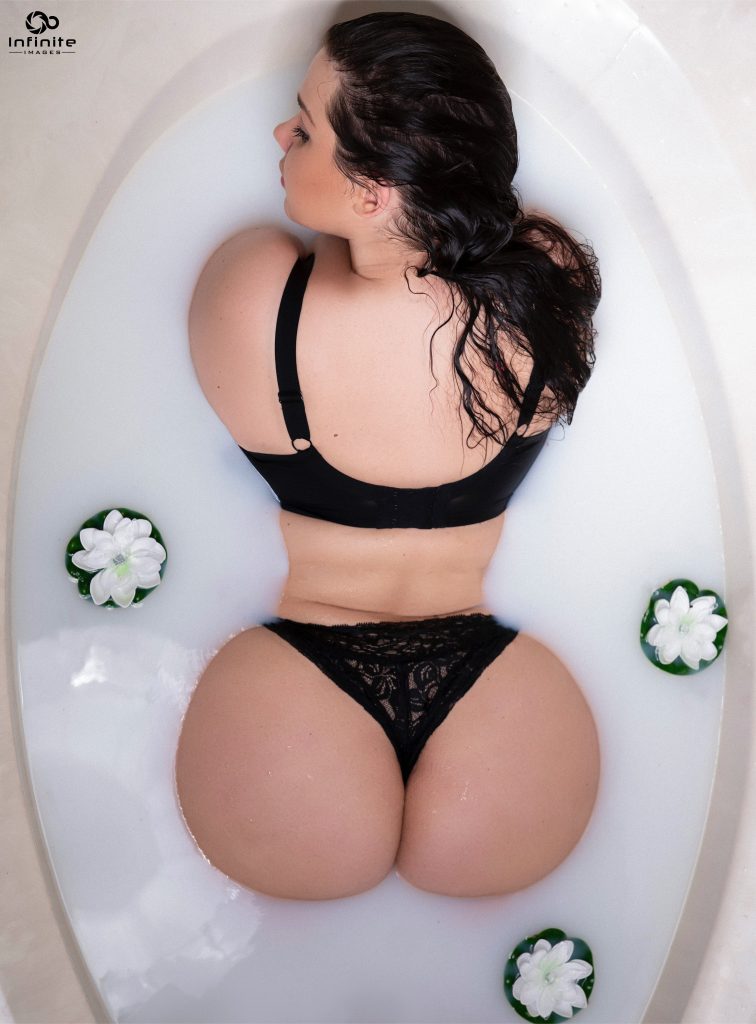 What prompted you to begin your career online?
Like I said, I was a teacher – and I'm not made for a monotonous 9-to-5 type of job. Being a bilingual person that traveled the world, I knew what components were needed for one to learn a foreign language – English in this case — and I used to focus mostly on vocabulary and speaking skills in my class rather than grammar as recommended in the curriculum. I got in trouble with a principal a couple times for not following the curriculum and I felt really miserable at that job not being in control of what I was doing.
I've always wanted to be my own boss. I have always had a lot of potential and lots of creative ideas. I have leadership skills, and I love to research and learn. At that point, I knew I needed to step away from a teaching career and I quickly made a decision to move to the US, which I had always been fascinated by.
When I arrived in the South, I had no idea what I could possibly do since my degrees turned out to be pretty much worthless. There is not much money to be made in teaching in this country, and I couldn't rely on tutoring for extra income the way I did back in Poland.
I've always been an extremely sexual person and at that point, being completely free, on a new continent, away from friends and judgment, I decided to give modeling a shot. I shot glamour and boudoir for other people and quickly took the matters into my own hands registering an s-corp focusing on indie content creation. That's when things really took off for me.
https://t.co/rNwYQdZqvG new set dropping soon ! Don't miss it 🥵 pic.twitter.com/acRiW8YrhN

— Romi Chase (@romi_chase) January 26, 2021
What are the best things about working online? What about challenges?
I cannot stress this enough but being your own boss is always the way to go. I love being in charge of what I do and don't do. I get to set my own schedule, my own boundaries, my own rules as to how I run my business.
Oddly enough, my favorite thing concerning this job is also the most challenging part. When you work for yourself, there is nobody to hold you accountable. You don't have to clock in and out. Technically, if you wake up in the morning and decide that you're taking a day off, you can. That is not an easy task to continuously motivate yourself to work and keep a schedule. You have to be your own hype and your own critic.
You're an entirely independent creator, utilizing fan sites and social media exclusively. Do you ever have any apprehension about building up your business via these kinds of platforms in terms of censorship, sex work exclusion and so on?
I could talk about this all day. Yes, I absolutely do hate the censorship the platforms apply on adult creators, but my main concern is the lack of consistency and rules. Some seem to be getting away with more risqué content while others cannot post clothed photos without being worried about getting deleted or shadowbanned.
I'm not here to dictate companies' rules. I don't even necessarily think the rules should be less strict. I just wish they would give us a set of rules to follow that apply to everyone across the board and are enforced the same exact way in all cases. That shouldn't be too much to ask for, yet here I am fighting the everlasting shadowban on Instagram, trying to finesse the algorithm just to be able to make a daily post for my fans. It's very frustrating, and I've definitely had a couple meltdowns over that issue!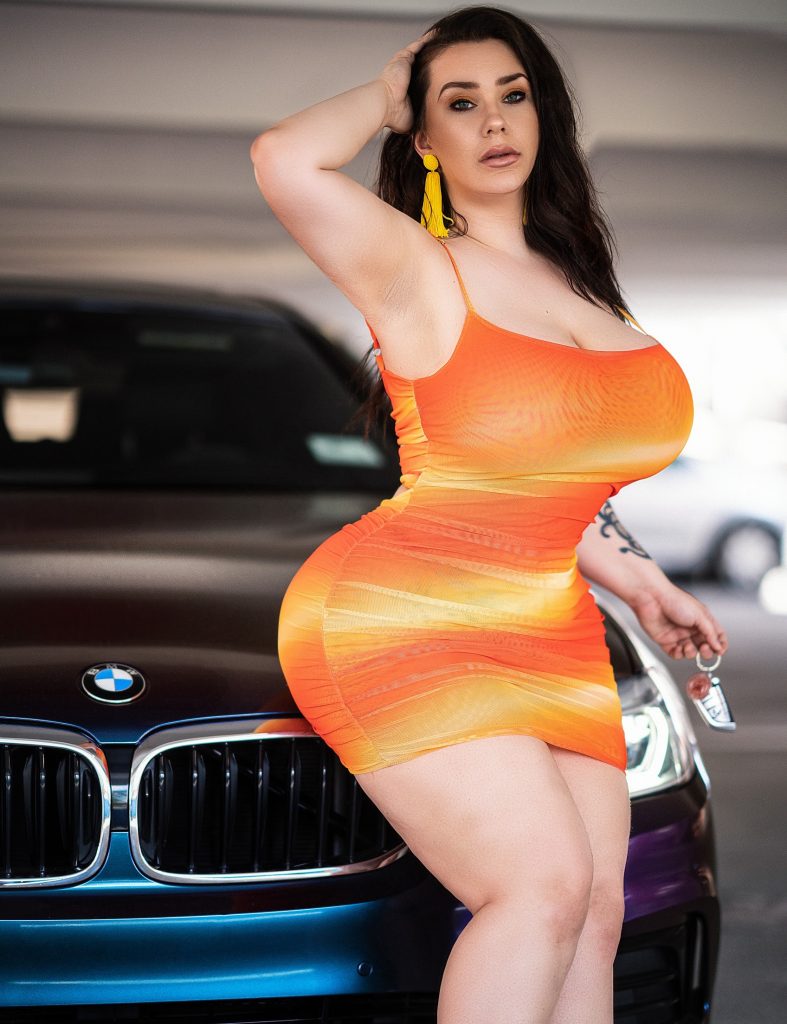 It looks like you do a lot of work that supports model education and can also be monetized, like coaching. What advice do you have for models looking to explore these types of work opportunities? Conversely, how can aspiring models vet "experts" in order to get quality information?
I launched an online workshop that helps aspiring or existing creators maximize their online presence and earnings. What makes my coaching special and reliable is the fact that it is a personalized program created by me personally for each and every person individually.
Many people offer access to pre-recorded video courses or PDFs. That system is a lot less effective because it was made for masses. It does not take personal needs, boundaries or goals into consideration. I evaluate social media, subscription sites, niche, boundaries and goals to be able to provide people with the exact tips and tricks needed to thrive in the adult industry, at the same time making sure people reach their goals as quickly and comfortably as possible.
One thing to understand about the course is that I cannot do the work for people. I can show people how and what to do, but I cannot make people do anything. There have been girls who purchased my workshop, refused to listen and quickly went back to doing things that were hurting their income and social media presence.
Before deciding to seek my help, I just ask that people are prepared to give it their best shot, be patient and trust the process. You won't go from $1k to $20k a month overnight, just like you won't lose 20 lbs of weight overnight. It's the same thing. Consistency and commitment is key to success.
Find Chase on Insta here.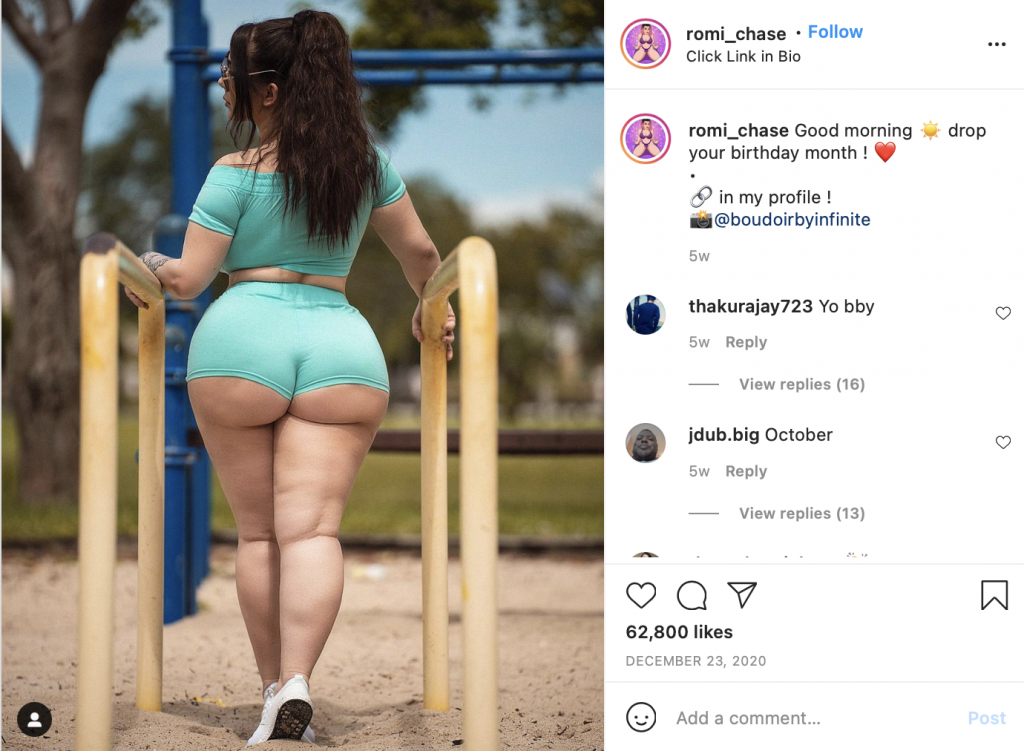 Outside of your career, what are you most passionate about?
I love to sing. It's just a calming and relaxing activity for me, especially on long, lonely car rides. I blast instrumental versions of my favorite songs in the car and sing all my sorrow away. I'm an early /90s child, so '90s and early 2000s hits definitely dominate my playlist!
If you could change one thing about today's world, what would it be and why?
I hate how divided we are as people. If it's not racial division, sexual orientation or even looks division, then it's class, political or religious division. It's horrible. I wish we could all get along. The world would be a better place because there's undeniable power in team work.
Find Romi Chase on Twitter at @romi_chase.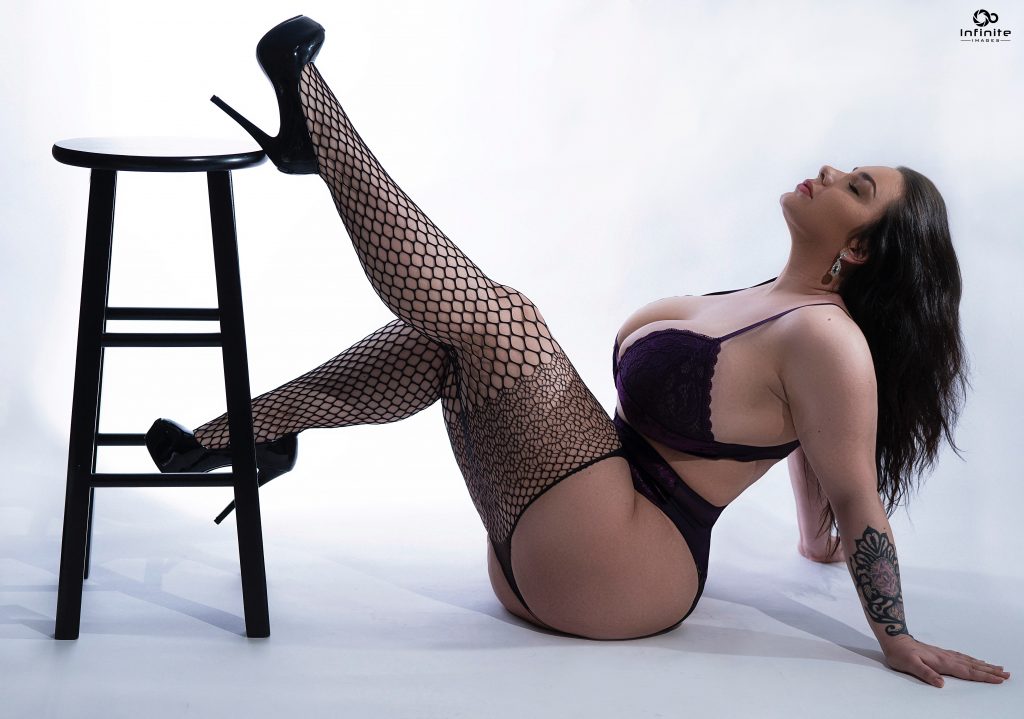 —
Erika is a sex positive people watcher (and writer). Email her at erika@ynotcam.com. 
Photos of Chase by @infinite__images.