Dating apps have always been problematic. However, when women caught wind of Bumble, an app that gained traction because it allows women to make the first contact with potential dates, many may have thought, "huh, this is great… maybe I'll finally feel comfortable on a dating app."
Well, a recent "incident" with a Bumble user in a bralette has proven that the app isn't all about heart emojis and femme power.
Bumble sez: "Undies outside, okay! Bikini inside, too sexy!"
Buzzfeed News recently reported that when Cali Rockowitz tried to upload a photo of herself in a black bralette and white sweatpants in front of a canvas, Bumble "immediately" took down the image.
"I thought it was a mistake, so I tried it a bunch more times. I emailed them and I asked what was going on," Rockowitz said to Buzzfeed. "They sent me a generic email saying I couldn't post photos in my underwear. I couldn't believe it, that after looking at this image they thought this was offensive to users."
When the 31-year-old artist tried to upload a similar but, in her words, "less revealing" photo on December 21, it was flagged.
She reached out to the app again to ask why the other image was flagged, and a company representative responded by saying: "On Bumble, you are totally allowed to have a bikini or shirtless photo, but we ask that these photos are taken outside. If you're indoors, it looks too much like underwear." [Editor's Note: Emphasis added to highlight the bananas nature of this statement.]
After more back and forth with the company on Instagram, where Bumble noted that the image "shouldn't have been moderated," the company removed yet another photo on her profile that was a few months old.
"I'm not sure if they were doing it to make an example out of me or it really violated the terms, but the images they removed have been up there for months," she said to Buzzfeed. "I don't know if it's a mistake."
Turns out, the picture removal was not a mistake. A Bumble spokesperson later responded to Rockowitz by stating that, "If after reaching out, other photos that violate Bumble's Photo Rules or Terms/Community Guidelines were found on the account while she was being assisted, they were also moderated according to the same policy."
We already know that women and femme peoples' bodies are policed, and the puritanical hammer comes down when someone in these groups wears anything that reveals a large portion of their body.
This particular situation thus 1) leads us to feel frustrated that an app that says its purpose is to empower women who date online isn't doing so, and 2) makes us wonder if sex workers who have experienced discrimination from Bumble or other dating apps are experiencing occupational discrimination — or if this is actually a part of wider practice of discriminating against women that embody their sexualities in (perceived) "unconventional" ways. Or, both.
Images below via Cali Rockowitz's Insta. Follow her!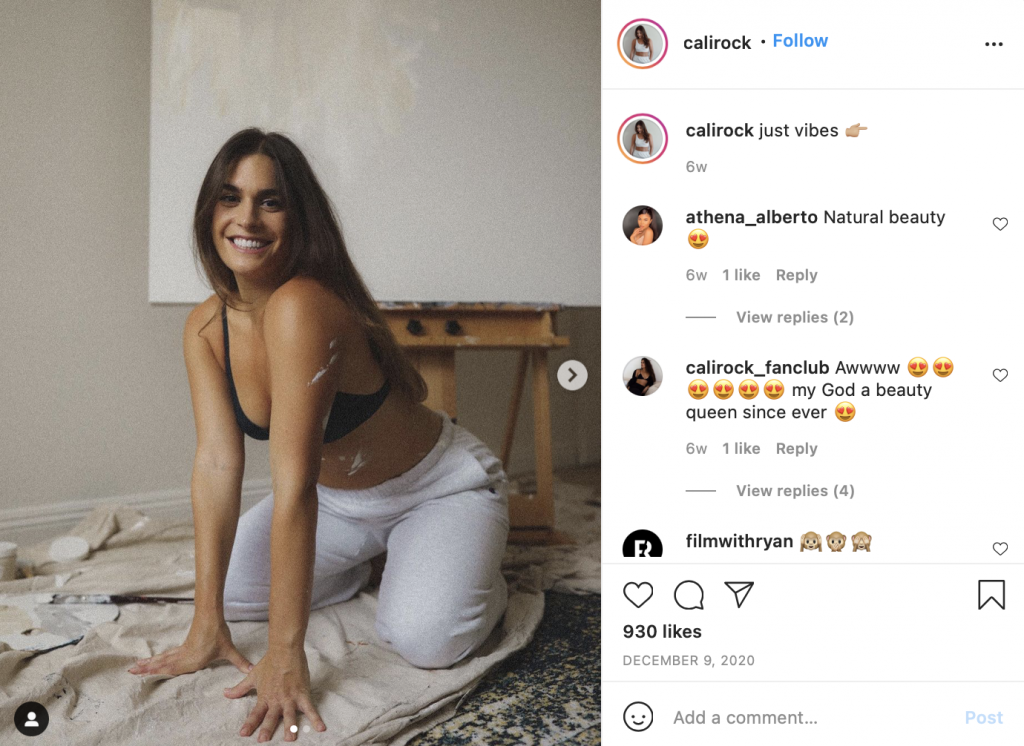 Work Sex vs. Personal Sex — and the vanilla world's inability to perceive the difference
All types of sex work involve some form of labor that, when viewed through a different lens or occurs in a different context, could be construed as "intimate." And though hard and fast distinctions are not always… distinct, it's generally understood that sex (and related behaviors) occurring for work is different from sex (and related behaviors) occurring in one's personal life. We get that, but the wider world often does not.
As a consequence, we have heard informal rumblings from sex workers in all sorts of occupations who have experienced everything from general ickiness to outright discrimination when attempting to use dating apps for personal time.
"Anti-sex work feminism" (which, huh?) takes many forms — like, for instance, everyone's fav Ann Perkins standing behind truly unethical reporting and downright fucked up privacy violations via "documentary filmmaking." In addition to Perkins (read: Rashida Jones), mainstream famous anti-sex work feminists include Meryl Streep, Lena Dunham, Kate Winslet, Anne Hathaway and Ashley Judd (among others).
When we first read about this Bumble discrimination happening to a person not currently working in a sex work occupation, it piqued memories of lamentations we've read around the interwebs regarding "anti-sex work feminism" at play in dating apps — because what is anti-sex work feminism if not some set of ladies (including ladies acting via a supposedly lady-centered app) telling another set of ladies that they want equality and power and authenticity and some some other such shit… but only if the "another set of ladies" in question are willing to behave in certain ways.
One thing that's interesting about Rockowitz's situation is that it seems to be a sort of "anti-sexualized expression feminism" — like, in a supposedly feminist space like Bumble, Rockowitz's type of sexualized (and, truthfully, feminist) expression is not okay. Neither, apparently, is "sex worker during personal time" sexualized expression.
In many ways then, "anti-sex work feminism" is a subset of a wider sort of "anti-sexualized expression feminism" — which is simply evidence of the sustained structure of wider sexism that we all inhabit. Between Rashida Jones and these Bumble people, what these feminisms then are really trying to do is claw their way up a hierarchy that discriminates against all women by setting themselves apart (and above) other women. Women like Rockowitz and women like sex workers.
Yuck.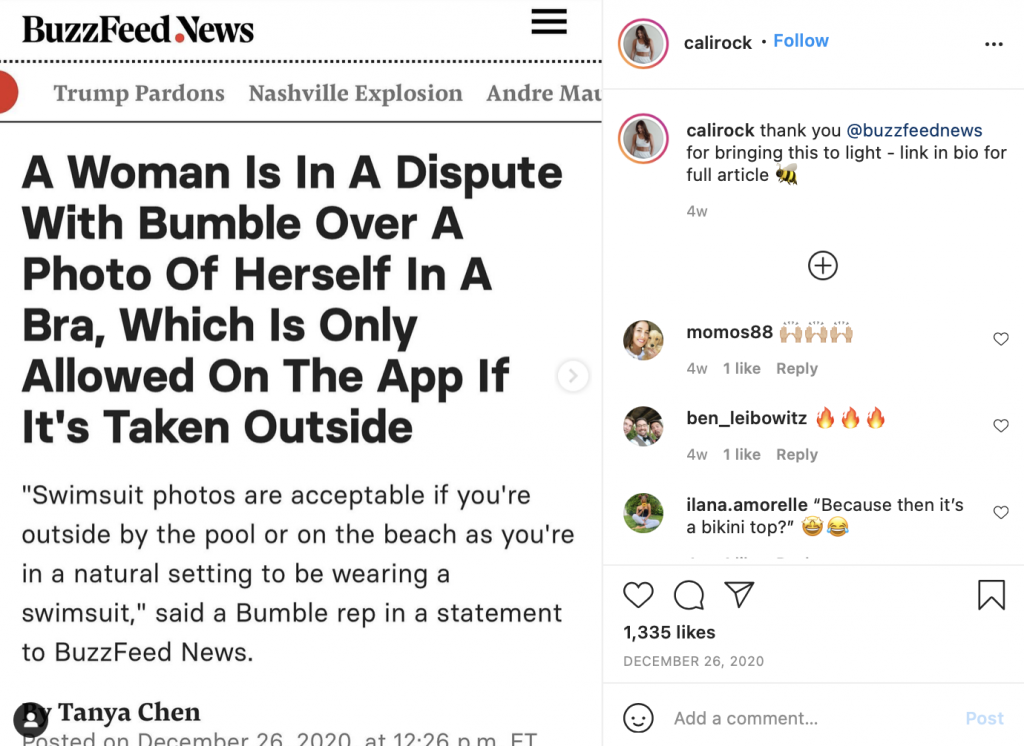 —
Abbie Stutzer is a queer, non-binary writer living in Kansas City, MO. You can find them doing witchy stuff at home with their numerous pets or at the local animal shelter saving lives. Contact Stutzer via abbie@ynotcam.com.
Additional writing and reporting in this piece by YNOT Cam Editorial. Header image via Unsplash here. Screengrabs by YNOT Cam (taken on January 27, 2021).